I'm so excited for springtime! I love when all of the colorful flowers start to bloom (tulips are my absolute favorite)! We've been adventuring around our neighborhood lately, looking for all of the pretty flowers we can find. But on those rainy Spring days, we've been having lots of fun playing with our colorful, and oh-so-delicious smelling, Springtime Kool-Aid Playdough!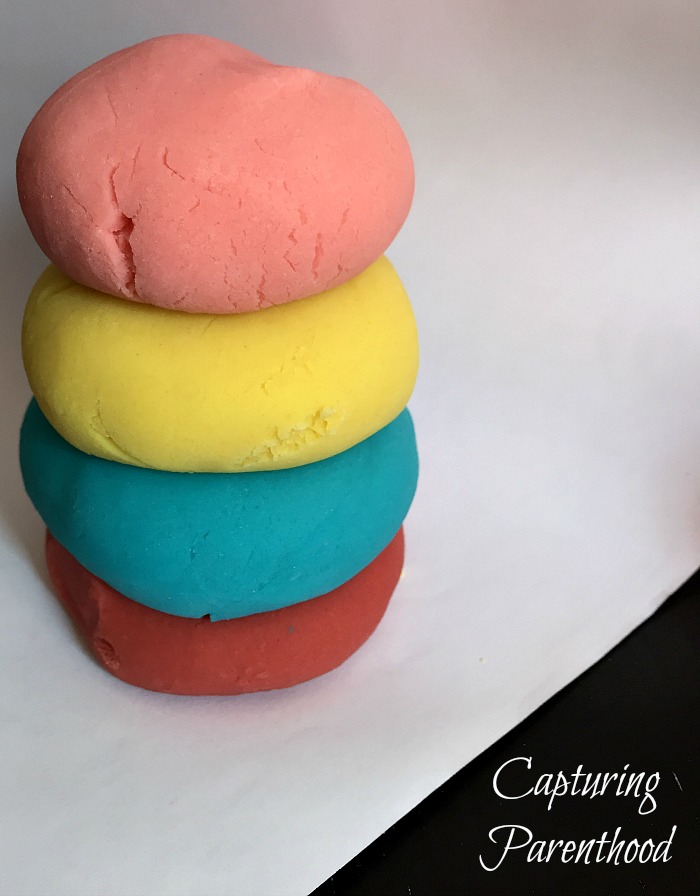 I used a recipe that I found over at Playdough to Plato (http://www.playdoughtoplato.com/kool-aid-playdough/). This playdough is perfectly soft, pliable, and best of all, it smells wonderful! The only cumbersome component about making this Springtime Kool-Aid Playdough, is that you have to make a batch for each color. So, unlike Noirin (over at Playdough to Plato) instead of making seven different colors, we made four (and it's still plenty for us to play with and enjoy)!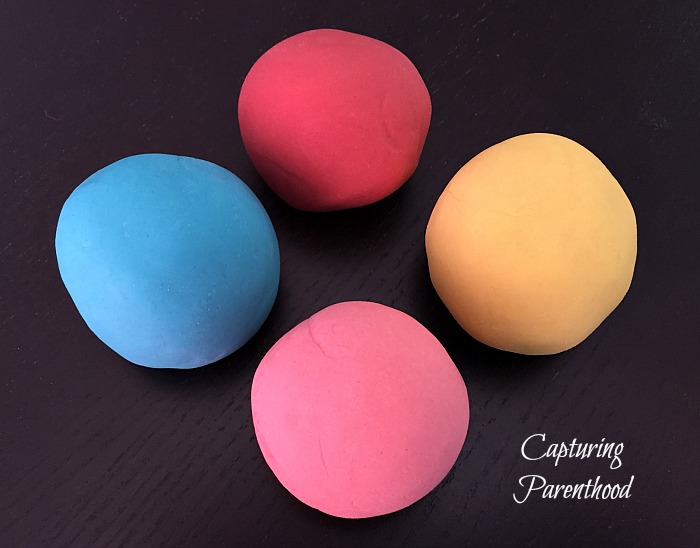 Feel free to follow the above link to find the original recipe!
---
Springtime Kool-Aid Playdough
Ingredients: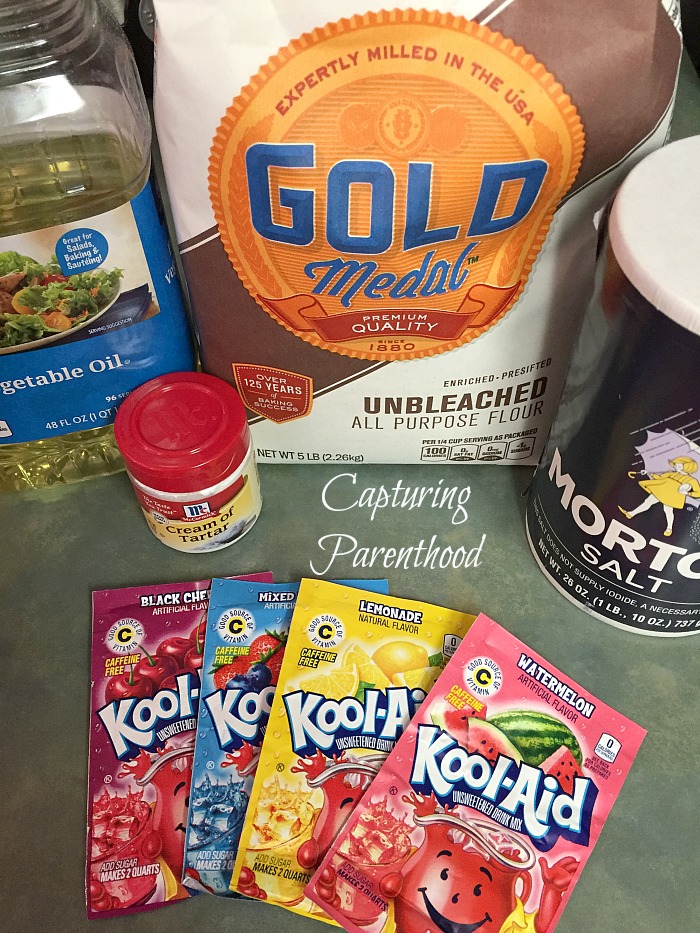 1 Packet of Kool-Aid Drink Mix (for each color you want to make – we used Black Cherry, Mixed Berry, Lemonade, and Watermelon)
1 Cup Flour
1/4 Cup Salt
2 Tbsp. Cream of Tartar
1 Cup Water
1 Tbsp. Vegetable Oil
Instructions: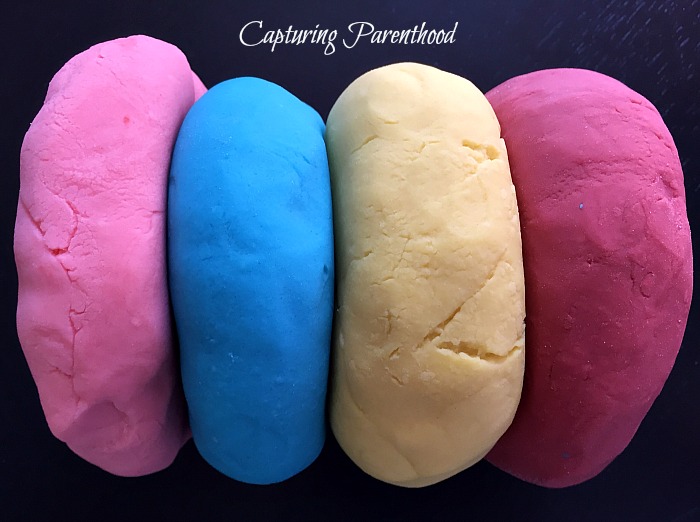 In a medium-sized pot, add all of the ingredients. Mix until ingredients are thoroughly combined and all lumps have vanished.
Place on the stove top, and cook over low heat, stirring constantly, until the dough begins form, and starts pulling away from the edges of the pot. Do not over-cook the dough.
Remove from heat, and let the playdough sit in the pot for several minutes. It will still be a little bit sticky at this point.
Once the dough has cooled a bit to the touch, remove the playdough from the pot and begin kneading it with your hands. Knead until the dough has reached an adequate consistency, and is no longer sticky.
Once completely cooled, store each ball of playdough in a Ziploc baggie. Break them out whenever your little ones are ready to get creative!
---
I love this playdough! The colors and scents are just perfect for Spring! My little nugget has enjoyed playing with it! Her favorite playdough activity (after making a few snakes, of course) is still rolling out all of the dough and using our cookie cutters to make fun imprints and shapes! What do your little ones like to do with their playdough?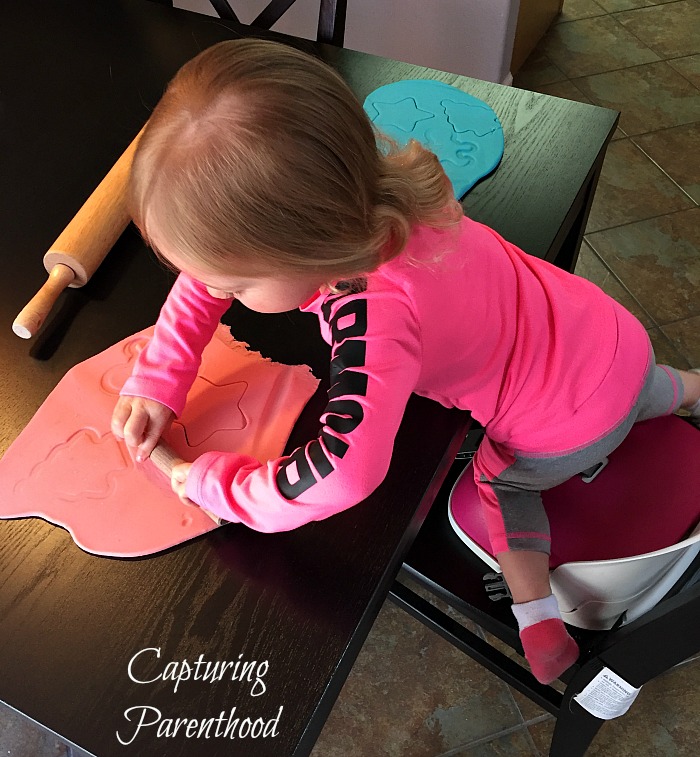 If you are interested in more creative playdough ideas, you should most definitely pay a visit to Playdough to Plato – they share tons of amazing ideas!
START SPREADING THE NEWS!