Leprechauns and rainbows have invaded our home! St. Patrick's Day must be right around the corner. We've been busy creating all sorts of crafts to celebrate, and we wanted to share our favorites with you!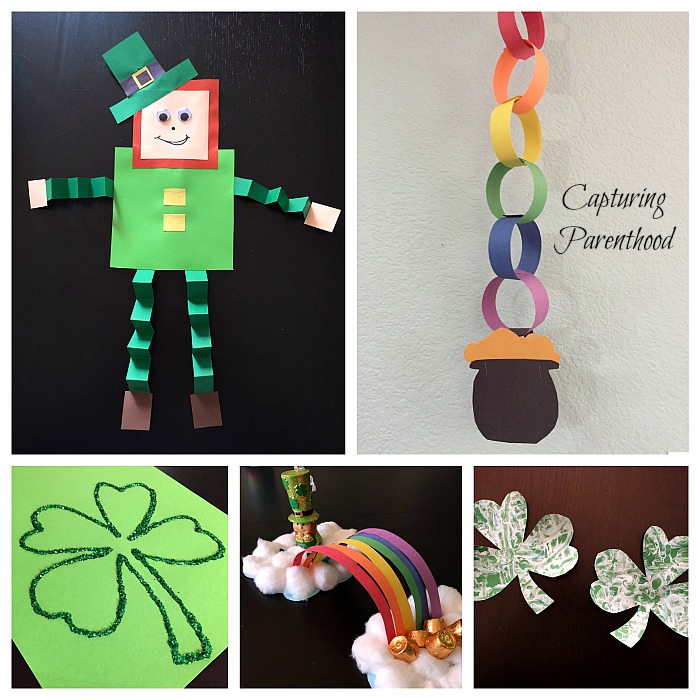 Bouncy Leprechaun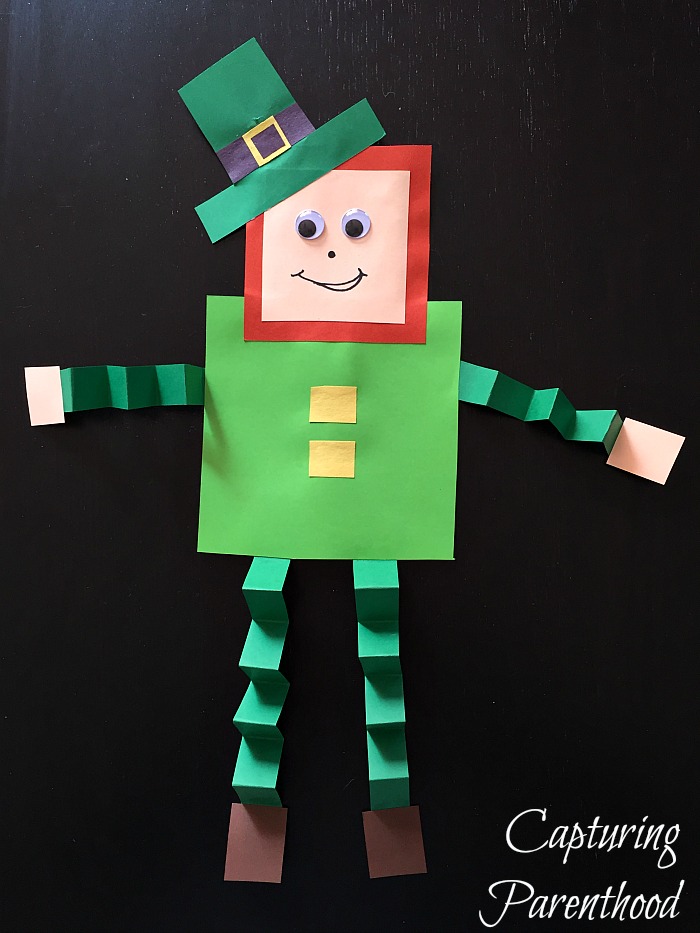 This cute and springy little leprechaun is my daughter's favorite St. Patrick's Day craft that we made this year. I was inspired by The Resourceful Mama's Shamrock Man (http://www.theresourcefulmama.com/shamrock-man-craft/). And since we've been learning our shapes, I figured I would make him (mostly) out of squares. His accordion-style arms and legs make him extra bouncy, and my little nugget thoroughly enjoyed bouncing him around the dining room after we had him all glued together! All you need to create this simple craft is some construction paper, glue, and a pair of small googly eyes (if you have them on hand). Glue your leprechaun body and hat all together, stick on the googly eyes, and then draw on a nose and a smile. To create the accordion-style arms and legs, simply cut a few long strips of construction paper. Take one strip and fold the paper back and forth upon itself, until you reach the end. Do the same with the remaining strips and then glue each of them on accordingly. We glued on some square hands and square shoes for the finishing touch!
Rainbow Chain & Pot O' Gold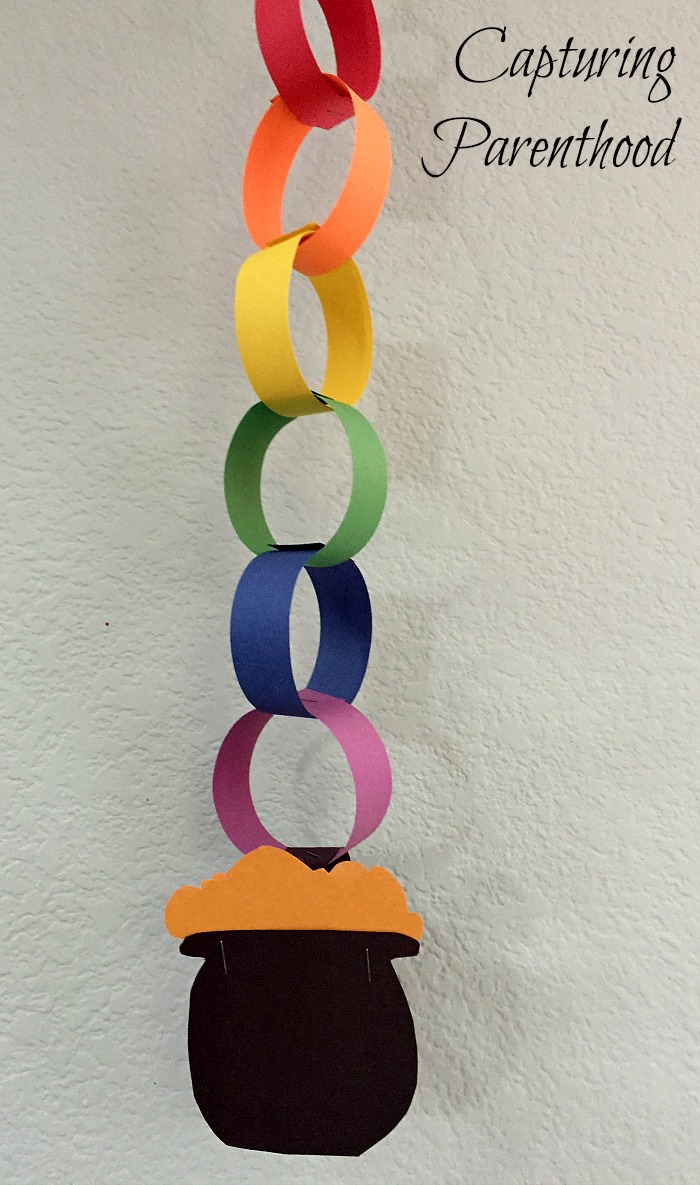 I came across this cute and colorful St. Patrick's Day craft over on the Crafty Morning blog (http://www.craftymorning.com/rainbow-chain-craft-st-patricks-day/). My little nugget and I completed this craft in just a few minutes, and she especially enjoyed using our mini stapler to put it all together (with assistance, of course). The only supplies you will need for this craft are strips of construction paper (one in each color of the rainbow), some black and yellow construction paper for the pot o' gold, tape, and a stapler. For detailed instructions, feel free to follow the above link over to the Crafty Morning – Michelle gives great step-by-step instructions.
Ball-Painted Shamrocks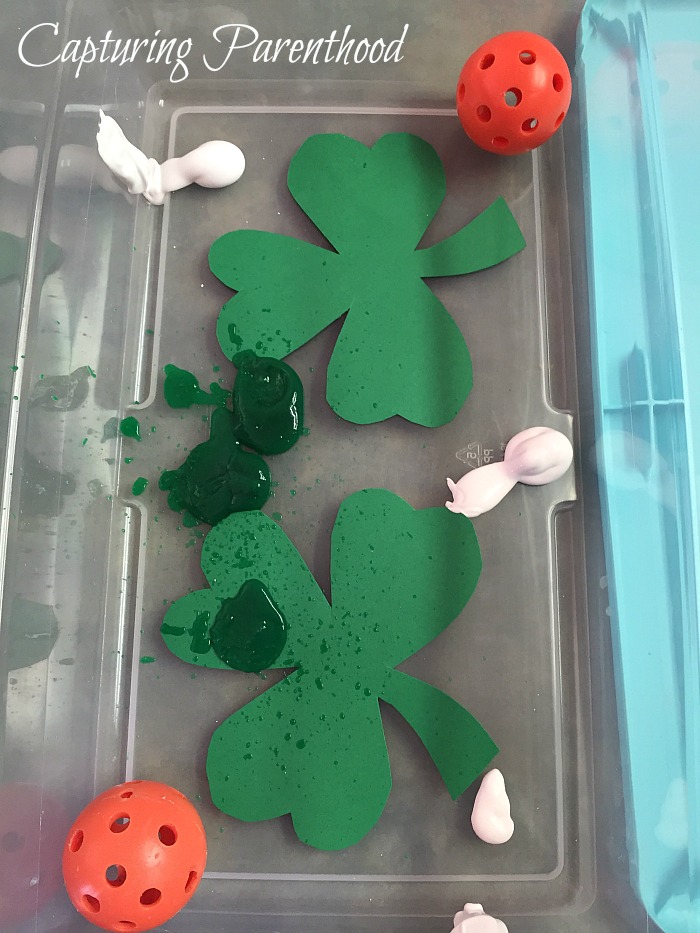 This shamrock painting craft provides a great opportunity to break out of a boring old painting rut, and have some fun! Cut a couple of shamrocks out of some green construction paper and tape them to the bottom of a small plastic bin (you want the bin to be small enough for your little one to hang on to). Place some drops of green and white paint in a few places throughout the bin, toss in a couple of small plastic balls (we used two small wiffle balls), and them pop the lid on. Hand the bin over to your eager toddler and let them go to town. Shake those shamrocks! Once your little one has exhausted themselves with all of the shaking, take the lid off and carefully remove the shamrocks. Set them aside to dry completely, and then hang them up around your house as awesome St. Patrick's Day decorations!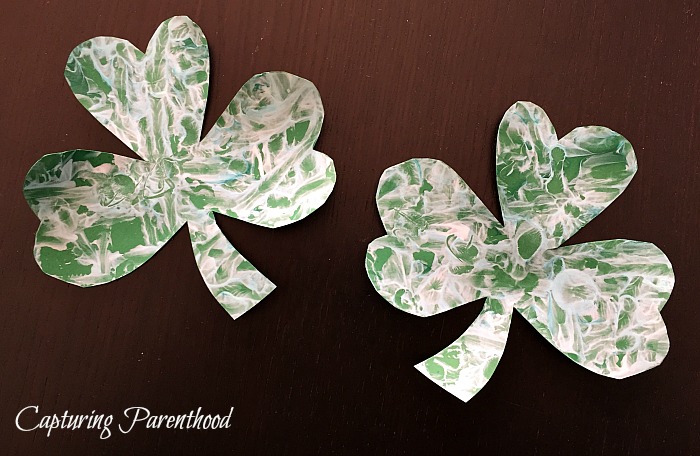 Rainbow & Clouds Craft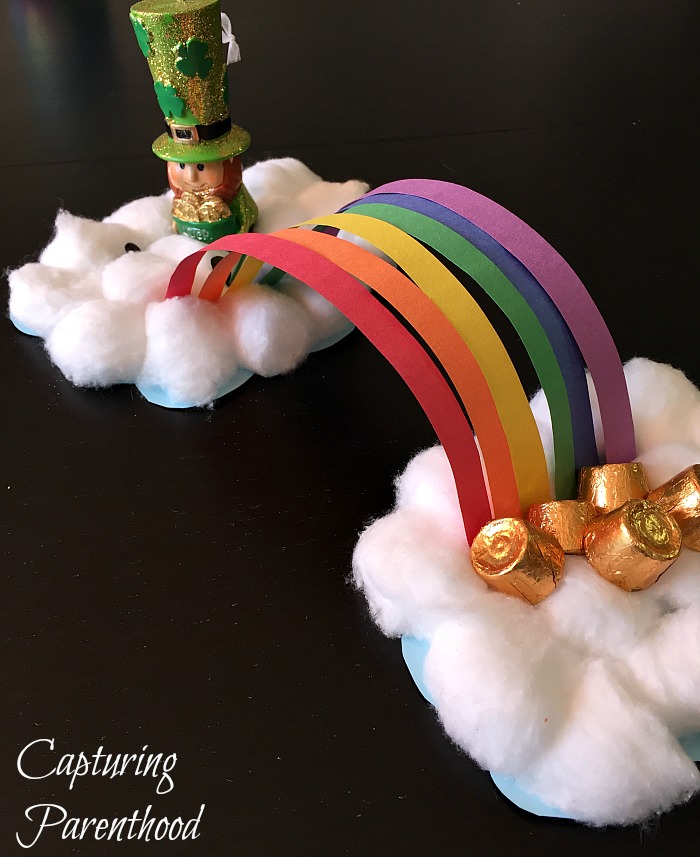 This simple 3D paper rainbow and cotton ball clouds craft turned out to be my favorite St. Patrick's Day craft this year! Thanks to Andreja over at Easy Peasy and Fun, for sharing this awesome idea (http://www.easypeasyandfun.com/rainbow-paper-craft/). This craft requires strips of construction paper (one strip for each color of the rainbow), two white clouds cut out of construction paper, tape, glue, and some cotton balls. For detailed instructions, follow the above link to the Easy Peasy and Fun blog. My little nugget loved gluing on all of the cotton balls! In order to make ours more St. Patrick's Day themed, I tossed a few Rolo candies at the bottom of one side of the rainbow and sat a cute little leprechaun ornament (that I found at Hobby Lobby) on the other side. I have this adorable craft sitting in the middle of our dining room table so that we can all admire it on a daily basis (while we enjoy some caramel chocolates, of course).
Glitter Four-Leaf Clover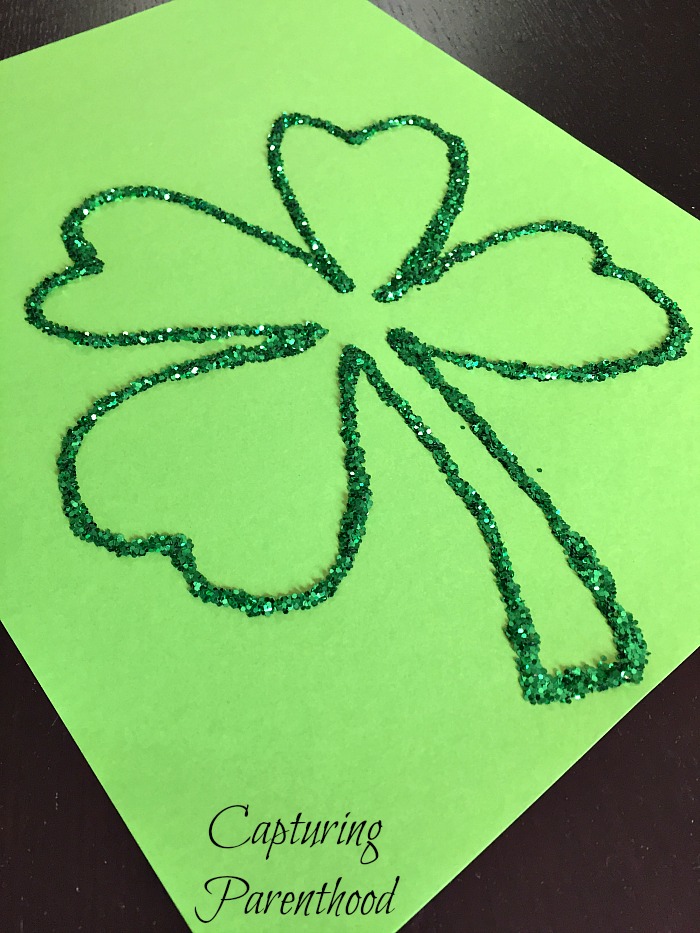 You can never go wrong with a simple glitter craft – especially one that brings good luck! And what toddler (or adult, for that matter) doesn't love the extra glimmer and sparkle of some glitter? To make this easy, and eye-catching St. Patrick's Day decoration, simply draw a four-leaf clover (using some Elmer's glue) on a piece of green construction paper. Set the paper in the middle of a cookie sheet (this allows for easy clean-up, because yes, glitter can be extremely messy). Give your toddler a tube of green glitter and have them cover all of the glue on the paper. Once you can no longer see anymore white (the glue), lift the sheet of paper up and let all of the extra glitter fall onto the cookie sheet. Set the four-leaf clover aside to dry completely and pour the extra glitter right back into the tube for later use. Feel free to add a little St. Patty's Day message to the paper before hanging it on display. You could even do the message in glitter, if you were feeling extra crafty!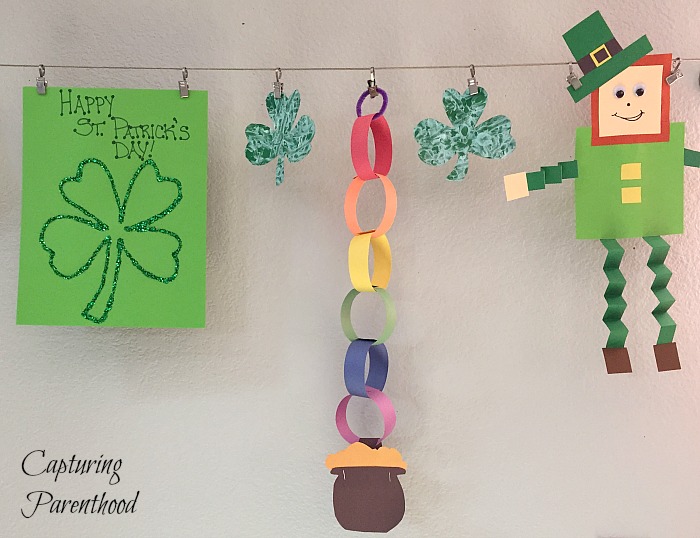 Wishing you and yours a very Happy St. Patrick's Day!
START SPREADING THE NEWS!