"Keep your eyes on the stars, and your feet on the ground."
– Theodore Roosevelt
The stars in the night sky are always such a magical sight. I find it deeply relaxing to sit outside and star gaze. Over the summer, we did a little bit of backyard camping with our little nugget. Since she got to stay up later than usual (and she was outside), she caught her first real glimpse of the stars. She was so excited! She stared up at the sky for quite some time, happily pointing out each new star she found. Needless to say, I knew that she would absolutely love this Starry Night Sensory Bottle…and I was right!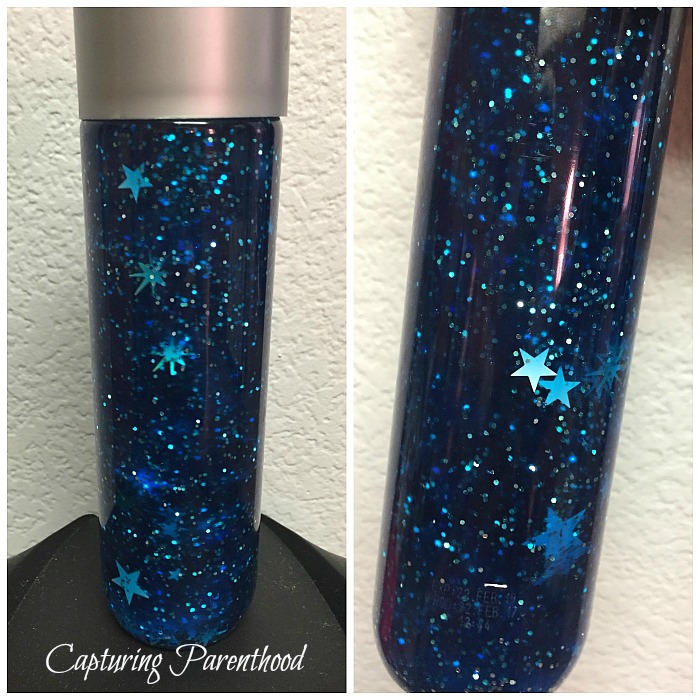 Where did I find the inspiration for this beautiful bottle? From my sensory bottle guru, of course. 🙂 Katie (Preschool Inspirations) always has the best ideas and her "3 Ingredient Galaxy Calm Down Bottle" is a must-have in your sensory bottle arsenal (https://preschoolinspirations.com/galaxy-calm-bottle/)!
It shimmers, sparkles, and swirls. And it's the most beautiful shade of blue (which happens to be my favorite color)! This is one of the bottles that my daughter and I battle over – we both love shaking it up and watching the stars glide through the sparkling night sky.
---
Starry Night Sensory Bottle
**Note: This post contains Amazon Affiliate links for convenience. See Disclosure Policy for more details.**
Supplies:
Plastic Bottle with Wide-Mouth (I love using Voss water bottles)
Baby Oil
Blue Wilton Candy Dye (from this primary color set)
Star Confetti (I used a mix of silver and white)
Glitter (I used silver)
Instructions:
Empty the plastic bottle (if it contained a non-water beverage, rinse out the bottle). Remove all labels from the bottle. If you have a hard time getting the sticky residue off, Goo Gone works wonders. I find that if I take my time and peel slowly, I can get the Voss labels off without any fuss.
Pour the baby oil into the bottle, filling it approximately 3/4 full.
Add the blue candy dye – I found that a 1/2 teaspoon was the perfect amount. Make sure to use the Wilton Candy Colors to dye the baby oil (food coloring is water-based, and therefore, will not dye oil).
Cap the bottle and shake vigorously, until the dye and oil are fully incorporated.
Add the star confetti and glitter.
Fill the remainder of the bottle with baby oil (I typically prefer to fill my bottles to the brim).
Then, add a dab of hot glue around the inside of the cap, and quickly seal the bottle (you don't want your child unscrewing a bottle full of colored baby oil and glitter, inside your house). 🙂
---
This Starry Night Sensory Bottle has a wonderful calming effect, so when your little ones are all worked up about one thing or another, hand them the bottle and watch as their troubles slowly melt away. I love having my stash of sensory bottles on hand when we are having a particularly rough day. They help my daughter redirect her attention and focus on something a bit calmer. 🙂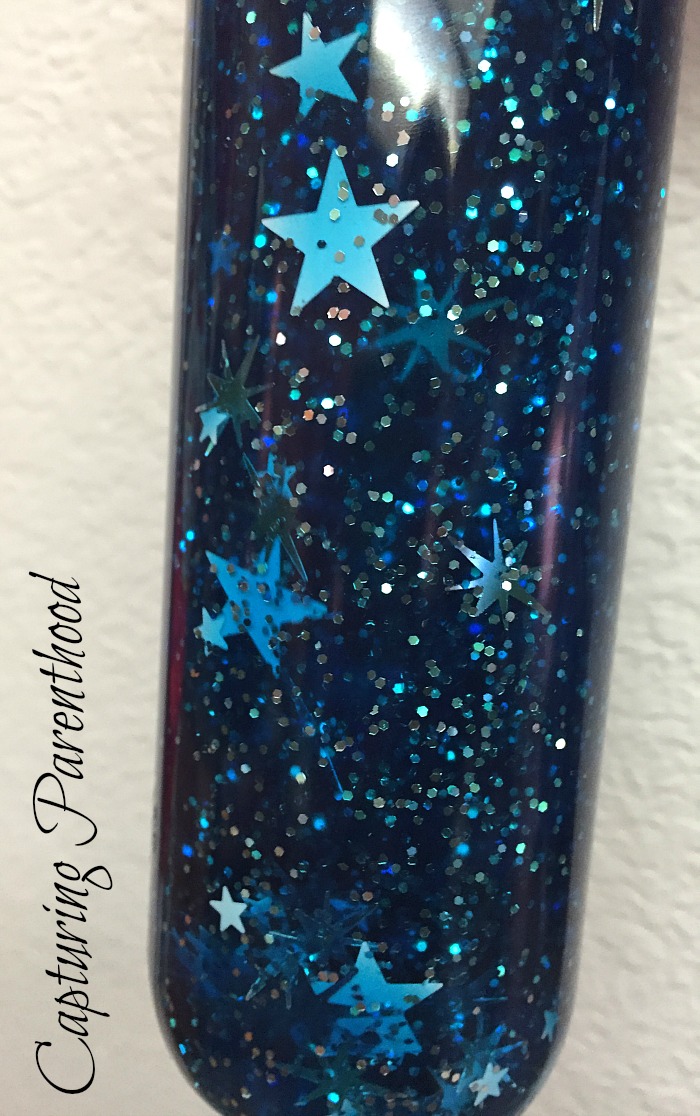 As the sun sets on today, and the moon and stars awaken…take a few minutes to relax and unwind. Enjoy the beauty in the sky that surrounds us. Breathe. The sun will rise again tomorrow…and it will be the last day of our Sensory Bottle Extravaganza. Tomorrow's sensory bottle is so good, I had to make two (one for my little nugget, and one for myself)! You won't want to miss it, so stay tuned…
START SPREADING THE NEWS!