It's hard to go wrong with a combination of strawberries and cream cheese. Sometimes we put a dollop of the deliciously sweet and creamy mixture on top of our french toast. But to add it on top of a light and fluffy puff pastry, and sprinkle it with powdered sugar…it's simply divine! Strawberry & Cream Cheese Pastry Hearts are the perfect breakfast treat for Valentine's Day, and every other day of the year that you want to show your family a little extra love!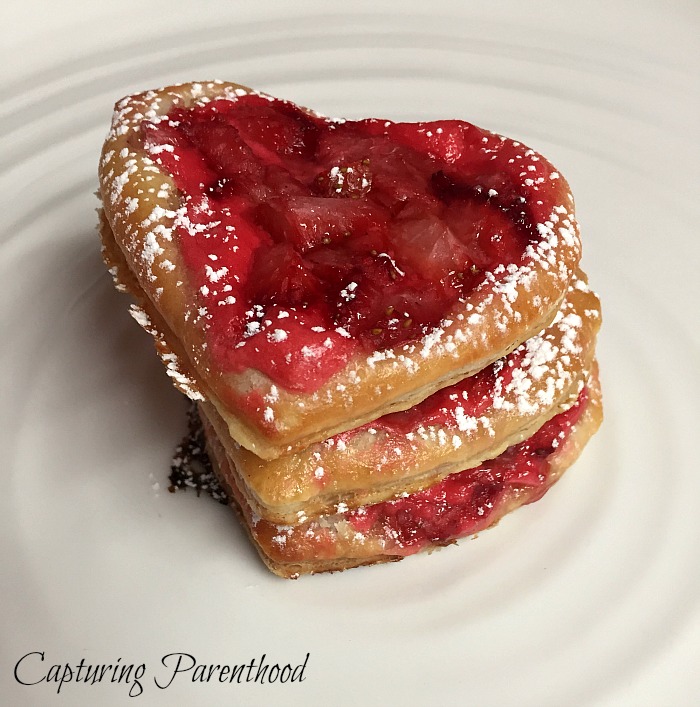 Not to mention, this recipe provides a great opportunity to invite your little ones into the kitchen for some baking fun! My daughter and I had the best time making these sweet little treats. She helped me cut out all of the hearts, slather on the cream cheese, and gently place strawberries on top. Her favorite contribution was most definitely sprinkling the powdered sugar on top…and taste-testing, of course!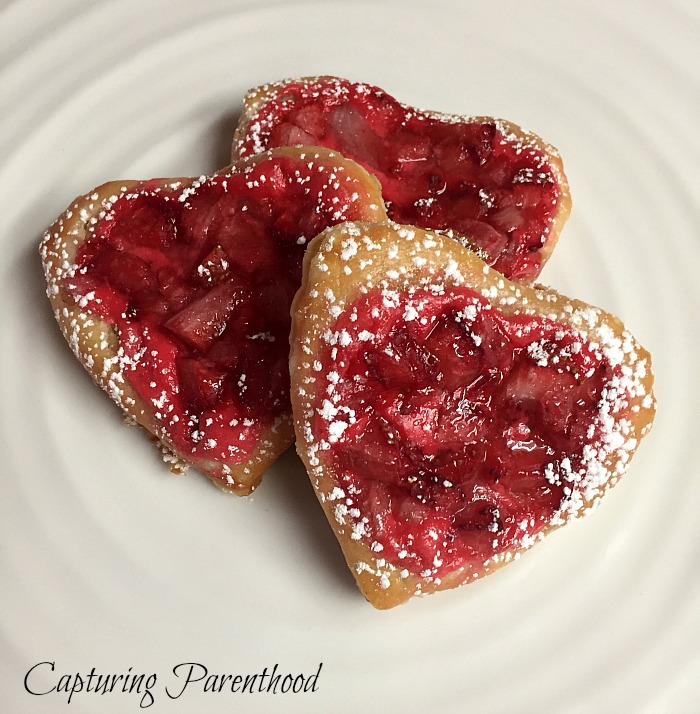 I found this delectable recipe over on Cooking Classy (http://www.cookingclassy.com/heart-shaped-strawberry-cream-cheese-breakfast-pastries/). Feel free to follow the link to find the original recipe.
---
Strawberry & Cream Cheese Pastry Hearts
Ingredients: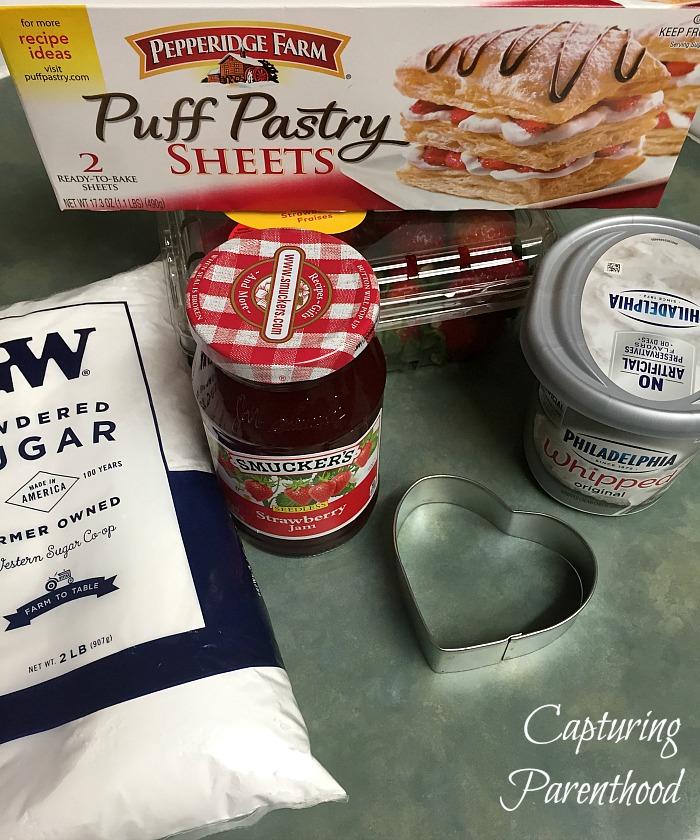 1 Sheet Puff Pastry
1-1/2 Tbsp. Strawberry Jam
1/4 Cup Whipped Cream Cheese
2/3 Cup Strawberries, Finely Diced
1 Egg
1 Tbsp. Water
Powdered Sugar
Instructions: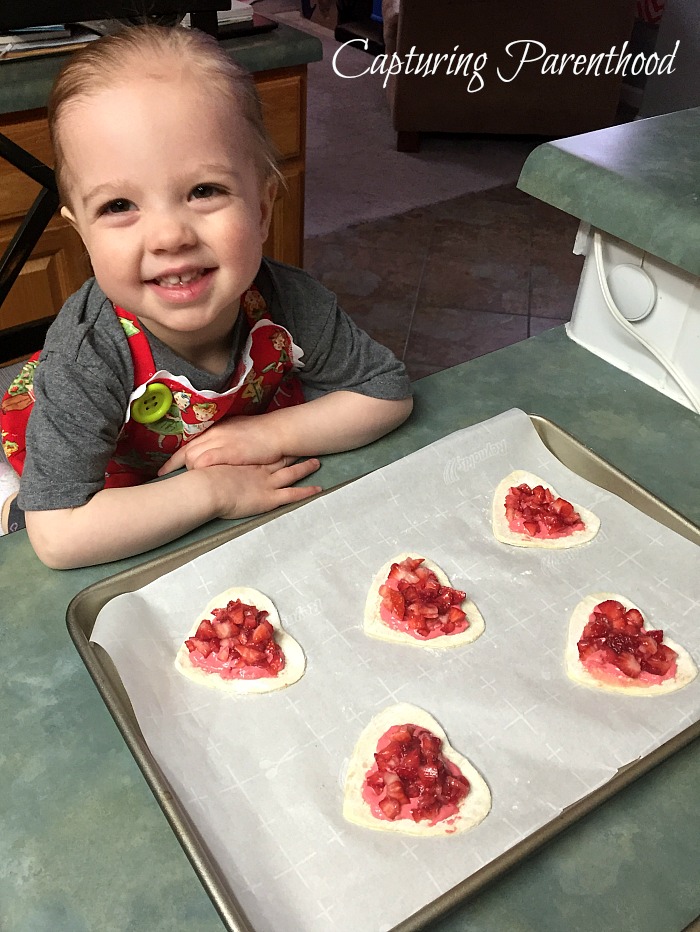 Thaw the sheet of puff pastry according to package directions (typically for about 40-45 minutes).
Preheat the oven to 400° F. Cover a cookie sheet with parchment paper, and set aside.
In a small bowl, add the strawberry jam and whipped cream cheese. Stir until thoroughly combined. Place in the refrigerator until ready.
Once your puff pastry sheet has thawed, unfold it and place it on a lightly floured, flat surface. Using a heart-shaped cookie cutter, cut out your pastry hearts (you will likely get 9 hearts out of the single sheet).
Transfer your hearts to the prepared cookie sheet.
Using a small, sharp knife, carefully score a smaller heart shape into each heart (making sure to not cut all the way through to the bottom). You want the smaller heart to be about 1/4″ to 1/3″ from the outer edge.
Add a small spoonful of the cream cheese mixture to each heart, gently spreading the mixture evenly inside the scored heart, leaving the exterior border clear.
Place a small spoonful of the diced strawberries on top of the cream cheese mixture, again keeping the exterior border of each heart clear.
In a small glass, combine the egg and water, and whisk to combine. Using a pastry brush, or your fingertip, gently apply the egg/water mixture to the exterior border of each heart pastry.
Place in the preheated oven and bake for approximately 15 minutes, or until the edges are golden brown.
Transfer to a wire rack, to cool. Sprinkle with powdered sugar.
Serve the day they are baked.
---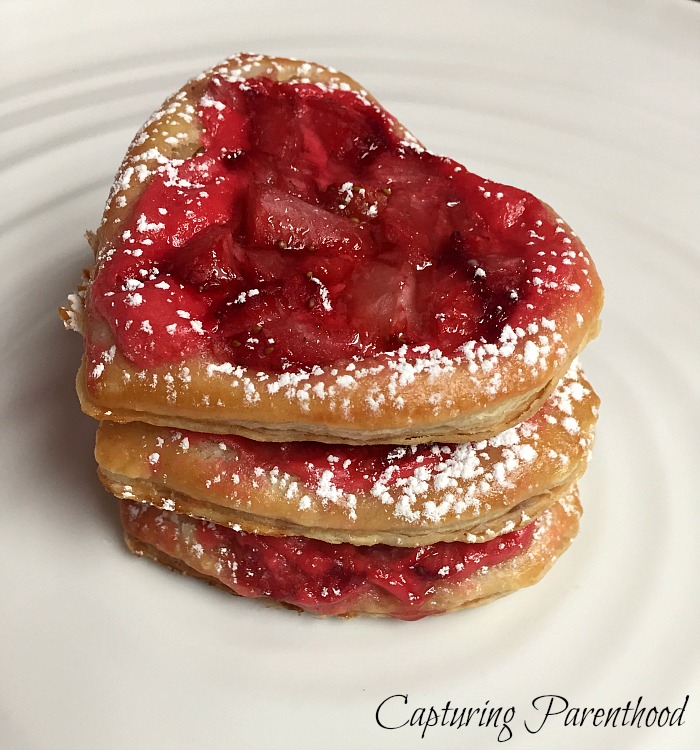 These pastry hearts are so delightfully delicious, I could eat them for breakfast every day! And I love that I can share the baking process right alongside my little nugget! She is the best kitchen assistant…or at least the cutest! 🙂
START SPREADING THE NEWS!