I love Italian food – pizza, pasta, bread! But every once in awhile it's nice to take a break from the usual Italian dinner recipes, and bake a warm and delicious Stromboli.
This simple recipe will leave your whole family feeling happy…not to mention, it is on the healthier-side of Italian cuisine.
This is a two-part recipe. So…let's start with the dough. We use a Whole-Wheat Pizza Dough recipe that we found in The Essential EatingWell Cookbook (edited by Patsy Jamieson).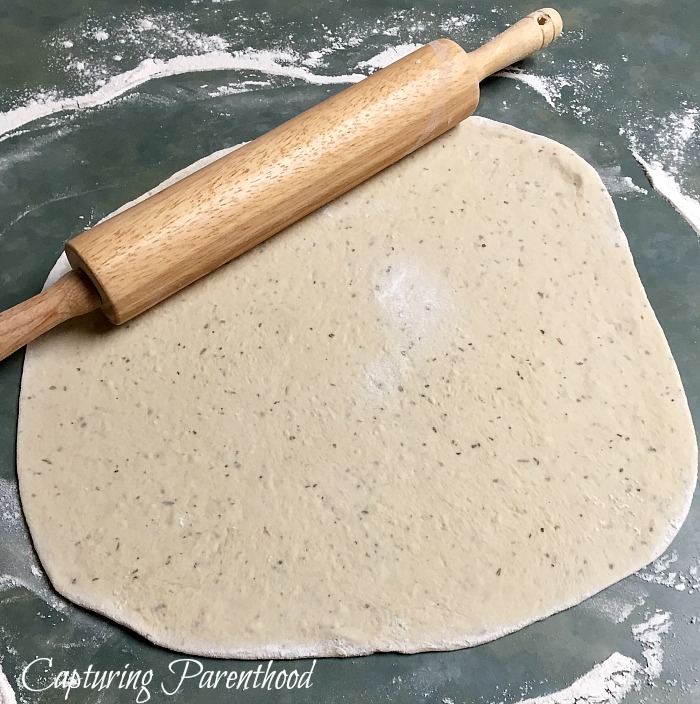 Whole-Wheat Pizza Dough
Ingredients (to make 12 ounces of dough):
3/4 Cup Whole-Wheat Flour
3/4 Cup All-Purpose Flour
1 Pkg. Quick-Rising Yeast (OR) 2-1/4 tsp. RapidRise Yeast
3/4 tsp. Salt
1/4 tsp. Sugar
2 tsp. Italian Seasoning (optional)
1 tsp. Garlic Powder (optional)
1/2 – 2/3 Cup Hot Water (120-130º F)
2 tsp. Extra-Virgin Olive Oil
Instructions:
Combine the whole-wheat flour, all-purpose flour, yeast, salt, sugar, and spices (if desired) in the bowl of a stand mixer (with the dough hook attachment in place). Stir to combine.
Combine the hot water and olive oil in a measuring cup and stir to incorporate.
With the motor of your stand mixer running, gradually pour in enough of the hot liquid until the mixture forms a sticky ball. The dough should be quite soft. If it seems dry, add 1-2 Tbsp. of warm water; if too sticky, add 1-2 Tbsp. flour.
Process until the dough forms a ball. Remove from bowl and knead by hand for a minute.
Spray the bottom of a medium-sized bowl with cooking spray, place the dough ball inside, and cover with plastic wrap. Let the dough rest and rise for 10-20 minutes before rolling.
**Please Note: If you would rather not have whole-wheat dough (or you don't have any whole-wheat flour on hand), you can simply substitute all-purpose flour for the whole-wheat flour, as well.

Stromboli
Ingredients: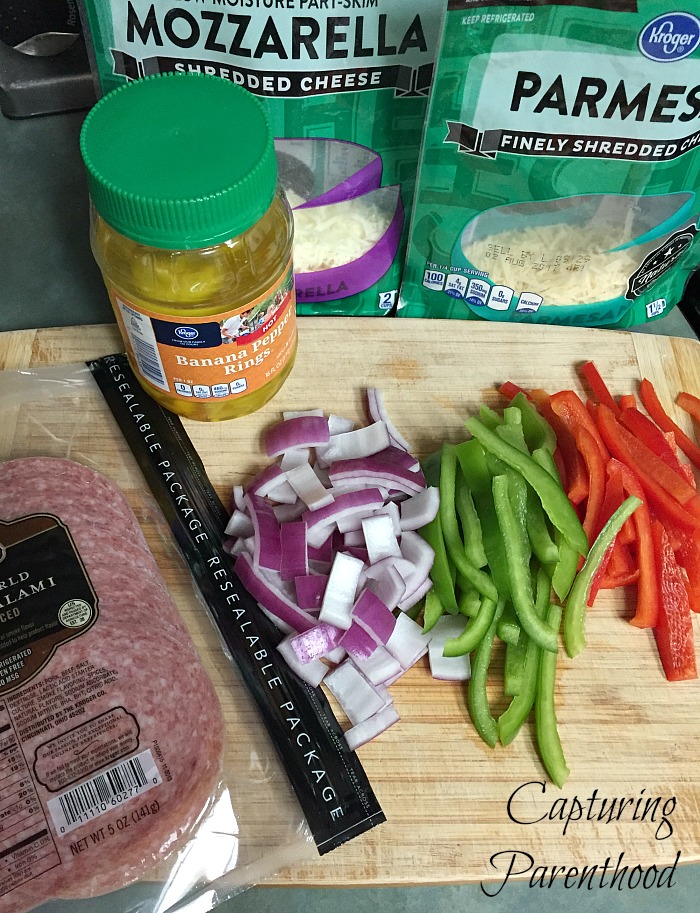 Whole-Wheat Pizza Dough (see recipe above)
Your Favorite Pasta or Pesto Sauce (both are equally delicious)
Mozzarella Cheese
Parmesan Cheese
Salami or Pepperoni
Bell Peppers (we typically use one red and one green)
Red Onion
Hot Banana Pepper Rings (optional)
**Please Note: You will notice that I did not include measured amounts in the above list. This is due to the fact that this recipe is extremely versatile – you can toss in whatever ingredients sound good to you at the time, and you can put in as much (or as little) of each ingredient as you desire. Make it your own!
Instructions:
Place a pizza stone in the oven and preheat to 450º F.
Roll out your pizza dough on a lightly-floured surface, until it is approximately 12-16 inches in diameter.
Pour on your preferred sauce and spread around using the back of a spoon – leaving approximately 1-inch on all edges sauce-free.
Add all of your selected toppings on top of the sauce.
Roll up the dough (horizontally); fold and tuck the two edges.
Using a sharp knife, carefully cut three slits in the top of the Stromboli.
Using a pastry brush (or even your hand), brush the top of the Stromboli with olive oil.
Add a light sprinkle of corn meal to your pizza stone (to keep the dough from sticking) and slide the Stromboli onto the hot stone.
Bake for 15-20 minutes, or until the dough is golden brown and the cheeses inside are nice and melted.
Remove from oven and let rest for a few minutes before slicing.
Serve with a side of pasta sauce, or ranch dressing – for dipping!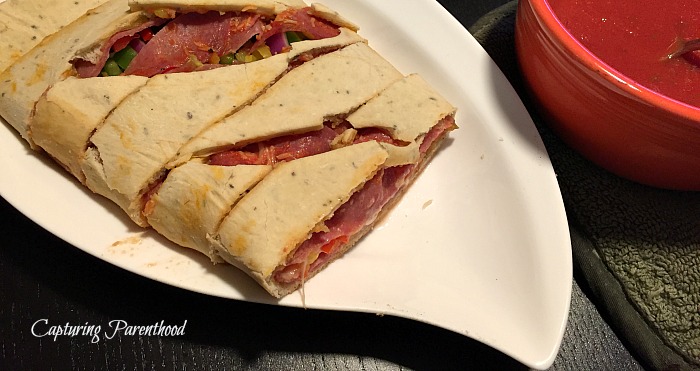 START SPREADING THE NEWS!