Looking for an easy summer activity that will hold your kid's interest, and keep them busy for a little while? Try a Summer Scavenger Hunt! I love simple activities that I can throw together in just a couple of minutes, and what I loved even more about this scavenger hunt activity, is that it helped open my little nugget's eyes to the larger world around her!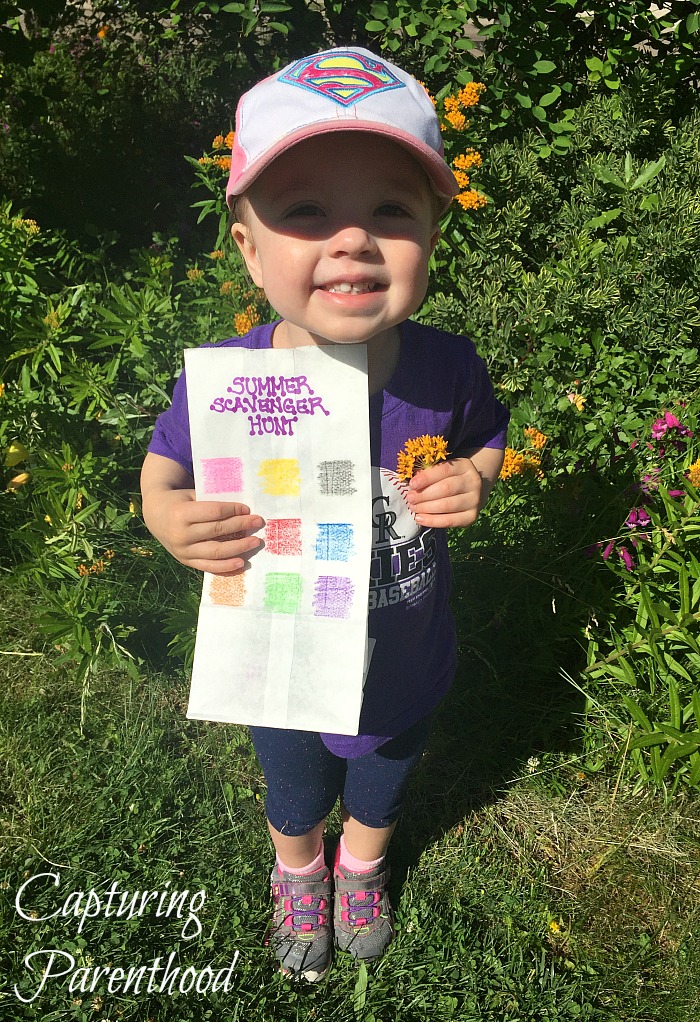 Now, most toddlers are pretty observant. My daughter immediately notices if something is moved around in our house, or if one of her toys is placed in a different spot. I usually get reprimanded for the latter. 🙂 She happily points out buildings that she recognizes while we are driving (stores, parks, her school, restaurants, the museum, etc.). But when we stepped out our front door to venture on our scavenger hunt, I realized that this activity would be a little challenging for her…and that's a good thing!
Before we began, I showed my little nugget the paper bag with the bright swatches of color, and I informed her that the goal was to find things outside that matched the colors on the bag. If the items did not belong to anyone, we would place them in our bag to take home…otherwise, we would just take pictures of our findings.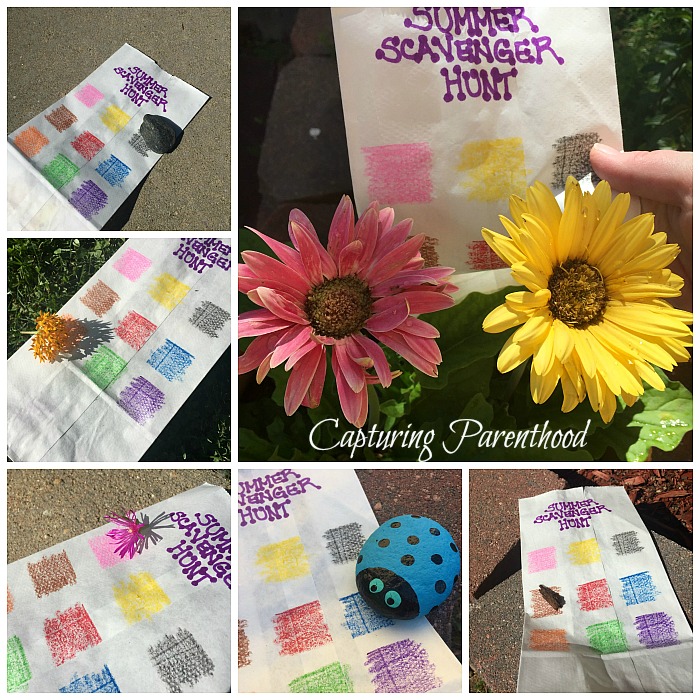 The very first thing she did, while bending down close to the sidewalk, was tell me she had found a purple alligator! WHAT A FIND…and right off the bat! 🙂 My little nugget is developing quite the active imagination these days, and I hear about purple alligators on a regular basis. After congratulating her on her discovery, I told her that we were not pretending at the moment, and I asked her to take a look all around…did she see anything colorful…something that we could add to our bag?
She spun around slowly and loudly exclaimed, "Purple Flowers!" The purple flowers were, in fact, real. And they led us to a bunch of other colorful flowers and leaves. We spent a bunch of time in one little area across from our house. And then we ventured further from home in search of something red, blue, black, and brown.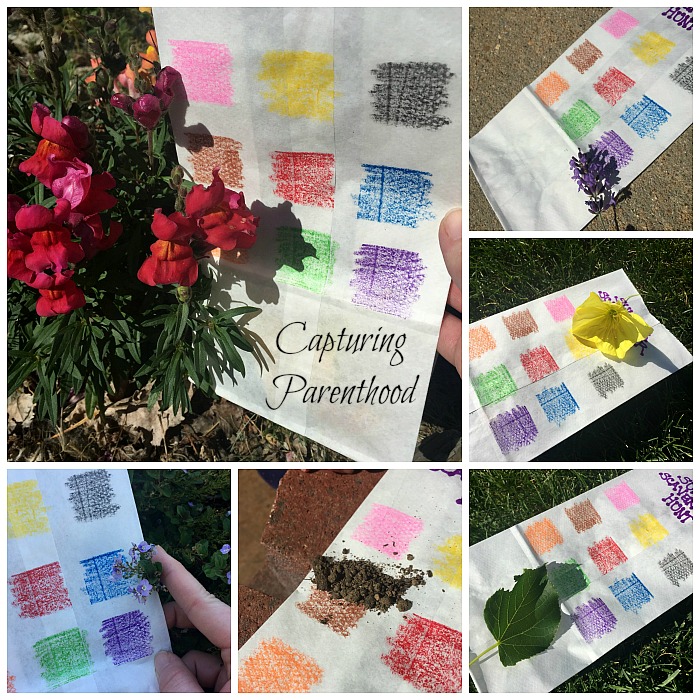 We finally came upon some beautiful red and blue flowers in a neighbor's garden (thus we did not pick them to take back home). The search for something black and brown proved the most difficult for my little nugget, but when we stopped focusing on all of the colorful flowers, we noticed some brown mulch and brown dirt. The black rock completed our hunt, and we proudly took our findings home to share with daddy!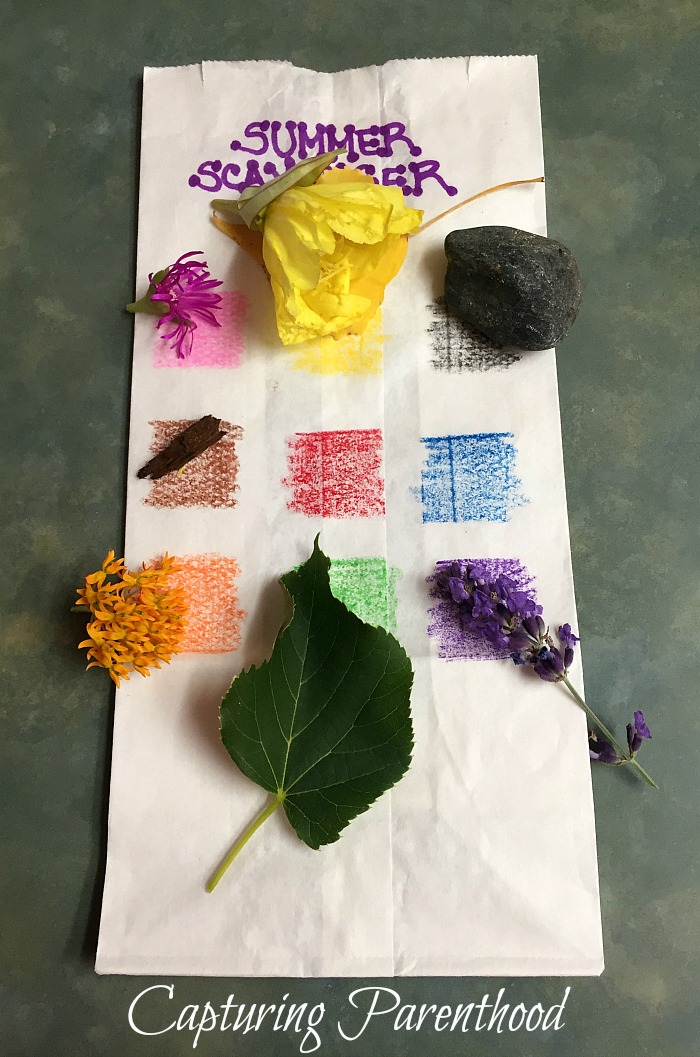 I stumbled across this brilliant idea when I saw Rachel's post for a Simple Color Scavenger Hunt for Kids, over on I Heart Crafty Things (http://iheartcraftythings.com/simple-color-scavenger-hunt-kids.html).
---
Summer Scavenger Hunt
All you need for this activity is a white paper bag, and some crayons (or markers) in the colors that you want your kids to search for.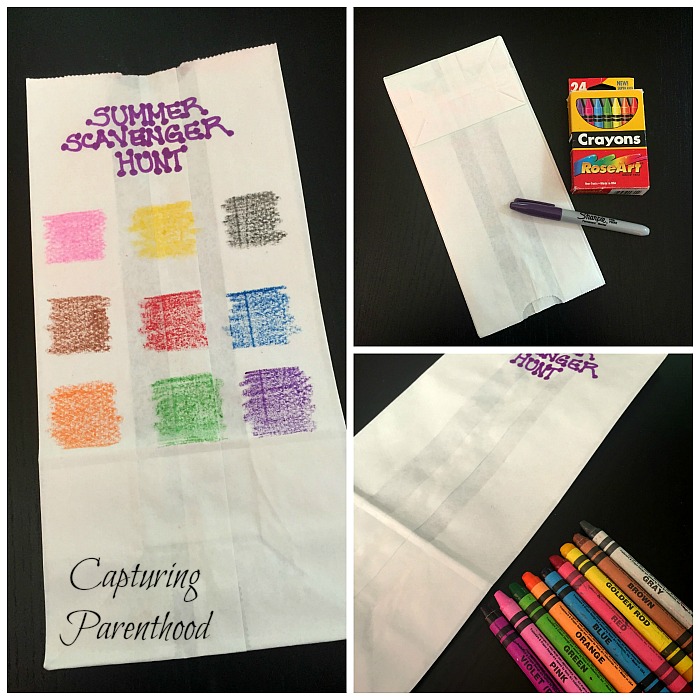 Simply scribble a swatch of each color on the bag, hand it to your kiddos with a few instructions, and send them out to explore! I guarantee that they will be more than thrilled to share all of their findings with you, when they have completed the hunt. Take a few moments to talk about each find…the color, texture, size, where it was found, etc.
---
Now when we go out for walks around our neighborhood, or on hikes in the mountains, I've noticed that my little nugget pays more attention to the finer details that nature has to offer. And I can't wait to try a scavenger hunt for each season…stay tuned!
START SPREADING THE NEWS!