Our Thanksgiving holidays always seem to center around the dining room table…from the afternoon feasts to the evenings filled with board games and laughter. That being said, I'm always on the hunt for a great table centerpiece. To me, a great Thanksgiving Day centerpiece, is one that my little nugget and I have crafted together. Our Thankful Turkey Centerpiece is absolutely perfect!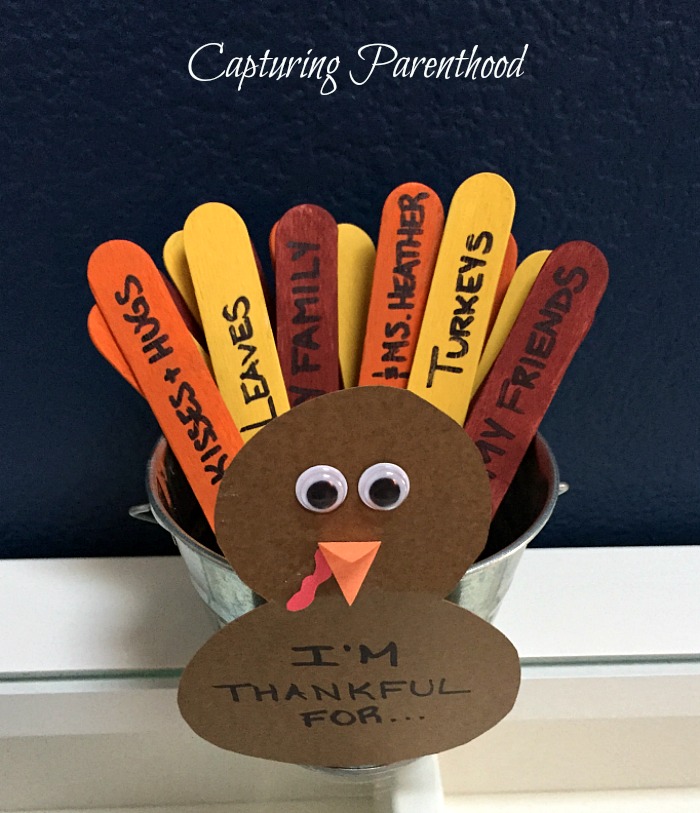 I'm in love with this centerpiece! My daughter and I crafted our paper turkey, and painted our craft sticks in an array of Autumn colors. But my favorite thing about this craft is the fun opportunity it provides for teaching our little nugget all about gratitude and giving thanks.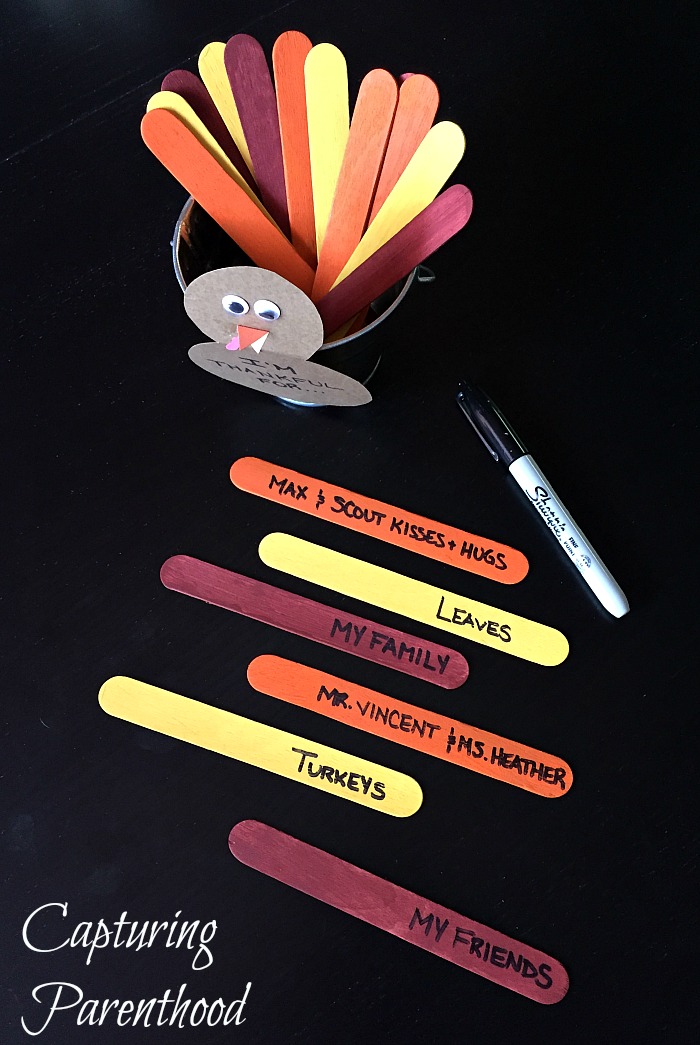 Once our turkey bucket was assembled and our craft sticks were all dry, I grabbed a black marker and informed my little nugget that I was going to write down all of the things that she was thankful for on the sticks, and then we would place the sticks into the bucket to create our turkey feathers!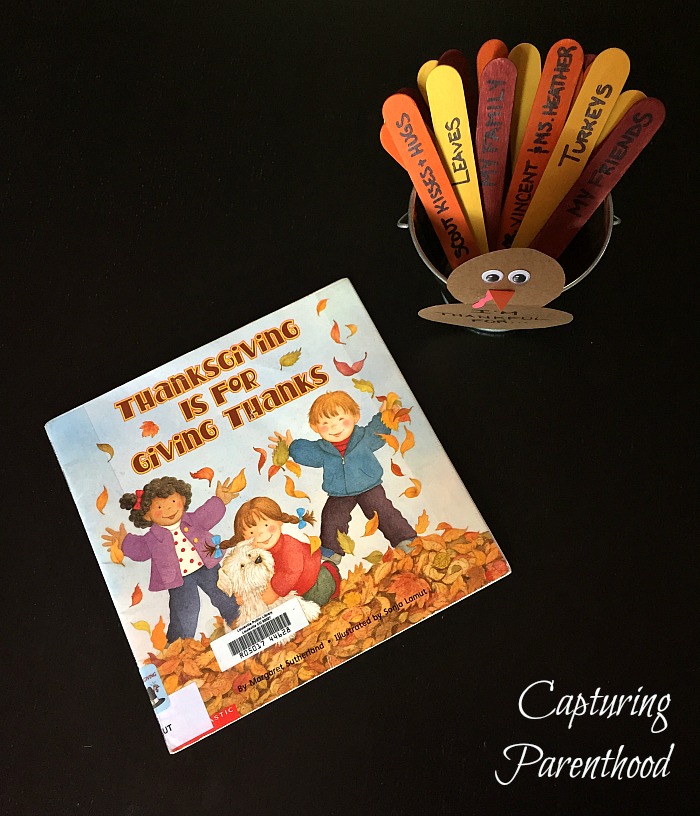 But first we had to learn what it means to be thankful. And luckily, we picked up the perfect book at the library to illustrate this concept – Thanksgiving Is for Giving Thanks by Margaret Sutherland. In the book, they describe Thanksgiving as  "a day when we give thanks for all the things that make us feel happy." This one statement is the perfect way to teach your little ones about thankfulness…it all comes down to the things that make us feel happy! In no time, my daughter was listing off a myriad of things that she is thankful for…here are just a few:
Swings
Her Family
Apple Juice
Donuts
Mermaids
Her Teachers
Cooking with Daddy
Her Friends
Doggie Kisses & Hugs
Halloween Candy
Turkeys
As for me…I am forever thankful that I get to be this little girl's mommy!
Now…for those of you who want to create your own Thankful Turkey Centerpiece…here's how we did it. I initially came across the idea for the Autumn-colored craft sticks that we could write on, when I saw Linda's Fall Bucket List craft over on Craftaholics Anonymous. I borrowed that concept to create our thankful turkey!
Thankful Turkey Centerpiece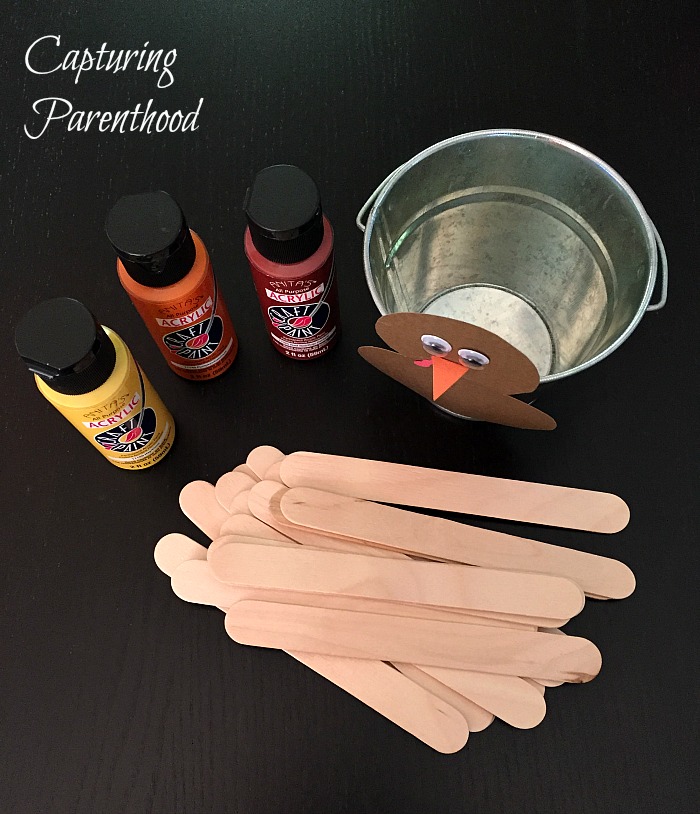 Supplies:
Small Bucket/Pail (I found one at Hobby Lobby)
Craft Sticks
Acrylic Paint in Autumn Colors (we used red, orange, and yellow)
Construction Paper – Brown, Orange, Red
Googly Eyes
Glue Stick
Scissors
Paint Brush
Scotch Tape
Black Marker
Instructions: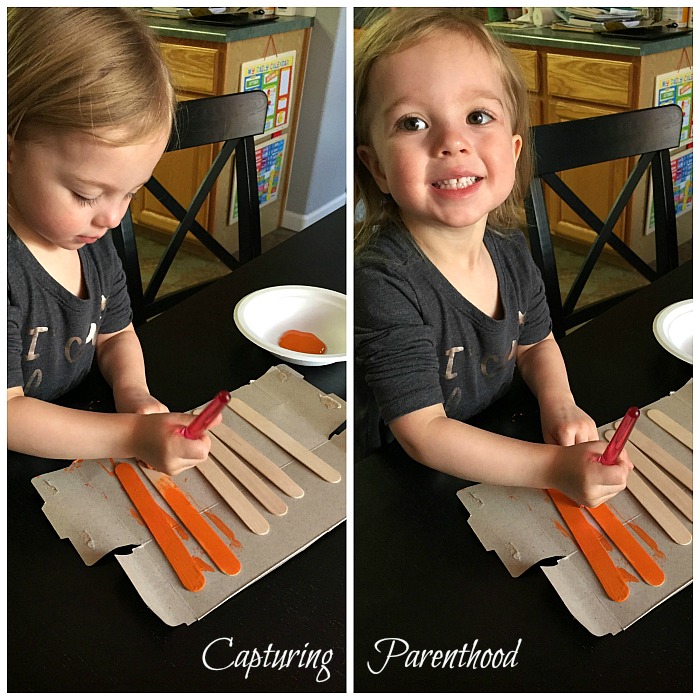 Grab a handful of craft sticks (we used 18 total) and separate them into three groups. Lay the sticks flat and have your little ones paint one group red, one group orange, and one group yellow. Set the sticks aside for the paint to dry completely.
Flip the sticks over and complete the painting process, so that the sticks are completely covered on both sides. Set aside to dry.
In the meantime…cut a bowling pin shape from the brown construction paper (for the turkey body). Cut a small orange triangle for the beak, and a small red squiggle for the gobbler.
Using the glue stick, adhere the googly eyes, beak, and gobbler to the turkey body.
With the black marker, write "I'm Thankful For…" on the turkey's tummy. Grab a couple of pieces of Scotch tape and tape the turkey body onto the small bucket/pail.
Once your craft sticks have dried completely, they will be ready to write on with the black marker. Ask your kiddos to share the things they are thankful for (it usually makes wonderful dinner conversation) and write them down. Place the completed craft sticks into the bucket/pail and fan them out to create the turkey's colorful feathers!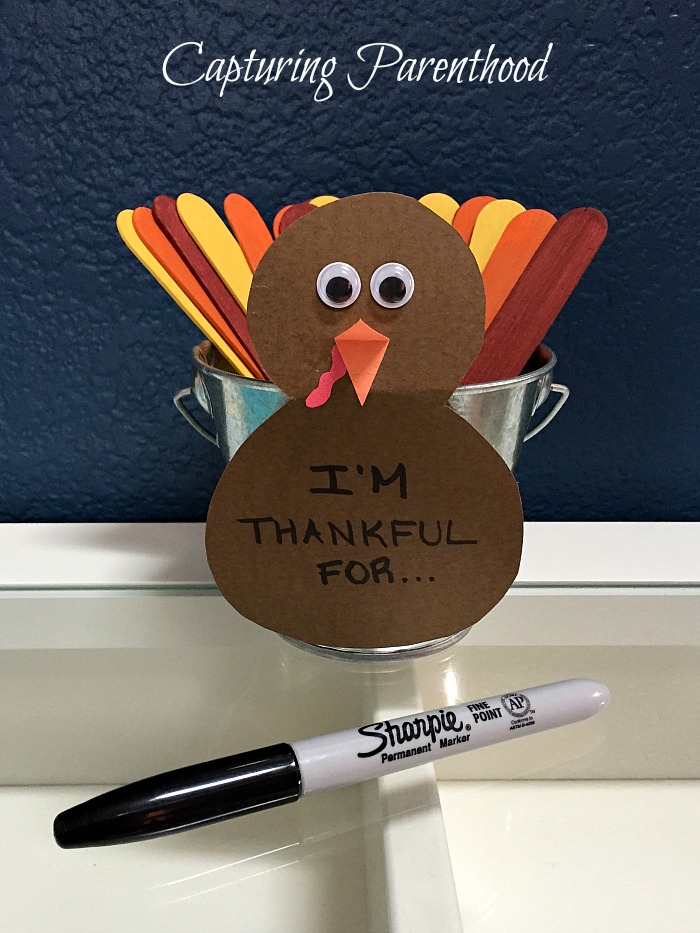 Another fun idea would be to keep the blank painted craft sticks in the bucket/pail and then on Thanksgiving Day, right before your delicious feast, you could hand everyone in your family a stick and ask them to write down something that they are thankful for, before returning the sticks to the turkey. 🙂 That way, everyone in the family gets the opportunity to give thanks!
HAPPY THANKSGIVING!
START SPREADING THE NEWS!