Breakfast…the first meal of the day. I don't know about you, but I've never been much of a morning person. In fact, I've been known to skip breakfast on occasion. However, I've found that in order to get the day started on the right foot, with my toddler, we absolutely must have breakfast. Being that non-morning person that I am, I prefer to have quick and easy breakfast options on hand. Today, I'm sharing some of our favorite toddler breakfast ideas with you, in the hopes that you too, can have an easy and relaxing morning with your kids.
---
Toddler Breakfast Ideas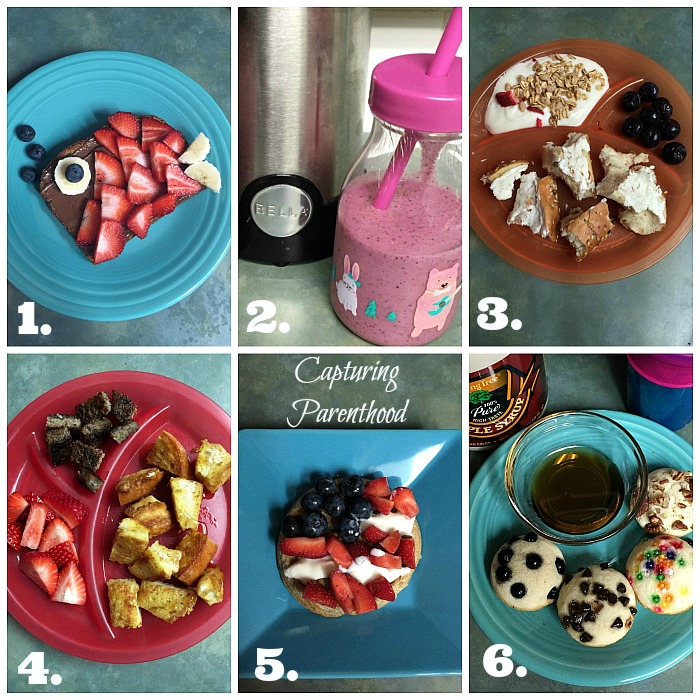 1. Toast Fish – I found this idea, along with several other fun toast ideas, over at All She Cooks (https://allshecooks.com/funny-animal-faces-toast-treats/). Toast a piece of bread and then spread some Nutella, Peanut Butter, or Cream Cheese on top. Grab a few blueberries, a couple slices of banana, and several thinly sliced strawberries. Start by adding a fish eye (banana slice and blueberry) in one corner of the toast. Then add on your fish scales (the strawberry slices) and for the fish tail, cut one banana slice in half, and place the rounded portions together, in the opposite corner of the toast. For the finishing touch, add a few bubbles (blueberries) to the plate!
2. Fruit Smoothies – We love having smoothies for breakfast. Packed with yogurt, lots of fruit, some (hidden) greens, and a little bit of milk…they make the perfect meal (especially if you're on the go)! Here's a link to Our Favorite Fruit Smoothie recipe: http://capturingparenthood.com/favorite-fruit-smoothie/.
3. Toasted Bagel w/ Cream Cheese, Yogurt & Granola, and Blueberries – This is the breakfast that my little nugget requests most often. And you can't beat the ease of this meal idea. My daughter prefers her bagels cut up into bite-sized pieces, so that it's easier for her to eat. And you will come to notice that the yogurt with granola, and the blueberries, are standard breakfast sides for our daughter (it is what she always wants). She typically eats Stonyfield Organic Whole Milk French Vanilla Yogurt or Stonyfield Organic YoTot or YoBaby Whole Milk Yogurt. As for granola, she prefers Bear Naked Triple Berry Granola.
4. French Toast Bites, Sliced Strawberries, and Sausage – There's nothing better than delicious french toast for breakfast (at least not in my book). Sometimes, we even have this meal for dinner! My husband makes the best french toast, using a loaf of french bread. And we always like to serve it with a side of strawberries and some sausage, or bacon!
5. Patriotic Waffle – Perfect for Memorial Day, the Fourth of July, Veteran's Day…or any other day, really. This fun, American Flag waffle is super simple to throw together. Toast an Eggo Waffle (I used an Eggo Nurti-Grain Blueberry Waffle), place a small handful of blueberries in one corner, and then create alternating stripes using strawberries and one of the following: vanilla yogurt, banana slices/chunks, or whipped cream. So fun!
6. Mini Muffin Pancake Bites – How could you go wrong with bite-sized pancakes, with a variety of toppings? You can't! My daughter loves these pancake bites (with a side of syrup, for dunking). Her favorite topping is most definitely the dried blueberries, but she loves the variety. Find out how to make a batch of these simple breakfast bites: http://capturingparenthood.com/mini-muffin-pancake-bites/. I freeze the majority of them when I make a new batch, and then I just pop them into the microwave for several seconds to defrost, before I serve them to my little nugget.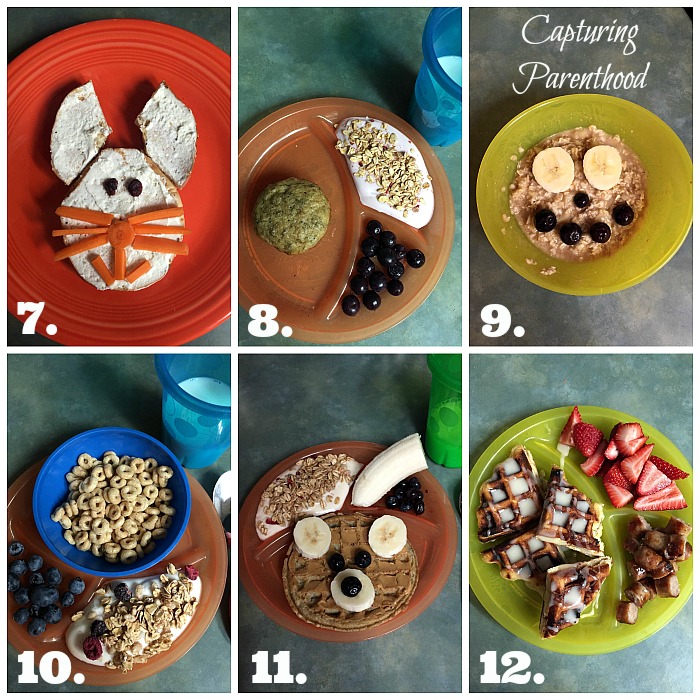 7. Bunny Bagel – My daughter loves bunnies (and not just at Easter time). You can create this cute bunny breakfast by toasting up a bagel and topping with cream cheese. Then, cut some bunny ears out of the top half of the bagel and attach them to the face (bottom half of bagel). Pop two craisins, raisins, or blueberries on for eyes. Cut a round piece of carrot to cover the center hole of the bagel (for the nose) and then carefully cut some thin strips of carrot for the whiskers and mouth.
8. Banana Nut Mini Muffin, Yogurt & Granola, and Blueberries – Mini muffins are a perfect toddler breakfast item (and snack item, for that matter). Make your own batch of these delicious mini muffins by following this link to the recipe: http://capturingparenthood.com/banana-nut-mini-muffins/. Accompanying the banana nut mini muffins, are our go-to breakfast sides – yogurt & granola, and fresh blueberries.
9. Smiley Face Oatmeal – Start your toddler's day out on a happy note, by feeding them this cute smiley face oatmeal. I just whip up a quick pouch of Quaker (Lower Sugar) Instant Oatmeal, and top it with two banana eyes, a blueberry nose, and bright blueberry smile!
10. Honey Nut Cheerios, Yogurt & Granola, and Blueberries – You can't get much easier than a bowl of cereal. My little nugget loves Honey Nut Cheerios, Kix, and Rice Krispies. She prefers to pour her milk in by herself, so I typically just give her a bowl of dry cereal, with a small cup of milk. And you guessed it, we serve this with a side of yogurt & granola, and some blueberries (I told you that my daughter always requests this breakfast combo). 🙂
11. Bear Waffle, Yogurt & Granola, and Blueberries – You can never go wrong when you make a meal fun, for a toddler. I originally came across this adorable bear breakfast idea on the Beckerman Blog (http://beckermanbiteplate.blogspot.com/2013/08/diy-breakfast-food.html), where they used toast. Since my little nugget is not much of a toast fan, I decided to recreate the bear using a waffle, instead. Get all of the details at: http://capturingparenthood.com/bear-waffles-toddler-breakfast/. Obviously, we couldn't go without our standard yogurt & granola, and side of blueberries. This time, I also added the remaining half of the banana that I had used to create the bear ears and nose.
12. Cinnamon Roll Waffles, Sliced Strawberries, and Sausage Link Bites – Did you know that you can create delicious cinnamon roll waffles in just minutes, by placing a Pillsbury Cinnamon Roll right onto your waffle iron? Mind blown! My entire family loved this sweet breakfast treat! You can find the recipe on the Pillsbury website (https://www.pillsbury.com/recipes/cinnamon-roll-waffles-with-cream-cheese-glaze/42d0b4cb-56f9-47cc-a9d2-d5c3675e7d57). We served ours with some strawberries and sausage links! Yum!
---
Now you know some of our favorite toddler breakfast ideas. I hope you found something that your little ones will enjoy! Feel free to share some of your favorite toddler breakfast ideas, in the comments section below.
And stay tuned…next Tuesday I'll be sharing a lengthy blog post (with lots of ideas) for toddler lunches and dinners!
START SPREADING THE NEWS!