Our Halloween decorations have been taken down and stored away, and we've been busy making some Toddler Turkey Crafts, to make our home feel more festive for Thanksgiving!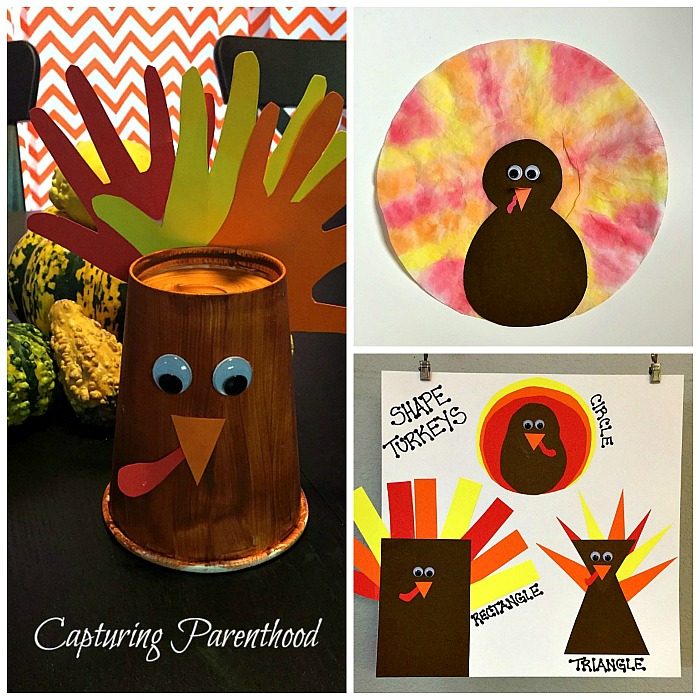 Turkey always seems to be the first thing that people think of when the topic of Thanksgiving arises…turkey and family. Am I right? So what better way to celebrate (and prepare for the big day) than to create some fun turkey crafts with the entire family? These turkey crafts are perfect for your little ones, but I guarantee the rest of the family will also want to join in on the crafting fun!
Do-A-Dot Coffee Filter Turkey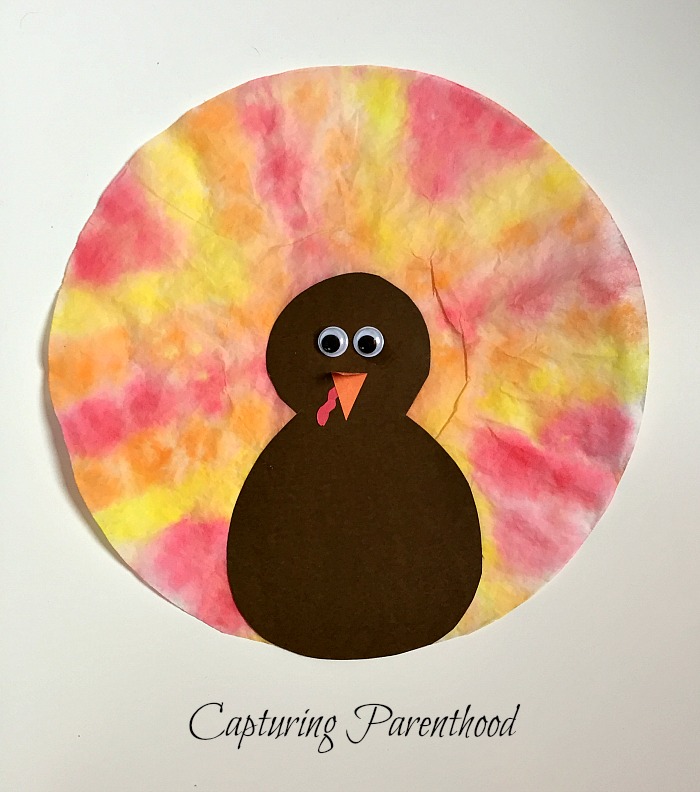 This colorful toddler turkey craft is actually a combination of two different ideas that I came across recently. The first idea was this Doily Turkey Craft for Kids that I stumbled across over on I Heart Crafty Things! The second idea I found on Instagram, from @thepaintedtoddler, featuring Coffee Filter Mandalas that they made by decorating their coffee filters with Do-A-Dot markers and then spraying them with water.
I had been wanting to try the coffee filter/Do-A-Dot craft for awhile, so I figured we would make an autumn-colored coffee filter and turn it into turkey feathers!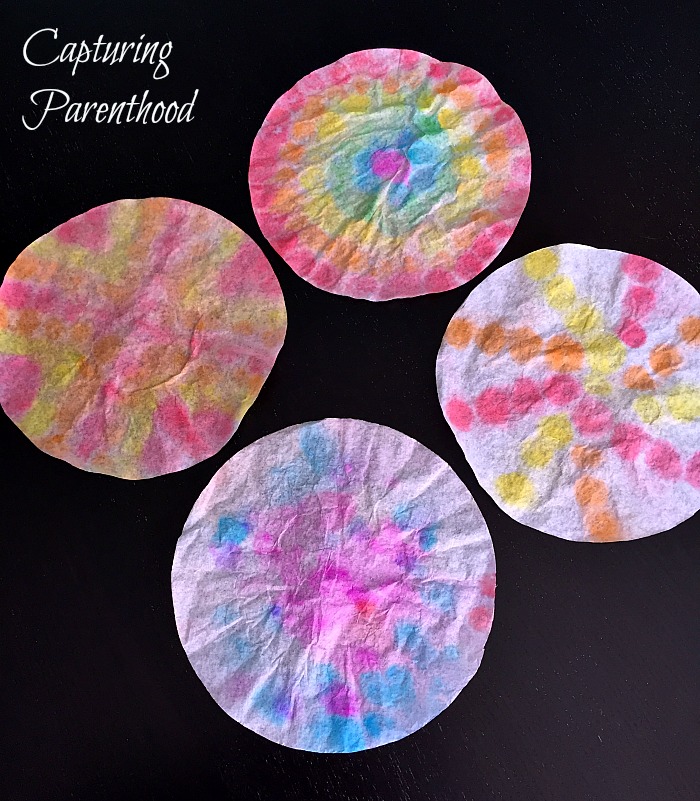 The first step was creating our colorful coffee filters. We spent an afternoon stamping different colors and designs on a handful of coffee filters. Once we were satisfied with our designs, we placed the coffee filters onto a cookie sheet (one at a time) and my little nugget sprayed them with a water bottle until they were completely wet. As the water hits the coffee filter, it causes the colors to spread. I then placed our wet coffee filters onto a paper towel to dry completely.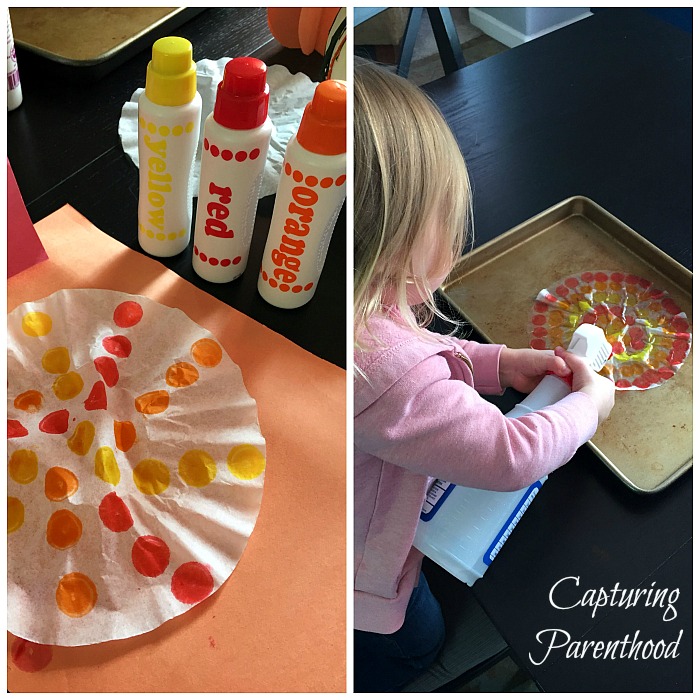 To add the finishing turkey touch, simply cut a bowling pin shape from a piece of brown construction paper, add a pair of googly eyes, an orange triangle beak, and don't forget the little red gobbler! Once your turkey is ready, grab a glue stick (or some tape) and glue your turkey onto your colorful coffee filter!
You're little ones are going to love this craft…trust me. It doesn't get much better than Do-A-Dot markers and a spray bottle full of water! 🙂
Shape Turkeys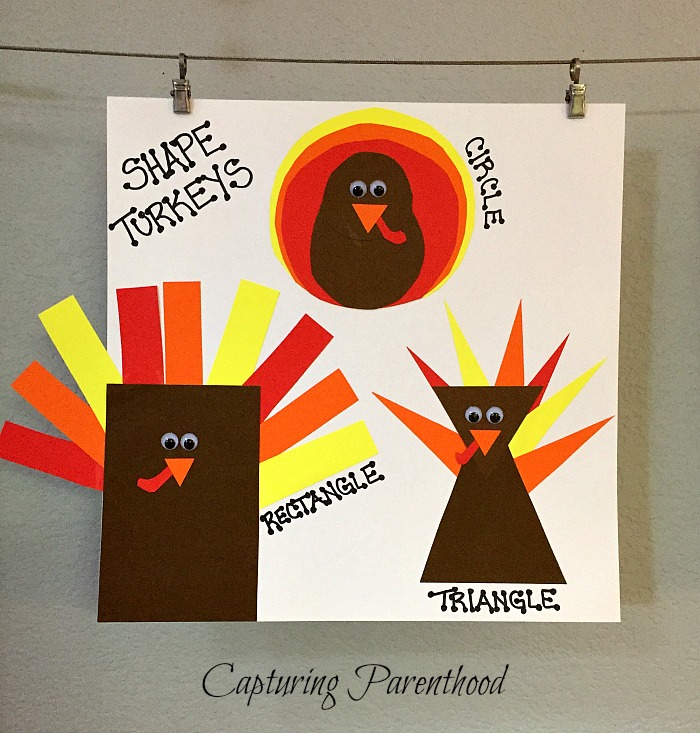 This Shape Turkeys craft that I found over on Housing a Forest is not only fun and festive, it's also educational! I loved Tammy's holiday-themed idea for encouraging shape recognition so much, that we just had to make one for ourselves!
All you need for this turkey craft is some construction paper (brown, red, orange, and yellow), some googly eyes, and a glue stick. First decide how many, and which shapes you would like to create. I stuck with Tammy's original rectangle, circle, and triangle turkeys, but there are so many other shapes that you could explore.
Then simply cut out your turkey shapes from the brown construction paper, and your turkey feather shapes from the other colors of construction paper. Don't forget to cut out a few small orange triangles for the turkey beaks, and a few red squiggles for the turkey gobblers. Once you have everything cut out, start gluing your turkeys to a single sheet of paper, so that they can all be displayed together, and your little one can practice differentiating between the shapes!
Hand-Print Turkey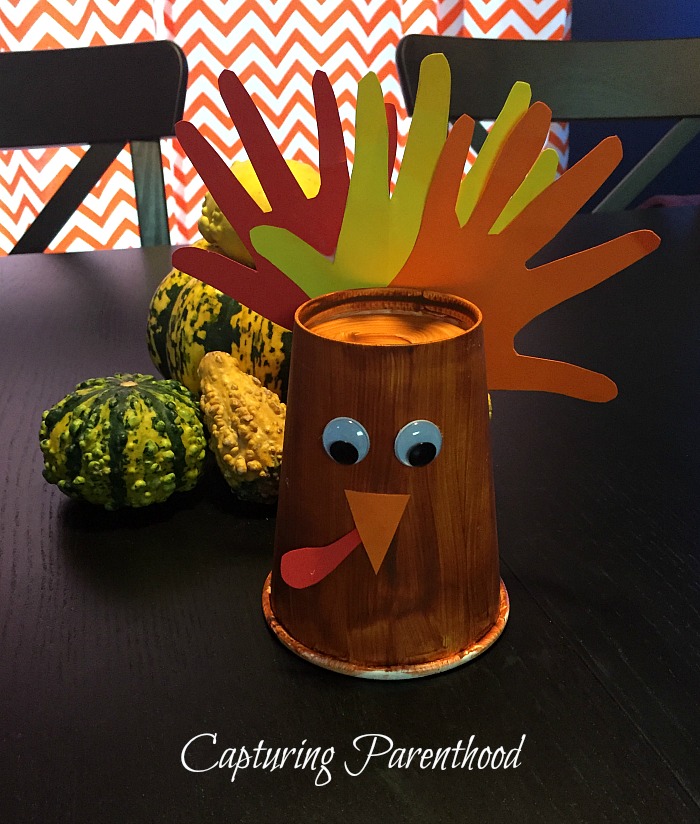 I've seen quite a few hand-print turkey crafts on Pinterest, but I absolutely love this paper cup hand-print turkey idea that I found on The Resourceful Mama! What I love most about it, is that the cup provides the perfect base to turn the turkey into a Thanksgiving table centerpiece!
My little one always loves having her hands traced for craft projects, so the fact that we got to trace her hand a few different times, in a few different colors, was a huge bonus! She also thoroughly enjoyed painting the paper cup brown!
Once our cup was completely dry (and turkey-colored), we stuck on a pair of googly eyes, an orange triangle beak, and a little red gobbler. And then on the back-side of the cup (the side directly opposite from the turkey face) we glued on our hand-print turkey feathers.
This hand-print turkey was actually our table centerpiece last Thanksgiving. Stay tuned next week, and you'll see what our new centerpiece looks like…and I must say, I'm in love with it!
Gobble! Gobble!
START SPREADING THE NEWS!