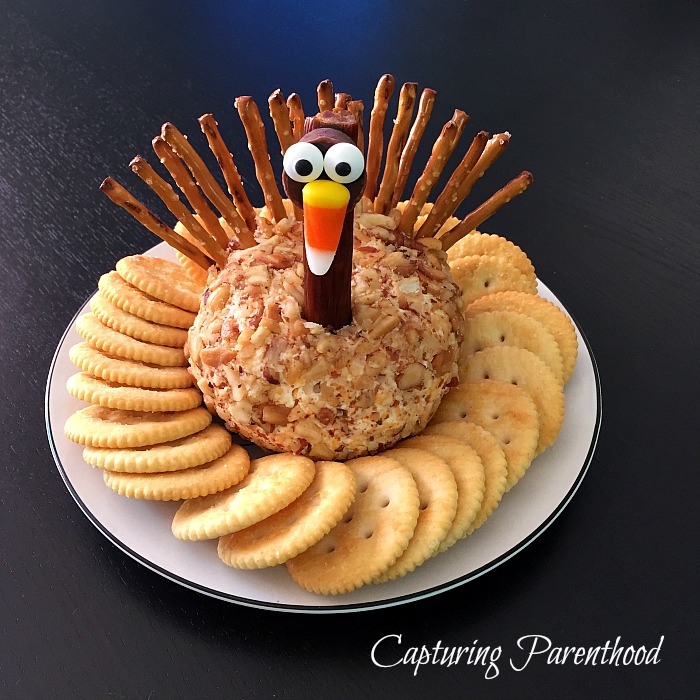 The holiday season is in full swing! I don't know about you, but Thanksgiving seemed to come and go so fast this year. Perhaps it was all of the dinner planning and preparation, in the midst of also parenting a 2-year-old, that made it such a blur. We hosted a small celebration with some of our family, and feasted on all of the usual delicious fixins': turkey, mashed potatoes and gravy, cranberry sauce, green bean casserole, stuffing, warm rolls…you name it. Since our Thanksgiving dinners are usually consumed mid-afternoon, eating a big lunch is never a great idea…so, I like to set out a few munchies to tide everyone over. This year I went with a veggie tray, some mixed nuts, and some caramel popcorn.  But my favorite creation was a festive (and completely edible) turkey cheese ball!
I know it might seem crazy, but I've never actually made a cheese ball prior to this experience. I was pleased to find that this was not only easy and could be made ahead of time, but it also carried a big entertainment factor – especially with my daughter!
I came across this idea on Bloglovin' by Crafts a la Mode (https://www.bloglovin.com/blogs/crafts-a-la-mode-4963329/thanksgiving-turkey-cheese-ball-4611778900). I followed the recipe and made a few minor adjustments – I ended up using a Rolo for the head, and instead of chocolate melts to hold everything together, I used a royal icing pen (used to write on cakes) as the "glue" to hold my turkey head together.
Turkey Cheese Ball
Ingredients:
8 oz. Package of cream cheese, softened
1 Cup shredded cheddar cheese
1/2 Cup mixed nuts, chopped
Pretzel sticks
Original Slim Jim
1 Rolo
2 Candy eyes (I found mine at Target)
1 Candy Corn
Royal Icing Pen (for cake decorating)
Directions:
Cream the softened cream cheese in a stand mixer for a few minutes (you can also do this by hand). Add the shredded cheese and mix for another couple of minutes until it is all fully incorporated.
Gently form the cheese mixture into a ball using your hands and place in a sheet of plastic wrap (you can continue to shape the ball once you have it wrapped up). Place the ball in the refrigerator for a few hours to firm.
Remove the cheese ball from the fridge and gently roll it in the chopped nuts, fully coating the exterior of the ball. Place back in a sheet of plastic wrap and pop it back in the fridge.
To make the turkey head, chop a 4-5 inch piece off of the Slim Jim. Using your royal icing pen "glue" the Rolo on to the top of the Slim Jim. Follow suit with the candy eyes and Candy Corn beak. To firm everything up, I placed my turkey head on a paper towel and popped it in the freezer for 15-30 minutes. Since I was serving the cheese ball the following day, I then moved it to a Ziploc bag and placed it in a safe spot in the fridge, alongside the cheese ball.
When you are ready to serve, set your cheese ball out for several minutes to soften (just enough so that you can easily slide the turkey head into the ball). Add your pretzel stick tail feathers and gently slide the Slim Jim down into the front of the turkey. Surround with crackers and set it out to be admired and devoured!
Gobble Gobble!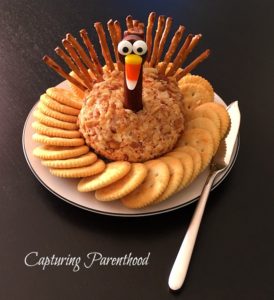 START SPREADING THE NEWS!