We love conducting colorful experiments, especially when they involve color-mixing! This Walking Rainbow Experiment is a unique way to help your little ones learn what happens when you mix two primary colors together.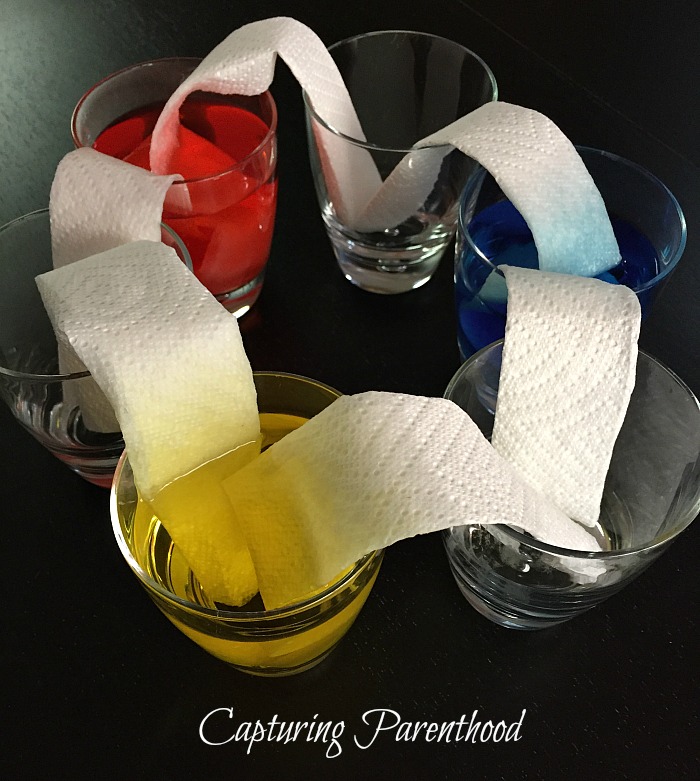 The experiment is super easy to setup, and requires just a few items that you probably already have on hand. While you can see a noticeable reaction after a short amount of time, this experiment is best, if you let it sit for at least 24 hours (it took that long for the water in our glasses to even out). Even though this is not a quick experiment, we still enjoyed running over to the dining room table every once in awhile, to check on our rainbow's progress, and to see what new colors were developing.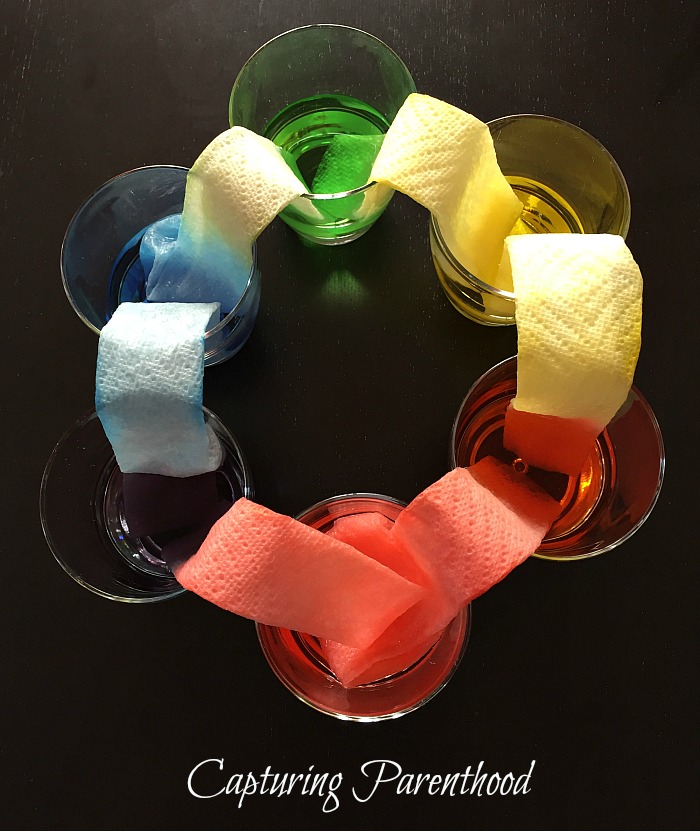 ---
Walking Rainbow Experiment
Supplies: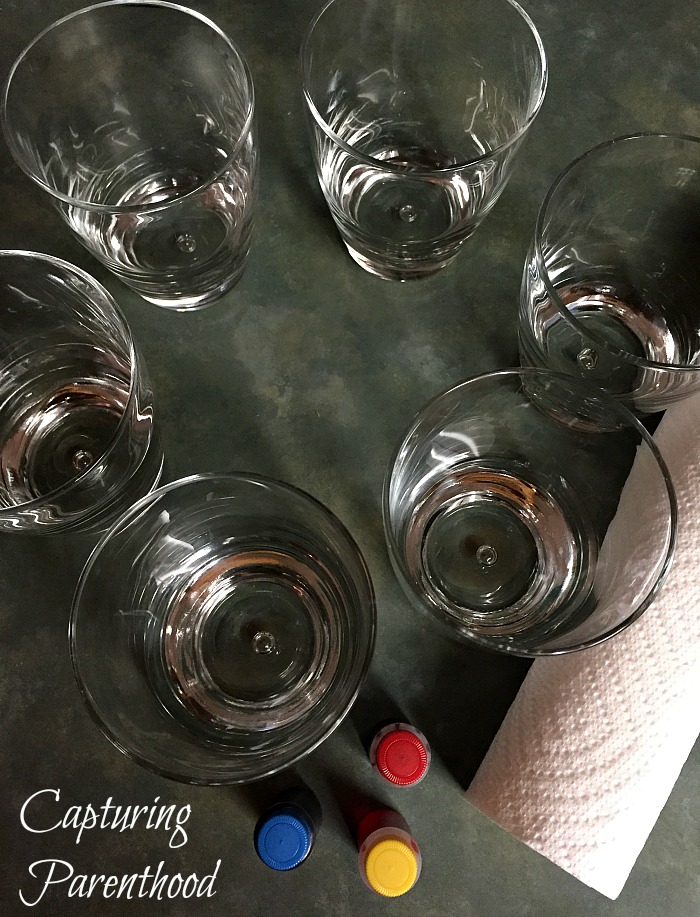 Six Glass Jars/Drinking Glasses
Water
Food Coloring (red, yellow, blue)
Paper Towels
Instructions: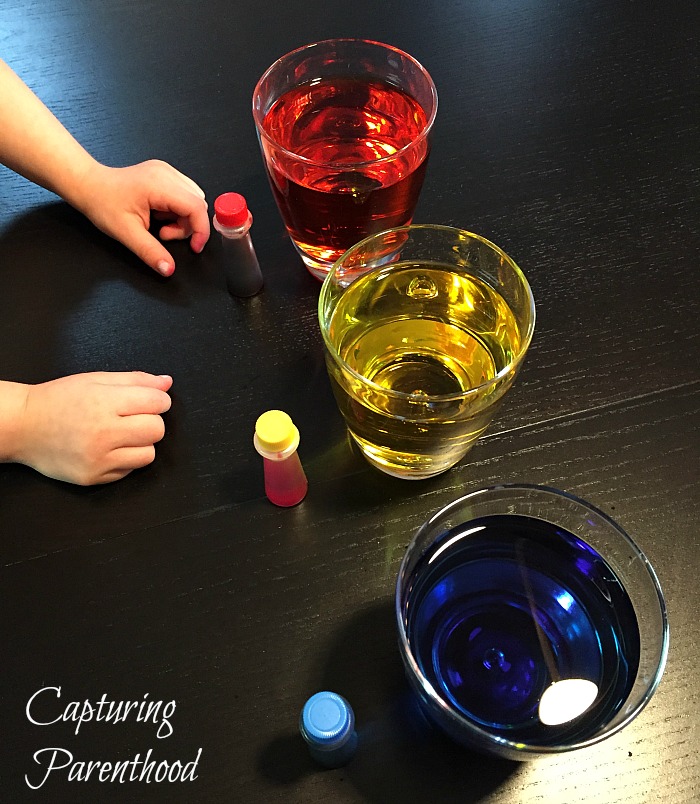 Fill three of the glasses approximately 3/4-full, with water. Make sure to leave the remaining three glasses empty.
Add food coloring to the glasses of water, so that you end up with one red glass, one yellow glass, and one blue glass.
Arrange the glasses in a circle, inserting an empty glass in between the glasses of colored water (i.e. red, empty, yellow, empty, blue, empty).
Next, fold six paper towels into strips.
Place one end of a paper towel strip into the red water – place the opposing end of the paper towel strip into the adjacent empty glass. Take another paper towel strip and place one end in the empty glass, and the other end into the yellow water. Continue this process the entire way around the circle of glasses, until each glass has two different ends of paper towel inside.
Sit back and watch the color-mixing magic happen! As noted above, this can take a bit of time.
---
My little nugget loved watching the colored water climb up the paper towels, and down into the next glass. She proudly informed me that the red and yellow paper towels were making orange…the yellow and blue paper towels were making green…and the blue and red paper towels were creating purple! After approximately 24 hours, we were left with the most beautiful array of rainbow colors. We removed the paper towels and admired our colorful creation!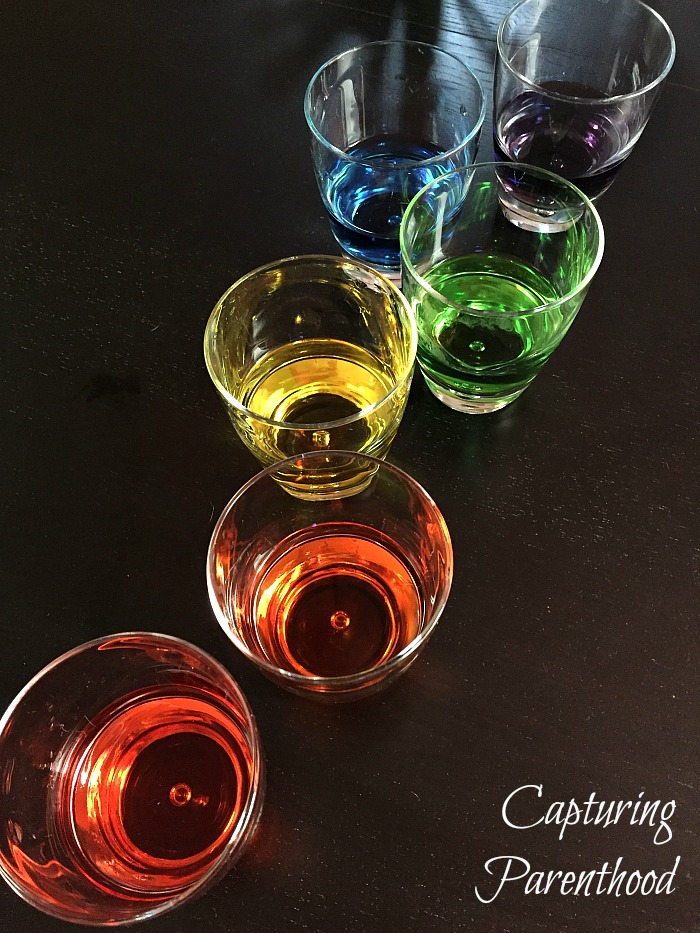 Since my little nugget is still a bit young to fully understand the other science behind this experiment, we left it as a color-mixing activity. We did, however, make sure to point out how the water was climbing up the paper towels. So, in the future, when we conduct the experiment again, we can explain capillary action (the ability of liquid to flow upward, against gravity, in narrow spaces). This is how trees are able to get water from their roots, all the way up to their leaves! If your kiddos are a bit older, and you want to fully delve into the science behind this experiment, check out: http://thestemlaboratory.com/walking-water-rainbow/ – Malia gives a very thorough explanation.
START SPREADING THE NEWS!