Have you ever played with water beads before? They are quite possibly the best tools for sensory exploration – for all ages! My little nugget loves them, I love them, my husband loves them, and even my mother loves them! We are all fascinated by the entire process of hydrating these hard, minuscule balls, and watching them turn into much larger squishy, rubbery, bouncy balls of fun! You can even explore their dehydration process, and watch them turn back into the hard, minuscule balls that you started with! Water bead sensory exploration is simply captivating – you must give it a try!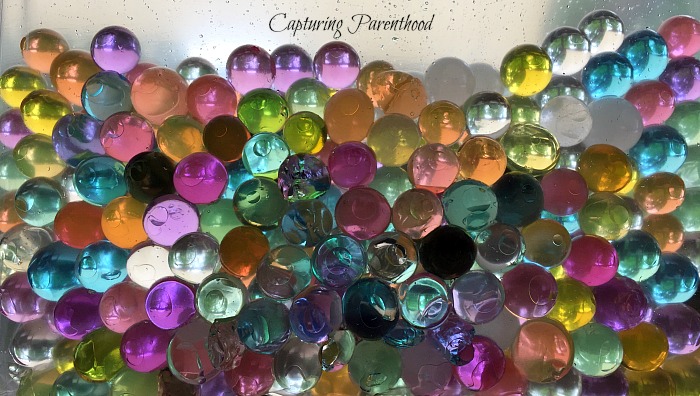 **Note: This post contains Amazon Affiliate links for convenience. See Disclosure Policy for more details.**
I ordered this 8 oz. pack of Sooper Beads (Rainbow Mix) on Amazon, which will make nearly 20,000 water beads! All for a total of $6.49!
These little sensory wonders are non-toxic, biodegradable, and reusable. From what I've read, they are made using the same compound that makes baby diapers absorbent – Sodium Polyacrylate (also known as "waterlock").
If you're feeling hesitant about letting your little one explore with these water beads, because they are in the infamous "I put everything in my mouth" stage, I've got you covered. When my daughter was making her way through that stage, I opted for the edible alternative of Tapioca Pearls (otherwise known as the Boba Bubble Tea balls). I ordered this rainbow-colored pack off of Amazon. While these are smaller in diameter, and not as vibrantly-colored, they still provide a fun sensory experience, and are super easy to make. In fact, they take substantially less time to prepare, than the actual water beads.

The Sooper Water Beads take 8+ hours to grow to their full-size. I typically let them sit overnight, but to be honest, the process of watching them grow is super intriguing. I place 1 Tbsp. of water beads in a small, clear plastic tub and then add 1-1/2 quarts of water. Within 30 minutes you will notice that the beads have grown in size, and what's really amazing is that the entire time they are submerged in water, they actually look like fuzzy pom balls. They don't look at all like they are enclosed in a ball-form, or that they are even solid. They appear as if you won't actually be able to touch them at all. Yet, if you reach your hand in, you will emerge with a handful of colorful, squishy orbs. I told you…they're fascinating!
I absolutely love to watch the beads grow. My little nugget, on the other hand, loves to scoop them, shovel them, or grab handfuls of them, and then transfer them into different buckets, tubs, etc. She is thrilled by how bouncy they are, and she ends up chasing them around on our tile floor. 🙂
Word of warning…they are not the most durable sensory objects. If you give them a good squeeze (as my daughter loves to do) they will break down, but they are still easy to clean-up, and since my $6 bag will make approximately 20,000 beads, I really don't mind at all!
I also stumbled upon another fun way to explore with water beads, over on Parenting Chaos, where Stephanie shared her Water Bead Sensory Window Bag idea (http://parentingchaos.com/water-beads-sensory-window-bag/).

I must admit that putting the water beads up to a light source is a complete game-changer! They are absolutely beautiful to look at if you tape a Ziploc bag to a window, or sliding glass door. You could also put the bag on a light table, as well. And that little thing I mentioned about the water beads being a bit fragile and easy to break apart? With this method of exploration, your little ones can squeeze and squish to their heart's content, and all you will have to do is toss the bag in the trash when they're done playing! Mess-free!

As for my husband…he was more interested in what happens to the beads after you're done playing with them. I informed him that I had read how you could just set them out to dry (so to speak), and that they would revert back to their original size. He thought I was full of it, so of course, he had to try it himself. He placed a large handful of water beads on a plate and left them out on the counter. Little by little, they shrank in size, until magically, they had transformed back into their original form (it took approximately five days). Thus the reusable nature of these water beads!
And you don't just have to use them for sensory exploration with your kiddos, they can also be used as vase-fillers and plant decorations. A lot of people use them for Bamboo plants, because the beads will slowly release the water that they've absorbed, which just happens to be the right amount of moisture for Bamboo.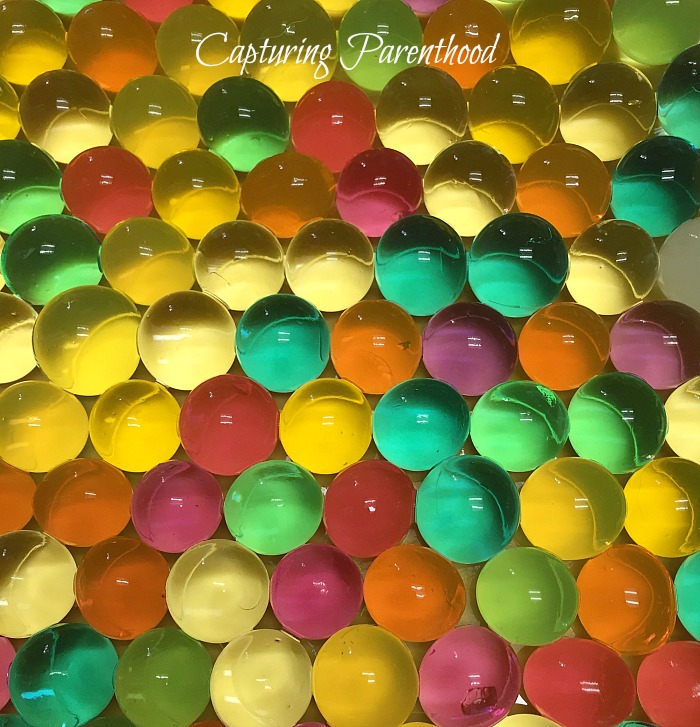 The wonders of water beads are endless. I used them in (what has become) my absolute favorite sensory bottle – to be shared at a later date. And on Thursday, I'll share an awesome Water Bead Stress-Ball Balloon with you…so stick around!
START SPREADING THE NEWS!