What happens when you fill a large glass cylinder with water beads and water, and then drop in a couple of Alka-Seltzer tablets? Magic! Well, technically it's more of a chemical reaction. Nevertheless, you end up creating a very bubbly and colorful Water Beads Lava Lamp, that your kids will absolutely love!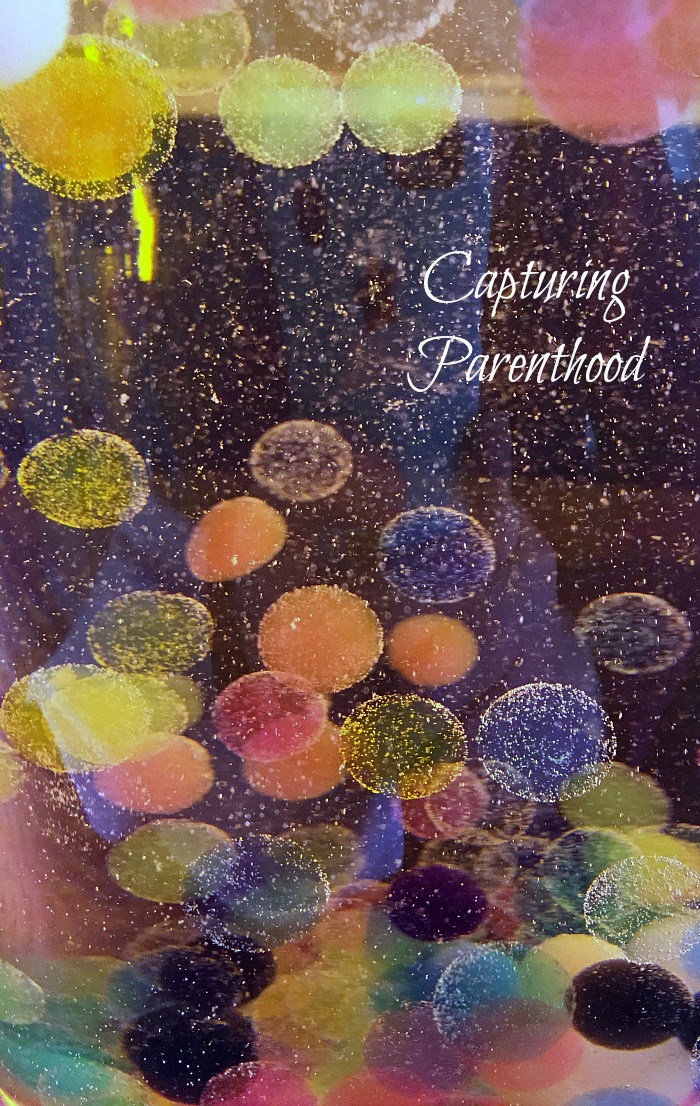 We previously conducted this smaller-scale Lava Lamp Experiment (where we also utilized the power of Alka-Seltzer). We loved watching our purple water bubble up through the clear baby oil. Our little nugget must have dropped over 20 pieces of Alka-Seltzer into our Voss water bottle that day. 🙂
I happened upon this brilliant Water Beads Lava Lamp idea, over on The Dad Lab's Facebook page. It just so happened that we already had a batch of water beads at the ready…and leftover Alka-Seltzer, from our previous lava lamp experience. I was also in the process of swapping out the contents of our large glass cylinder (that we use as a centerpiece on our dining room table) to match our new winter-themed decor…so the cylinder was sitting empty, and just begging to be used for a fun activity!
---
Water Beads Lava Lamp 
Supplies: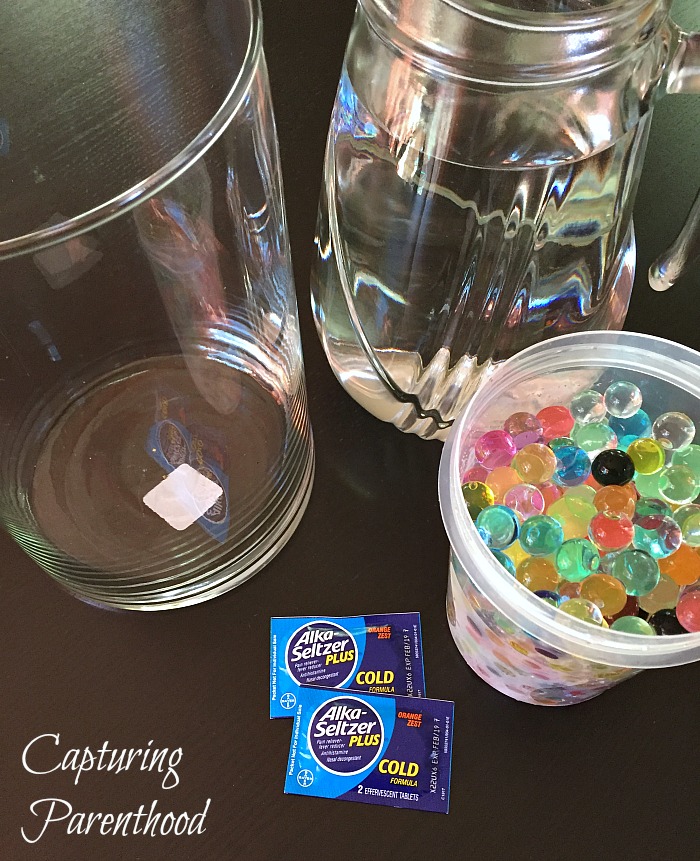 Large Glass Cylinder/Vase/Pitcher
Water
Water Beads
Alka-Seltzer Tablets
Instructions:
Add water beads to the empty glass cylinder. Our water beads were already fully-saturated and at their peak size. On the contrary, if you're starting from scratch (so to speak) add a couple of teaspoons of dry water beads to the cylinder/vase/pitcher.
Fill the glass cylinder with water. If you're working with fully-saturated water beads, you can move directly to the next step. If your water beads need to absorb water, and grow to their full-size, let them sit in the water for at least 8 hours (or overnight).
When you're ready…drop two full Alka-Seltzer tablets into the cylinder. Sit back and watch the magic (or science) happen! Feel free to add additional Alka-Seltzer tablets, when the initial reaction begins to slow down…to start the fun all over again!
We happened to use orange-flavored Alka-Seltzer tablets, and while it made our lava lamp smell wonderful, we noticed that it also started to tint our water with a light orange hue. 🙂 
---
Our little nugget had the best time dropping in the tablets to make her water beads start dancing! She enjoyed the citrus smell that the Alka-Seltzer created, and she (of course) had to reach her hand into the cylinder to touch the water beads…which always caused a squeal of delight! 🙂
Watching the water beads dance around in the cylinder was absolutely mesmerizing. We were both completely transfixed! This simple Water Beads Lava Lamp is not only fun and engaging, but it can also be a very calming activity (for those moments when things seem to be getting just a little too wild).
My favorite part was actually when the reaction started to calm down…the frenzied movement of the water beads turned into a beautiful slow dance, and you could finally see that the water beads were all covered with tons of teeny-tiny, sparkly bubbles!
We can't get enough of our water beads…they never disappoint! And this Water Beads Lava Lamp activity will most definitely be one that we repeat time and again. 🙂
START SPREADING THE NEWS!