It's been a week for celebration! Tuesday was Colorado Day, and today happens to be National Watermelon Day! How could we not partake in honoring one of our favorite summer fruits? Instead of sinking our teeth into a standard slice of juicy watermelon, we wanted to make the occasion a bit more fun, with these Watermelon Ladybugs!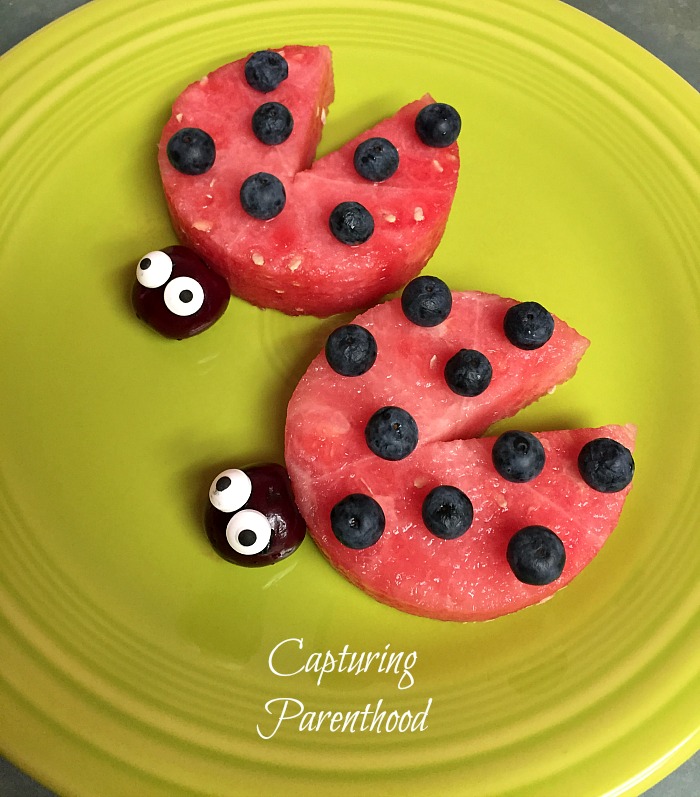 What's better than watermelon? Well…watermelon paired with blueberries, cherries, and candy eyes, of course. I'm always looking for fun ways to serve meals and snacks, because my little nugget is way more enthusiastic about eating, when food is presented in a creative way. She also loves when she can help out in the kitchen, and these ladybugs were just the ticket.
---
Watermelon Ladybugs
Ingredients: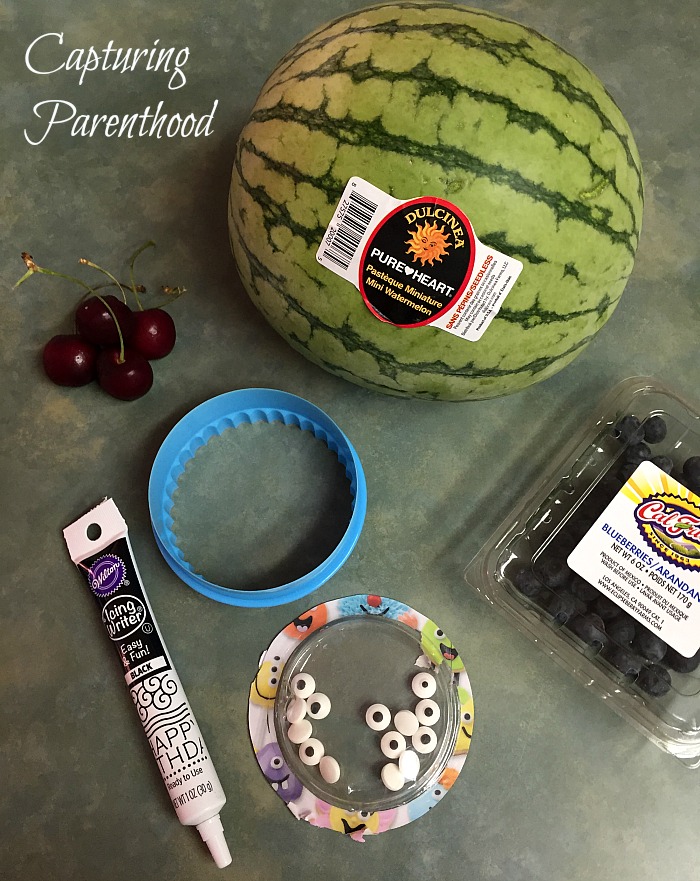 Seedless Watermelon
Blueberries
Cherries, pitted
Icing Pen (or a dab of melted chocolate)
Candy Eyes
Instructions: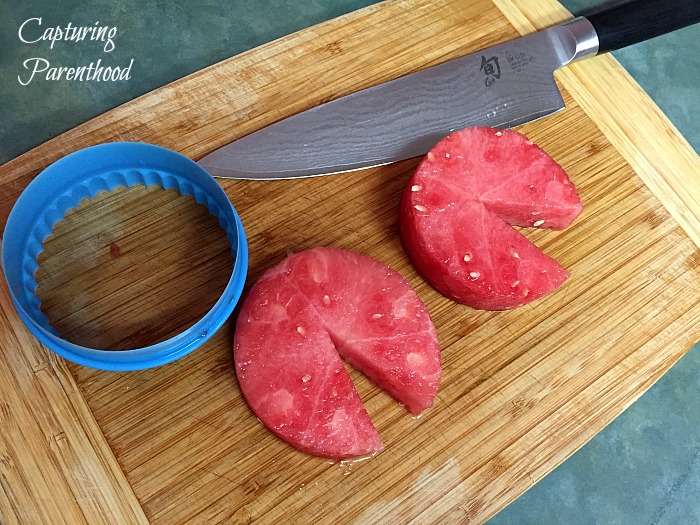 Using a sharp knife, carefully slice an approximately 1/2″ to 1″ piece of watermelon and lie flat on a cutting board.
Using a 3″ round cookie cutter (or glass), cut a circle out of the watermelon flesh. Repeat this process until you have as many ladybug bodies as you desire.
Once you have your watermelon rounds, carefully cut out a narrow triangle, from one side of each ladybug (to create the wings). Transfer the ladybug bodies to a plate or serving dish.
Place one cherry on the opposite side of the triangle, to give each ladybug a head.
Using an icing pen (or a small amount of melted chocolate), attach the candy eyes to the tops of the cherries.
Lastly, adorn the ladybug wings with several blueberry spots.
Enjoy! You might want to grab a few extra paper towels…this tends to be a messy snack, due to all of the watermelon juice. 🙂
---
Did you know…
There are more than 1,200 varieties of watermelon.
By weight, a watermelon is approximately 6% sugar and 92% water. In fact, they are such a hydrating food that in ancient times, travelers and explorers utilized them as a water replacement, when drinking water was scarce.
Watermelons are considered both a fruit and a vegetable. It is considered a fruit because it is grown from a seed, has a sweet flavor, and is loosely considered a type of melon. It is considered a vegetable because it's a member of the same family as cucumbers, pumpkins and squash. Watermelons are harvested and cleared from fields like other vine-growing veggies.
The heaviest watermelon (to date) was grown by Chris Kent, of Tennessee, in 2013. It weighed 350.5 pounds.
Watermelon does not contain any fat or cholesterol, it is high in fiber, as well as Vitamins A and C, and it's a good source of potassium.
While most people choose not to consume the seeds and rind, every part of the fruit is edible.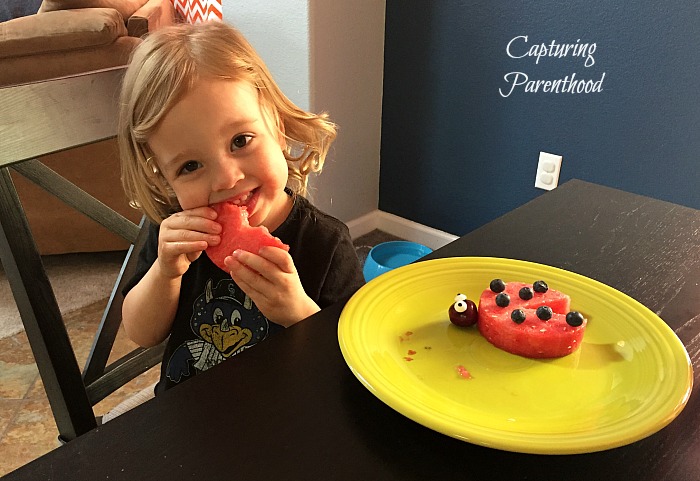 I've always enjoyed a slice of watermelon on a hot summer day. It's the perfect addition to any backyard BBQ, summer birthday party, or just your everyday dinner. And if you ever want to get a little crazy, and mix things up a bit, don't hesitate to make these quick and easy watermelon ladybugs – the whole family will love them!
START SPREADING THE NEWS!