Where we live, the snowflakes have been falling for a couple of months now, so to celebrate we've been creating our very own Winter Wonderland Arts + Crafts!
These crafts are perfect for those days when it's just too cold to go outside and go sledding, make snow angels, or a really big snowman, catch snowflakes on your tongue, go ice skating…and all of those other fun winter activities. We've had a few days where the highest temperature did not reach over 6° – Brrr!
On those days, we've settled down with a cup of hot chocolate (with marshmallows, of course) and raided our crafts closet to create these adorable winter wonderland crafts. Speaking of marshmallows…did you know that you could use them to paint?
Marshmallow Stamping
I came across the idea to paint a snowman using marshmallows, at Play Create Explore (http://playcreateexplore.blogspot.com/2012/12/marshmallow-stamping.html) and decided that it would be a fun, new way for my little nugget to explore with paint.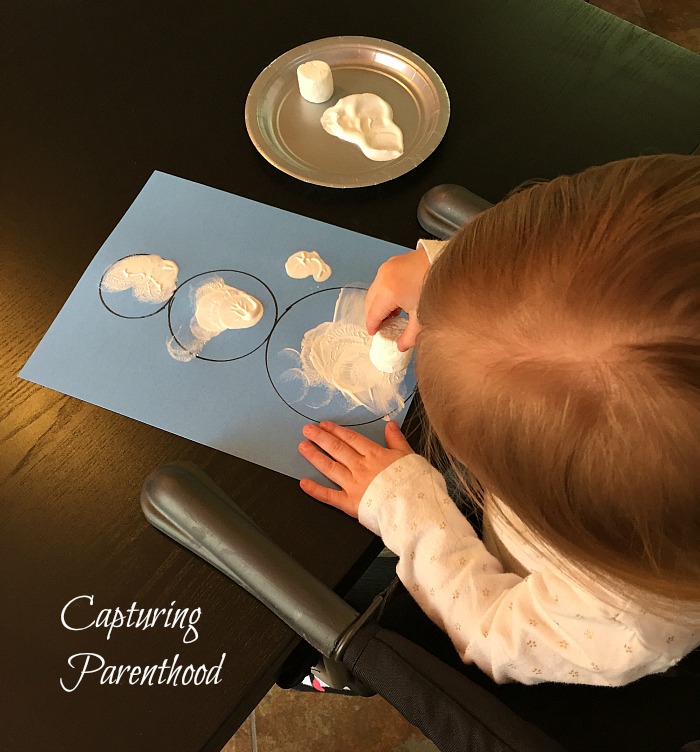 All you need is a piece of construction paper, some large (or jumbo) marshmallows, and some white paint. I traced the outline of the snowman on the construction paper, but my little nugget is not one for staying in the lines these days, so when the paint had dried, I just cut out the snowman with a pair of scissors. We decided that he needed a top hat, so we cut a little one out of another piece of construction paper, and then we drew on his carrot nose, smile, and buttons with varying colors of Sharpie markers. Lastly, we used two small, googly-eye stickers for his eyes!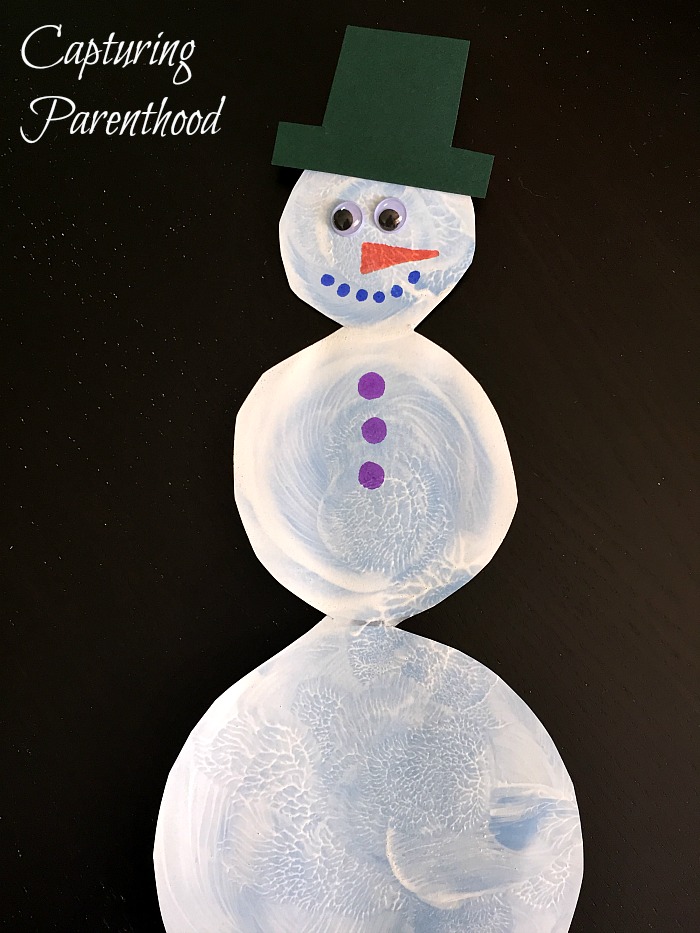 Toilet Paper Roll Penguins
These little Toilet Paper Roll Penguins were so fun and easy to make. I'm so glad I stumbled across this brilliant craft idea on Play Dough & Popsicles (http://www.playdoughandpopsicles.com/2016/11/18/easy-toilet-paper-roll-penguin-craft/).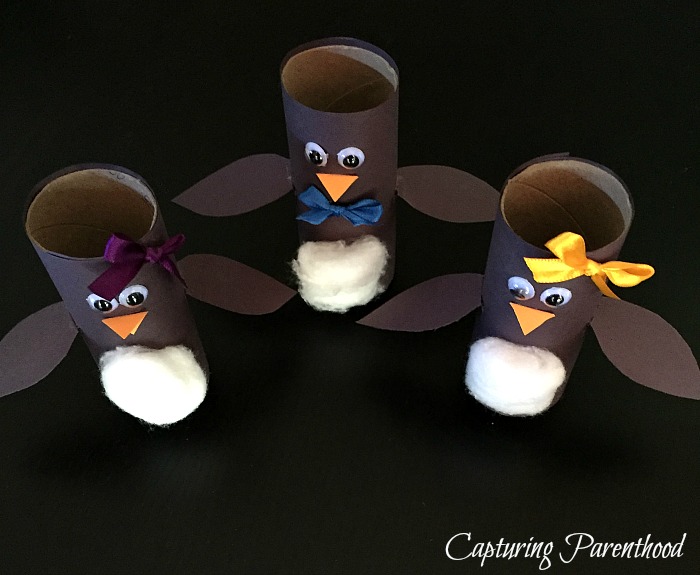 All you need for this simple craft is some empty toilet paper rolls, black construction paper (for the body and wings), cotton balls, ribbon, orange construction paper (for the beaks) and some small googly-eyes.
We decided to make one for each member of our family (dogs excluded). The daddy penguin got a blue blow-tie and the mommy and "big girl" penguin got pretty yellow and purple ribbons in their hair. This little penguin family adorns the center of our dining room table and our little nugget loves interacting with them at meal time!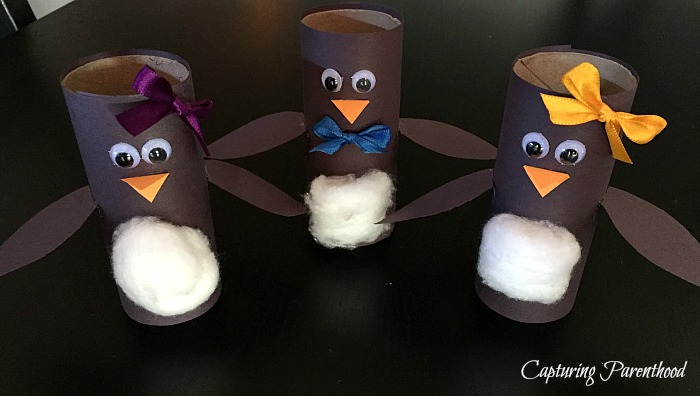 Paper Heart Penguin
In our house, we firmly believe that you can never have too many penguins! So, we decided to add this lovable Paper Heart Penguin to our ever-growing, winter wonderland! I found this cute idea on Crafty Morning (http://www.craftymorning.com/paper-heart-penguin-craft-for-kids/).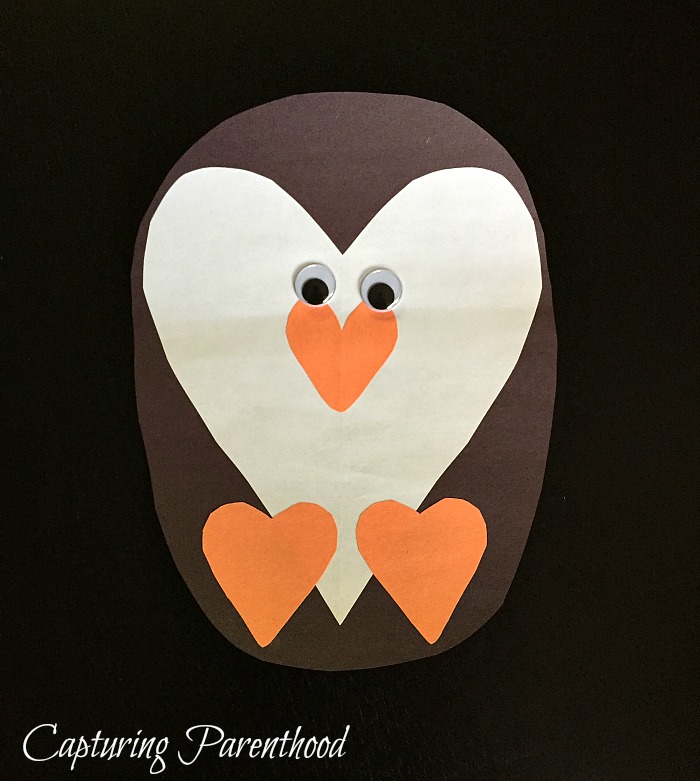 You will likely already have all of the supplies you need to make this little guy – black, white, and orange construction paper, and pair of big googly-eyes.
Cut an oval shape our of your black construction paper – then one large white heart and three little orange hearts (one for the beak, and two for the feet). Glue everything together and then pop on those googly-eyes for the finishing touch!
Tape-Resist Snowflake Painting
Little Bins for Little Hands shared this awesome snowflake painting idea (http://littlebinsforlittlehands.com/snowflake-painting-tape-resist-stencil-fun/). What better way for a toddler to create some snowflakes than to use a tape-resist method?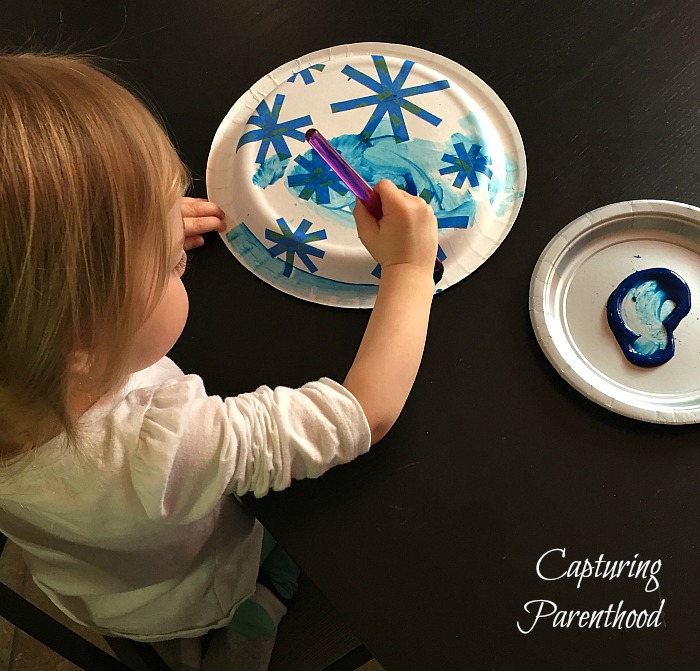 I decided to tape some snowflakes to the back of a white paper plate, using some painter's tape. Then my little nugget set to work with her blue paint. When the entire plate was covered, we set it aside to dry. After the paint set, I carefully pulled off the painter's tape and…TA DA!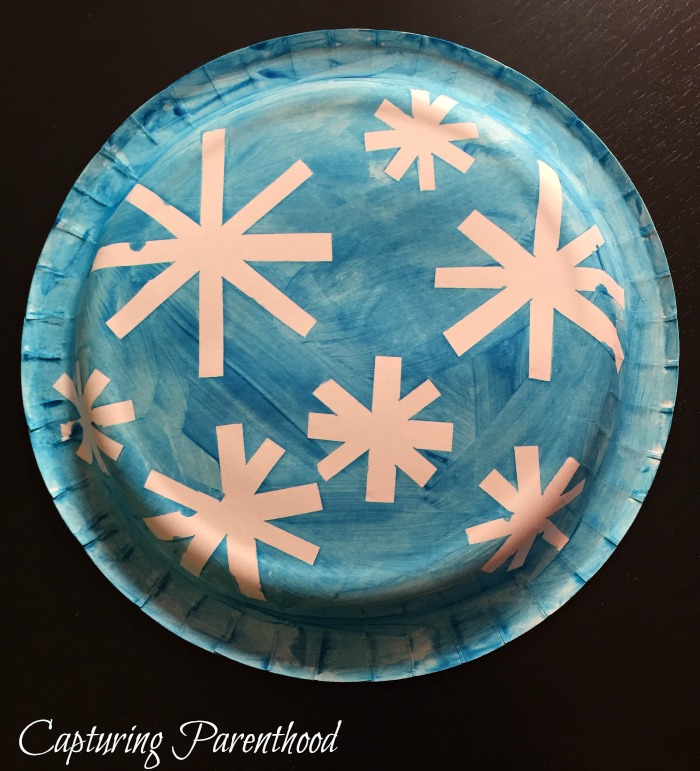 Winter Hat & Mittens Coloring Craft
One thing that we had yet to do while creating our winter wonderland arts + crafts, was to bust out our box of crayons, so I was excited when I saw a winter hat coloring craft on Easy Peasy and Fun (http://www.easypeasyandfun.com/winter-hats-craft-for-kids/). We decided to make a pair of mittens to accompany our winter hat!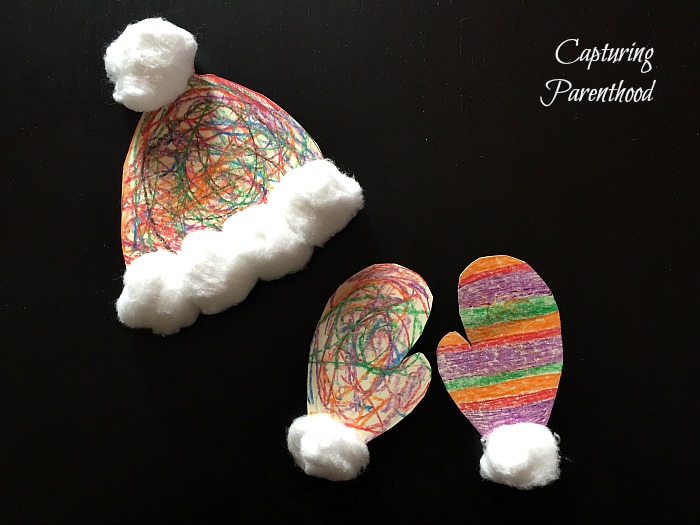 All that was necessary for this quick and easy craft was a piece of construction paper, crayons, a few cotton balls, and some glue. I cut out our hat and mittens and then sat down with my little nugget to artfully decorate our winter apparel. She insisted that I color one of the mittens, and thus the reason that they are miss-matched (but what parent doesn't have a pair of miss-matched mittens in their house)?
We had a blast coloring together and then when we were done, we carefully glued on the cotton balls for that final flourish!
---
I always have a great time doing arts + crafts projects with my little nugget. It's fun to get messy and creative…and you end up with lots of colorful creations to adorn your house, and celebrate the season!
And…if you caught my Chalkboard Garage Door post earlier this week (www.capturingparenthood.com/chalkboard-door-art/)…well, I decided to add to our winter wonderland theme, by creating a snowy scene for us all to admire!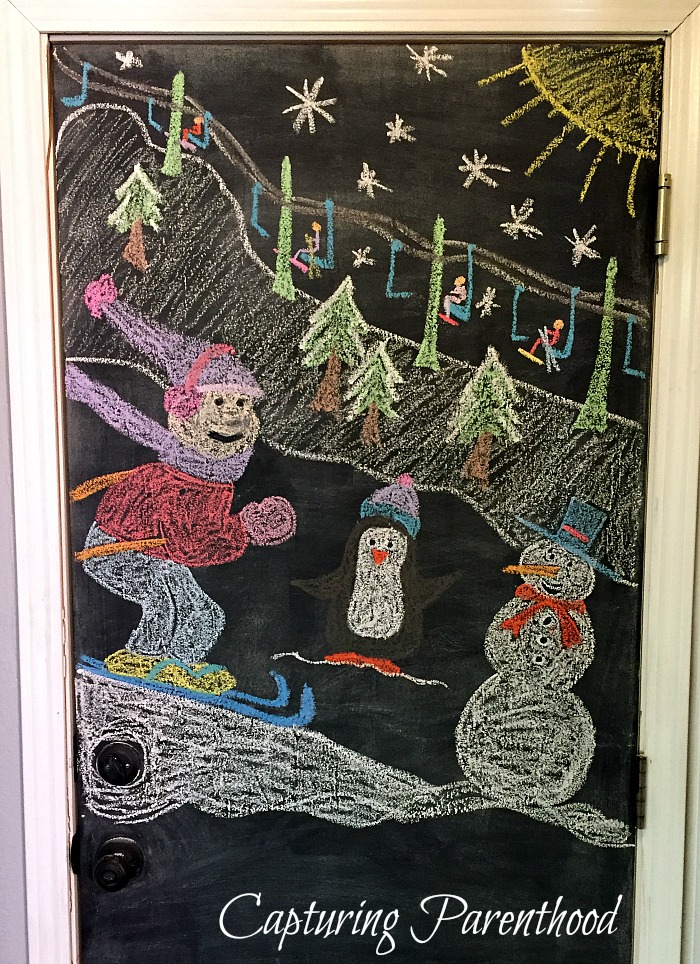 What are some of your favorite winter arts + crafts projects?
START SPREADING THE NEWS!