Did you know that you could get a balloon to magically inflate on its own, with the help of a simple chemical reaction? Yep! You're going to want to try this simple Baking Soda & Vinegar Balloon Experiment with your kiddos!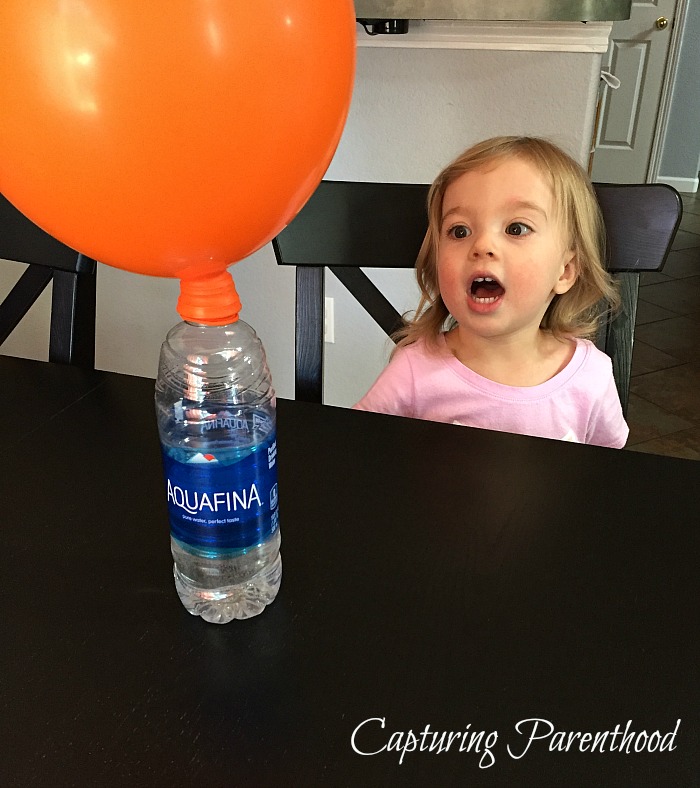 My little nugget loves balloons! What kid doesn't – am I right? And she is well aware that blowing up a balloon typically requires a bit of hot air from mommy or daddy. When we conducted this experiment, she was completely shocked (and a little nervous, at first) when the balloon started inflating all by itself! It didn't take long for her surprised expression to evolve into a big, smiling grin!
Now, we've experimented with baking soda and vinegar before – check out our colorful Fizzing Rainbow post here: http://capturingparenthood.com/fizzing-rainbow/. But I honestly, never thought to use the chemical reaction to inflate a balloon. That is, until I stumbled across this Balloon Science post over on Little Bins for Little Hands (http://littlebinsforlittlehands.com/balloon-baking-soda-vinegar-experiment-kids/).
---
Baking Soda & Vinegar Balloon Experiment
Supplies: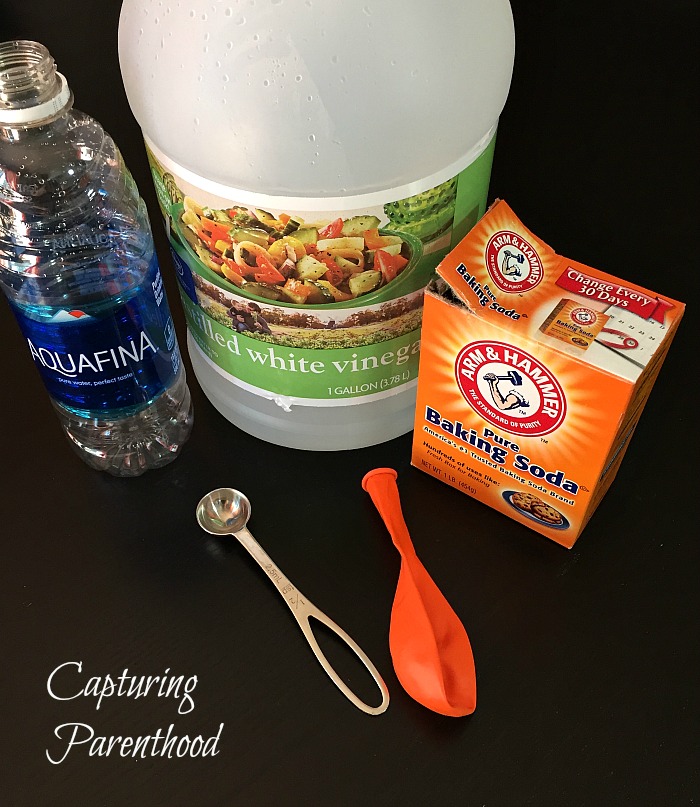 Empty plastic bottle (I used an Aquafina bottle)
Baking Soda
Vinegar
Latex Balloon
Instructions: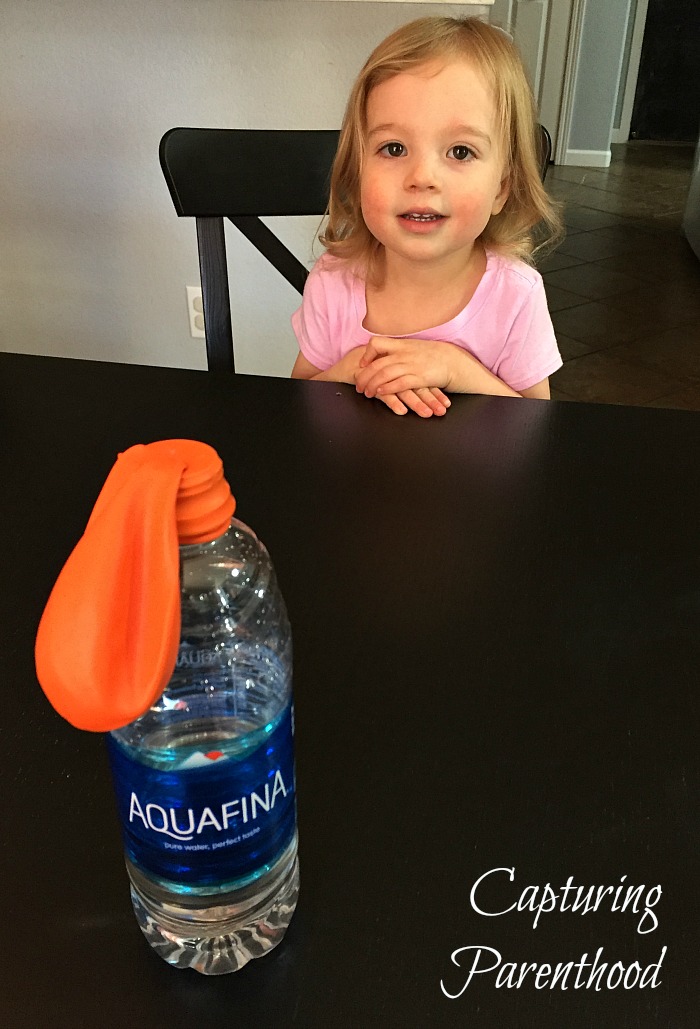 Stretch out the balloon a little bit. Spread the mouth of the balloon open with your fingers (or utilize a funnel, if you have one on hand) and pour a teaspoon (or two) of baking soda into the balloon.
Fill the empty plastic bottle about 1/4 to 1/2-full with vinegar.
While making sure to keep the baking soda down in the top of the balloon, attach the mouth of the balloon to the mouth of the plastic bottle.
When you're ready, tip the balloon up vertically, so that the baking soda falls into the vinegar.
Let go of the balloon, and watch the balloon inflate, as the baking soda and vinegar combine and create a chemical reaction.
---
We ended up conducting this quick and easy experiment a few times in a row, because it was just too much fun!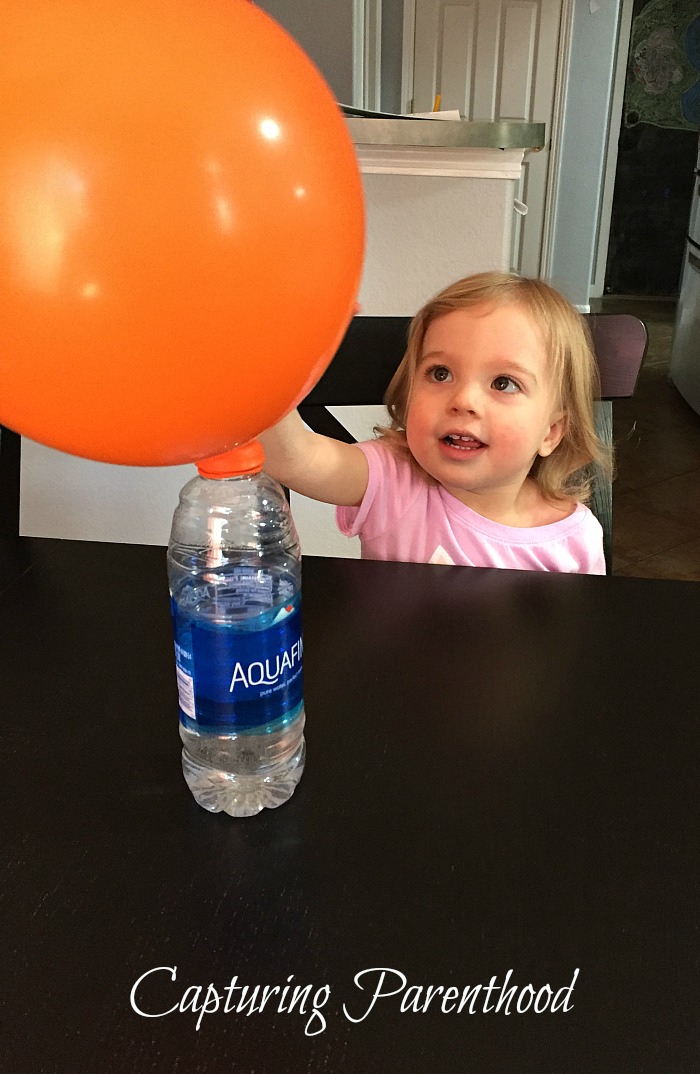 I love watching my little nugget when we do fun science experiments together. The look of wonder and surprise that always crosses her face (along with that big, happy smile) are absolutely priceless!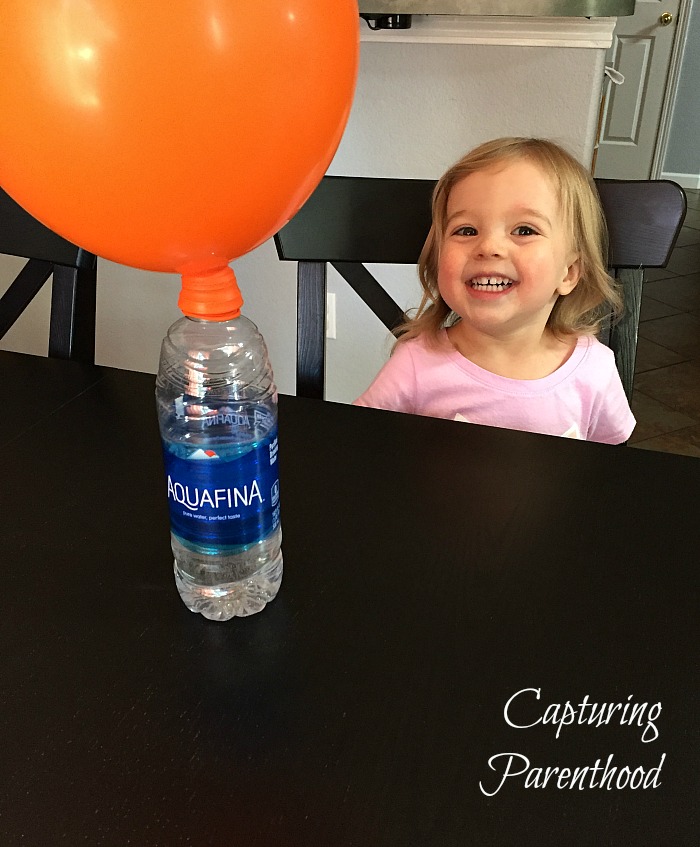 What are some of your favorite ways to experiment with baking soda and vinegar?
START SPREADING THE NEWS!