Super Bowl Sunday is right around the corner! Another season of football has come and gone, and a new champion is about to be crowned. Speaking of champions…I'm proud to report that I was the victor of my family's Pick Em' Pool this year! It's my first trip to the top of the podium, so I might be gloating just a little bit. 🙂 And while I'm happy with my victory, this season was a rather disappointing one for my favorite team (Denver Broncos) – another year without earning a playoff spot. Oh well…I guess I can always reminisce about Super Bowl 50! Regardless of the fact that my team only won a measly 5 games this season (and ended up as the worst team in the AFC West), I will still be celebrating this Sunday…if only because it means I can enjoy one of these delightfully delectable Cookies & Cream Football Cheese Balls!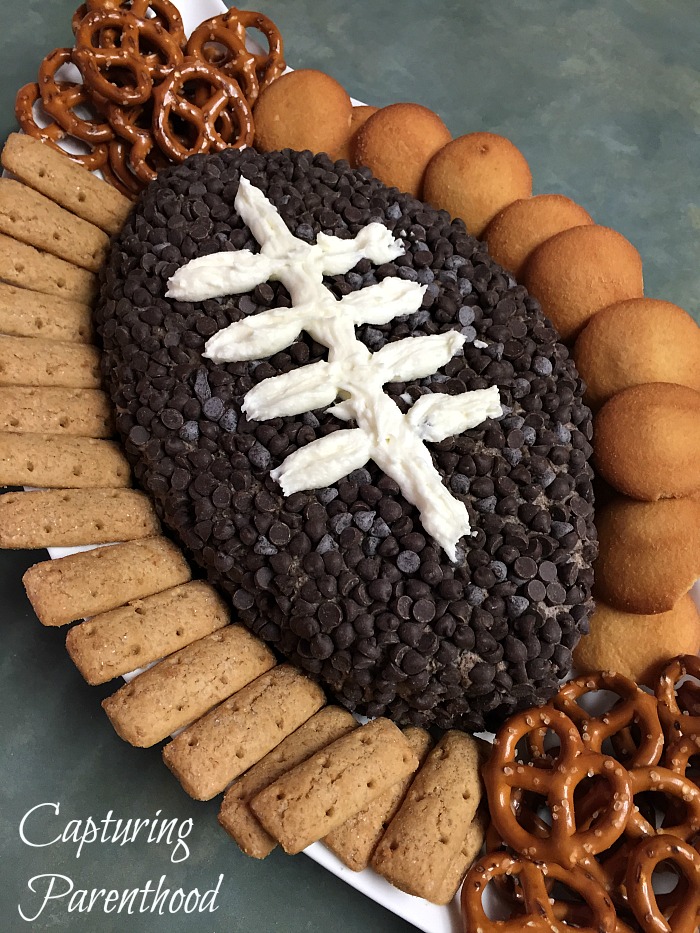 You can never go wrong with game day grub, and on Super Bowl Sunday…it's go big, or go home! It's a great day to splurge! Last year, we made these super cheesy, gooey Game Day Loaded Totchos! They were perfection! I highly recommend whipping up a batch, if you're looking for a savory dish! Just make sure to treat yourself to something sweet, too.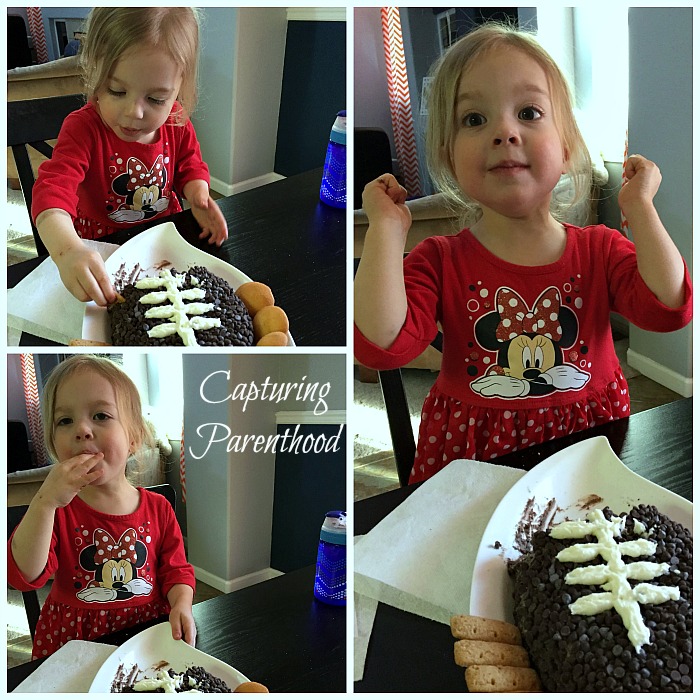 This Cookies & Cream Football Cheese Ball is not only the perfect addition to any Super Bowl party table (I mean, how could you go wrong with football-shaped food on game day), but it's delicious to boot! You can provide a variety of dippers (apple slices, Nilla Wafers, graham cracker sticks, Teddy Grahams, pretzels…the possibilities are endless). And cheese balls are incredibly easy for everyone to dig into (even the kiddos). Simply stop by the platter, choose a dipper, and enjoy the chocolaty goodness!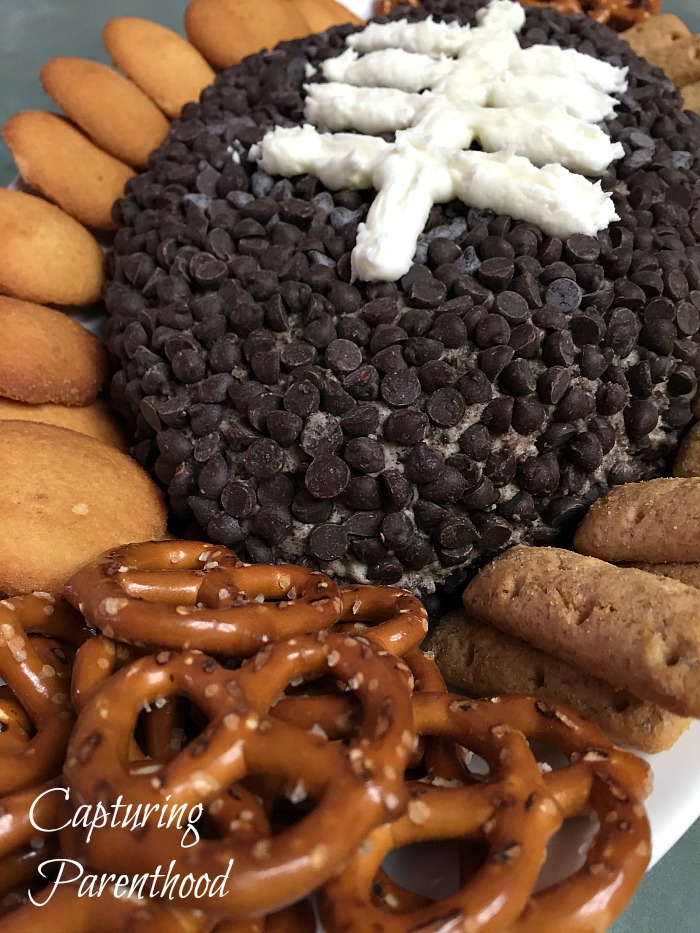 I came across this brilliant cheese ball recipe over on Shugary Sweets! Feel free to follow the link to Aimee's original recipe, or keep scrolling to find it below.
---
Cookies & Cream Football Cheese Ball
*This recipe belongs to Aimee, at Shugary Sweets, and is by no means my own personal recipe.
Ingredients: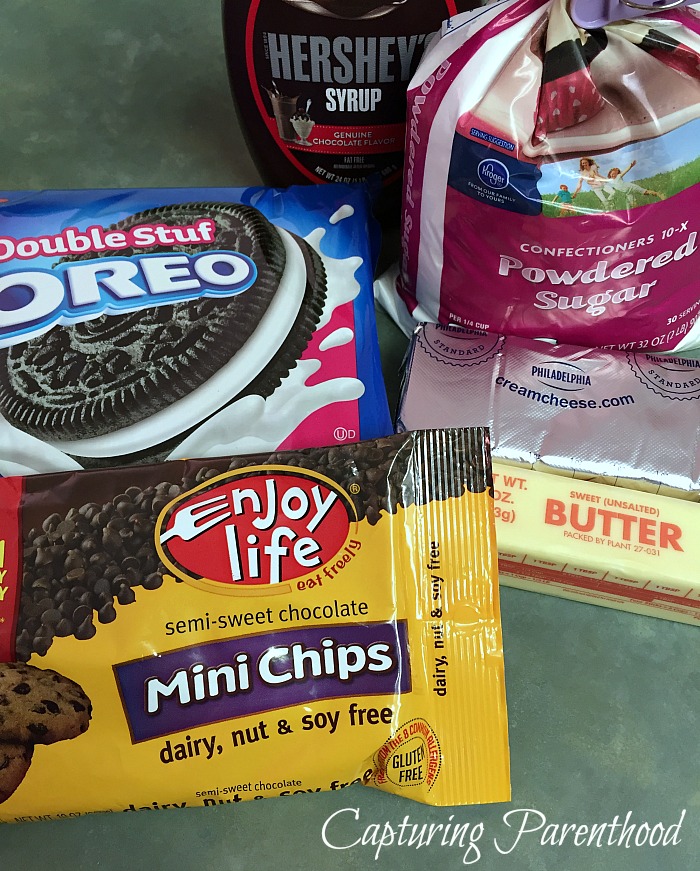 8 oz. Cream Cheese (softened)
1/2 Cup Butter (softened)
2 Cups Powdered Sugar
2 Tbsp. Chocolate Syrup
18 Double Stuf Oreos
2 Cups Mini Chocolate Chips (Aimee's recipe calls for 1 Cup)
Instructions: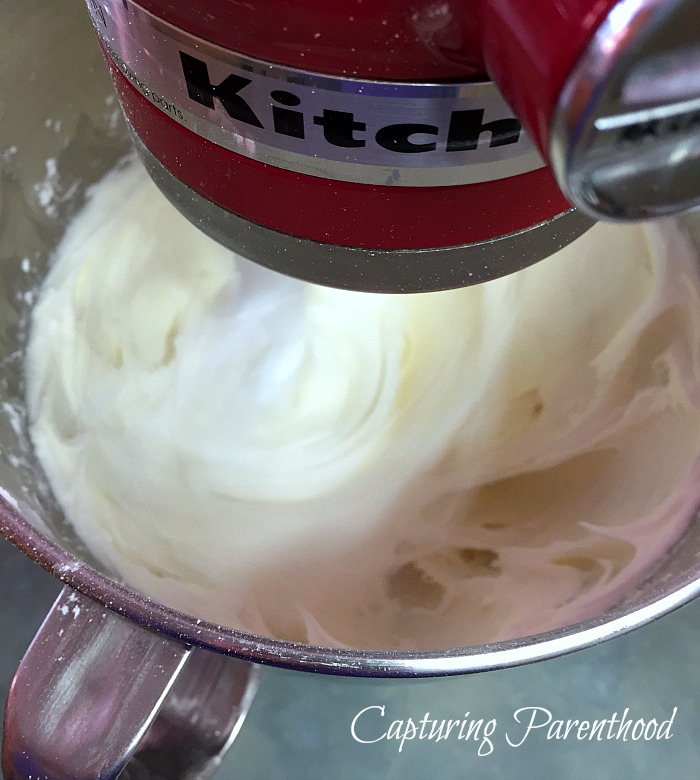 Start by crushing the Oreos. I placed mine in a food processor. If you want larger chunks of Oreos in the cheese ball, I recommend placing them in a Ziploc bag and crushing them by hand. Once crushed, set aside.
In the bowl of a stand mixer, add the softened cream cheese and butter. Mix on medium-high speed for approximately 3 minutes (scraping down the sides of the mixing bowl, as necessary) or until the mixture becomes light and fluffy.
Add the powdered sugar, and mix on medium-high speed for an additional 2 minutes (scraping down the sides, as necessary).
Remove 2-3 tablespoons of the mixture and place in a small Ziploc bag. This is what you will use to create the football laces, once the cheese ball is complete.
Add the chocolate syrup and crushed Oreos to the remainder of the mixture. Mix on low speed until all of the ingredients are thoroughly combined.
Line a large bowl with plastic wrap. Place the chocolate cream cheese mixture into the lined bowl. Fold the edges of the plastic wrap around the cheese mixture, so it is completely covered.
Refrigerate for at least 1 hour.
Remove the cheese ball from the refrigerator. Remove the plastic wrap. Shape the cheese ball into a football-shape, and place on a platter.
Cover the top and sides of the cheese ball with the mini chocolate chips, pressing gently.
Serve with the dippers of your choosing!
This cheese ball should be covered and stored in the refrigerator, if it is not served immediately. Leftovers can also be covered and stored in the refrigerator for a few days.
---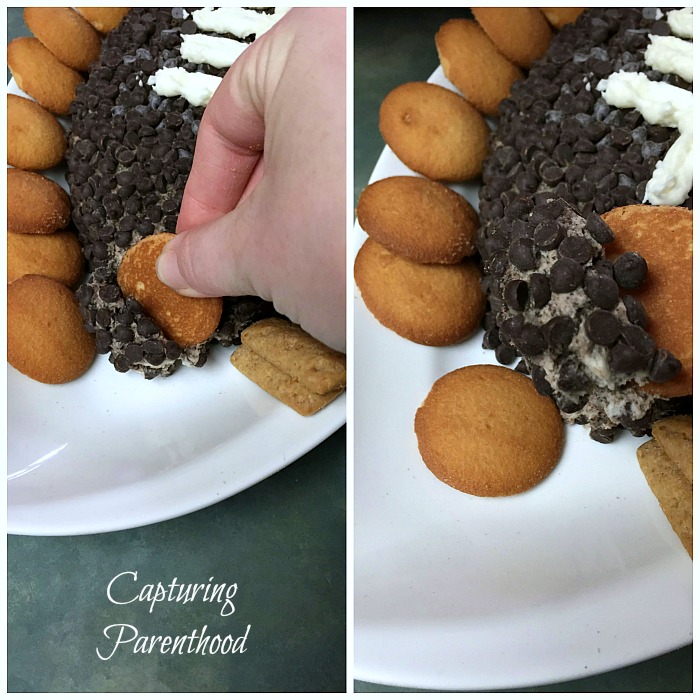 Needless to say, this Cookies & Cream Football Cheese Ball was a big hit in our household! My little nugget was more than willing to lend a hand in the kitchen, to help bring the football to life. You can never turn down assisting with a recipe that allows you to "taste test" Oreo cookies, chocolate chips, and chocolate syrup…right? 🙂 I'm sure I don't need to mention it, but she loved indulging in the finished product, as well. She was even happy to help her daddy try a few scoops!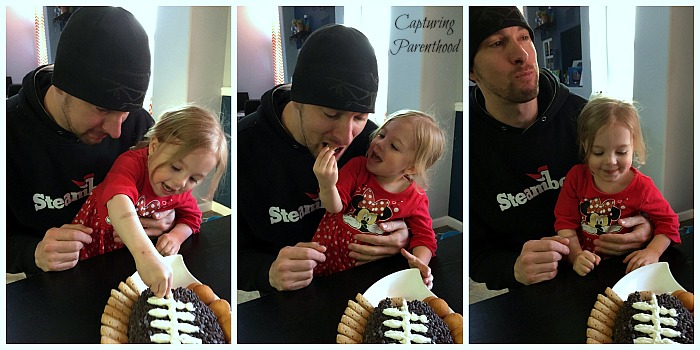 Delicious food always brings everyone together! Enjoy this Super Bowl Sunday with your family and friends. Celebrate. Indulge. Relax. Laugh. Savor the moments. May the best team win…and by that, I mean the Eagles! Who really wants to see the Patriots win another Super Bowl? 🙂
START SPREADING THE NEWS!