**Note: This post contains Amazon Affiliate links for convenience. See Disclosure Policy for more details.**
I figured it's about time that we do some more cooking with Sesame Street! This Cranberry-Apple Quinoa is an absolutely perfect dish for this time of year! We snagged our Sesame Street Let's Cook cookbook (by Sesame Workshop & Susan McQuillan), flipped through the pages until we found the Count, and got to work.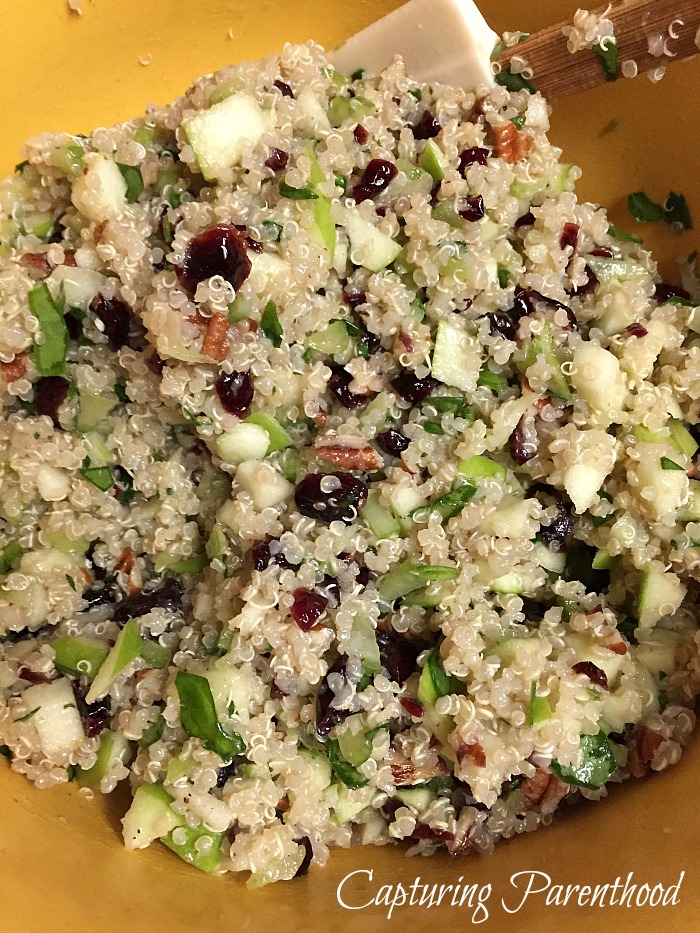 First we had to gather all of our necessary ingredients and kitchen tools. This is the perfect time to have a bit of educational fun with your kiddos, by counting all of the ingredients, as the Count himself. 🙂
"One cup of quinoa…ah ah ah!"
We always try to make activities fun and engaging for the whole family!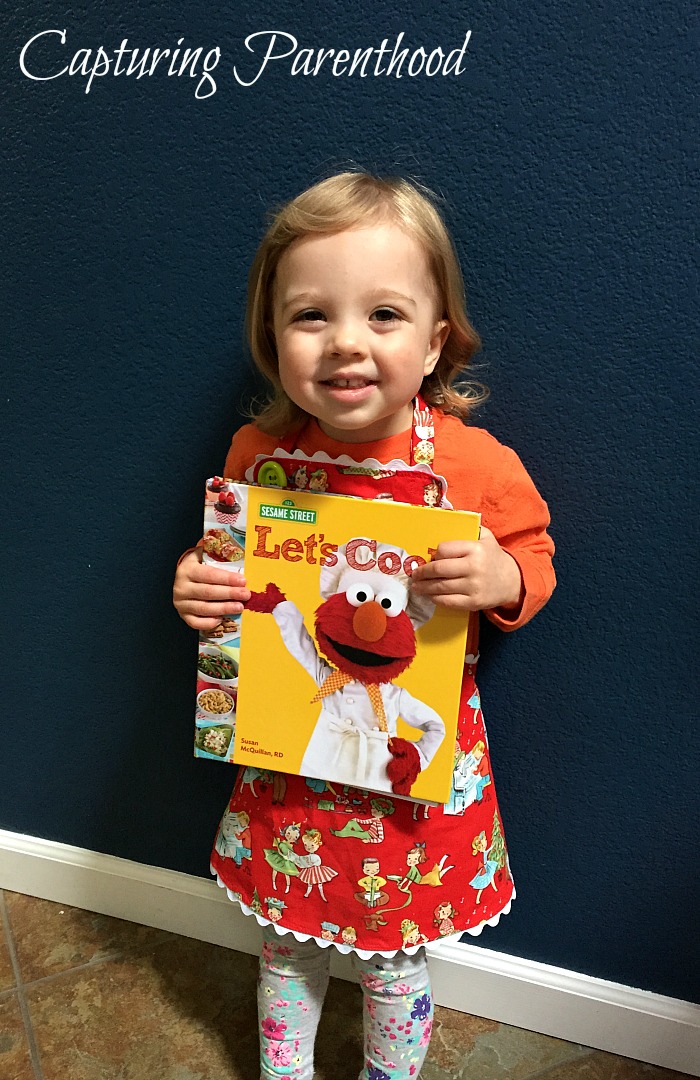 Our little nugget loves helping out in the kitchen…it has become one of her favorite activities. She pretty much demands to assist with every meal these days. 🙂 While she loves cooking alongside Mommy and Daddy, she's even more excited when she gets the opportunity to create a dish with some of her favorite Sesame Street characters! A little bonus that I've noticed, as our daughter spends more time donning her little apron…she's more likely to at least try something, when she's been involved in the cooking process! So…if you have a little one who is a little picky at mealtimes, try getting them involved in the meal preparation!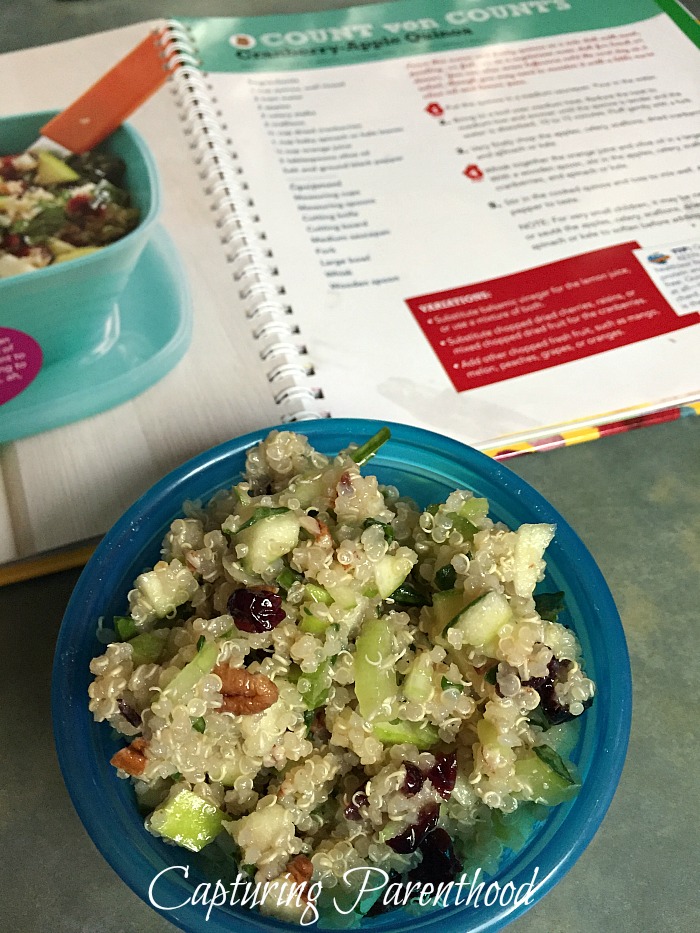 *The following recipe (minus the pecans) appears in the Sesame Street Let's Cook cookbook, and is by no means my own personal recipe. If you would like to snag your own personal copy of this fun and friendly cookbook, you can find it here!
---
Count von Count's Cranberry-Apple Quinoa
Ingredients: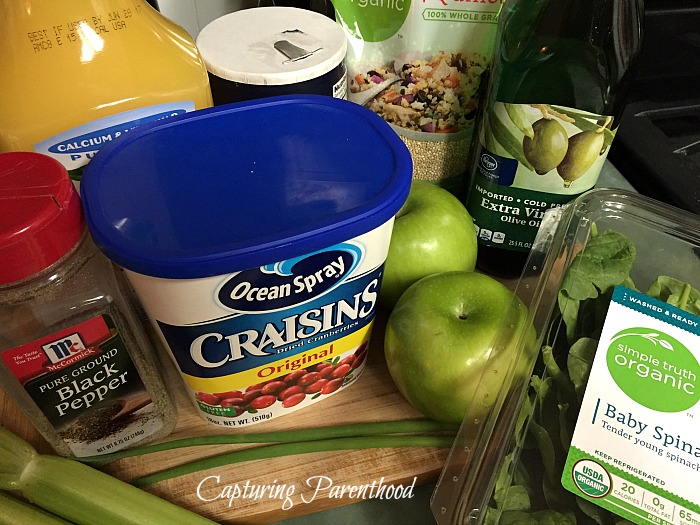 1 Cup Quinoa, Rinsed
2 Cups Water
2 Green Apples, Finely Chopped
2 Celery Stalks, Finely Chopped
2 Green Onions, Finely Chopped
1 Cup Baby Spinach (or Kale) Leaves, Finely Chopped
3/4 Cup Craisins, Finely Chopped
1/4 Cup Orange Juice
3 Tbsp. Olive Oil
Salt + Pepper, To Taste
1/2 Cup Pecans, Chopped (optional)
Instructions: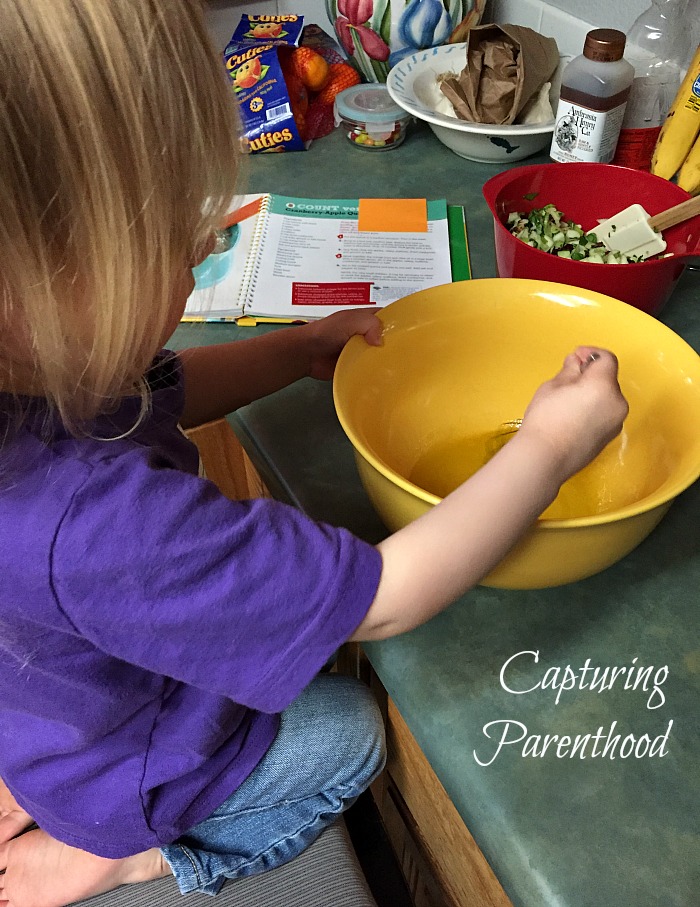 In a medium saucepan, add the quinoa and water, and bring to a boil over medium heat. Once boiling, reduce the heat to a simmer and cover. Cook according to package directions (typically 10-20 minutes, or until all of the water has been fully absorbed). Fluff with a fork.
In a large bowl, combine the orange juice and olive oil. Whisk to thoroughly combine. Add the chopped apples, celery, green onions, spinach (or kale) leaves, Craisins, and pecans (optional). Toss until everything is coated in the orange juice/olive oil mixture.
Stir in the cooked quinoa, and mix until all ingredients are fully incorporated. Add salt and pepper, to taste.
Serve immediately. Any leftovers can be stored in an airtight container, in the fridge, for a few days.
---
This Cranberry-Apple Quinoa is wonderful! It's light and healthy, and the combination of flavors and textures is spot on! This is a recipe that the entire family will enjoy!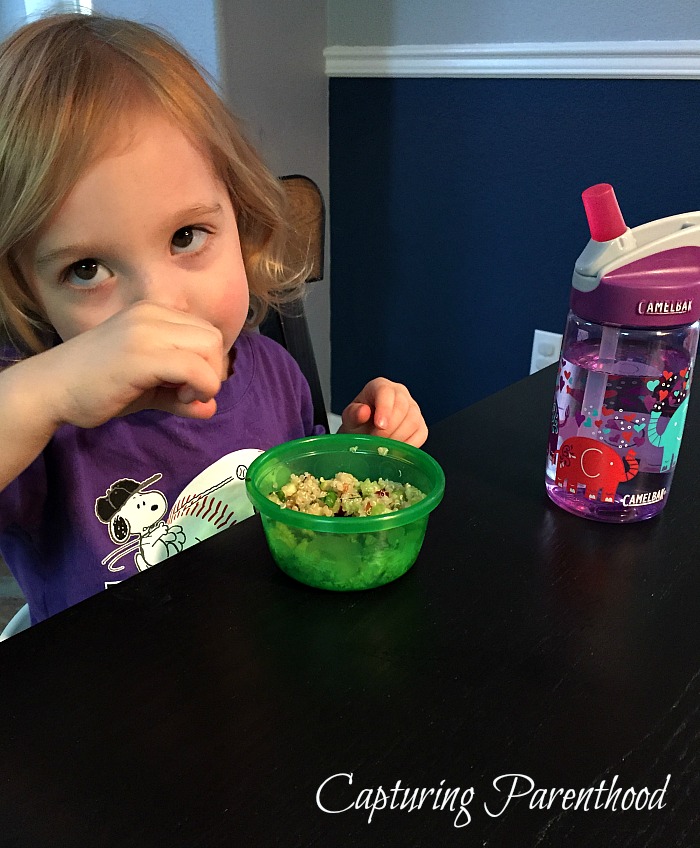 If you and your little ones loved making this dish…you'll also enjoy our Cooking with Sesame Street – Cherry Multigrain Muffins recipe!
Stay tuned for more of our favorite recipes from the Sesame Street Let's Cook cookbook!
START SPREADING THE NEWS!