We've been teaching our little nugget all about emotions lately. As parents, it is extremely helpful to point out and label different emotions, so that your little ones can begin to learn how to classify, and appropriately navigate, the myriad of feelings that they can experience on any given day. I had been searching for a fun, reinforcing activity, when I stumbled upon the idea for Playdough Stress-Ball Balloons, emblazoned with faces for every emotion.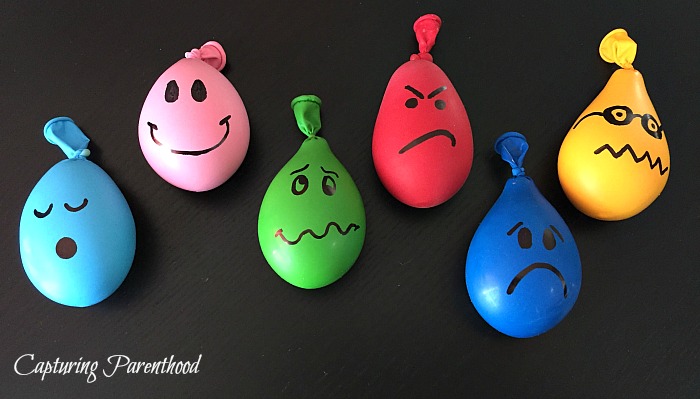 When I saw Stephanie's Wacky Sacks, over on the Somewhat Simple blog, I rushed to make my own set of silly stress-ball balloons! Check out her Wacky Sack post (and how-to) here: https://www.somewhatsimple.com/wacky-sacks/.
What an awesome tool to help little ones express their varying emotions! And my absolute favorite part…the fact that they are filled with playdough, instead of the typical flour-filled stress-ball balloons. When a flour-filled stress-ball balloon has been used to it's breaking point, you end up with an enormous mess all over your house. But when these playdough stress-ball balloons reach their breaking point, you will just have to pick up a ball of playdough, and a few pieces of latex balloon! I'd choose cleaning up playdough, over flour, any day!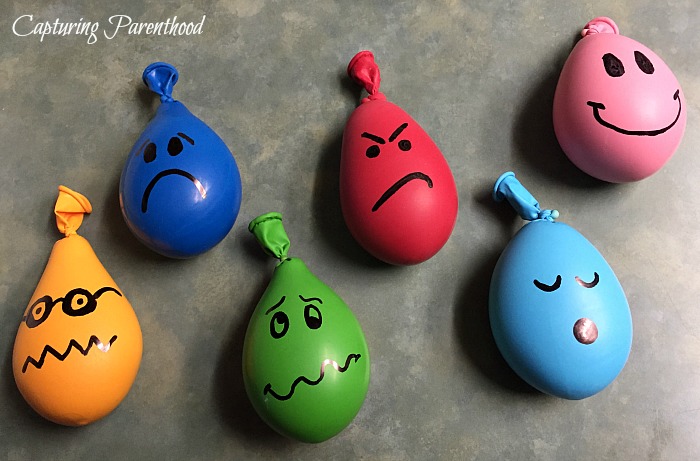 If you're like me, you might be wondering just how on Earth you're going to fill a latex balloon with playdough. I had a hard time wrapping my head around the idea, as well. But if I can do it, so can you! All it takes is a little effort, and it's even easier if you have an extra pair of hands. My little nugget came to my rescue a few times during the making of these stress-ball balloons. 🙂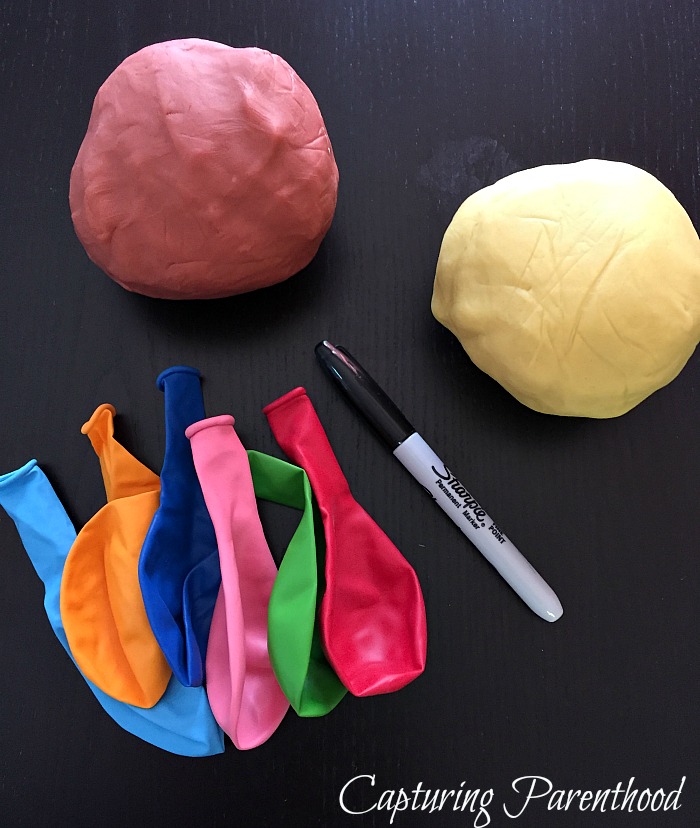 All you need is a handful of latex balloons (or as many as you would like to make), some playdough (store-bought or homemade), and a black Sharpie marker. I used some of our Springtime Kool-Aid Playdough (http://capturingparenthood.com/springtime-kool-aid-playdough/).
Stephanie suggests rolling the playdough out into a snake shape, to make it easier to shove into the balloons. However, I found that it was easier for me to make small balls out of the playdough, set the balls in front of me on the dining room table, and then take a balloon and pull the end apart using my pointer and middle fingers on both hands. Once I had the opening stretched as far as I could get it (without breaking), I inverted it on top of the playdough ball, and scooped up the ball with my available ring and pinkie fingers. I then used those available fingers to firmly press the playdough down into the balloon. And as I mentioned before, I got stuck once or twice, and so I just asked my daughter for a little help. This process would be much easier if you had another adult (or older child) available, since you need someone strong enough to hold the balloon open, while the other person can simply push the playdough into place. Regardless, I accomplished this task (mostly) by myself – so it's totally doable.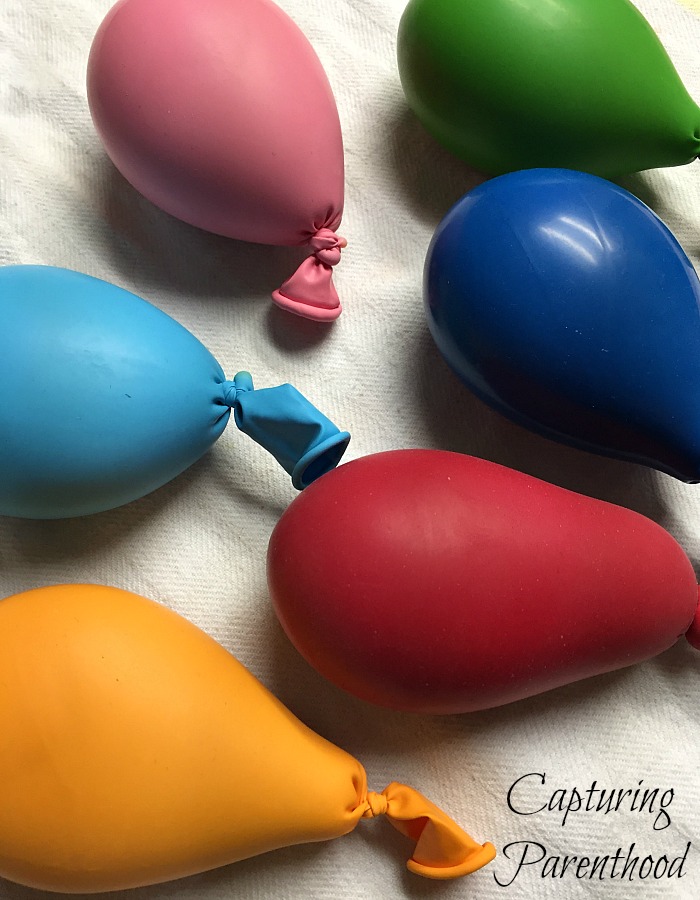 Once you have your playdough in your balloon, simply squish it down and remove any air from the balloon, and then tie it off (just like you would tie a regular balloon). Repeat this process for your remaining balloons. Once all of your balloons are tied, bust out your black Sharpie marker and carefully draw different faces onto each balloon. Let your creativity run wild. I chose to make the following faces: happy, sad, angry, sleepy, sick, and silly.
My daughter loves these playdough stress-ball balloons. She happily exclaims what each balloon is feeling, and they have even helped her distinguish and express her own feelings. We can ask her to grab the balloon that matches her emotions, and she will readily run and grab it!
And as an added bonus: we now have six stress-ball balloons lying around our house, which means that we can each play with them at the same time! What parent doesn't need to stop and squeeze a stress-ball from time to time?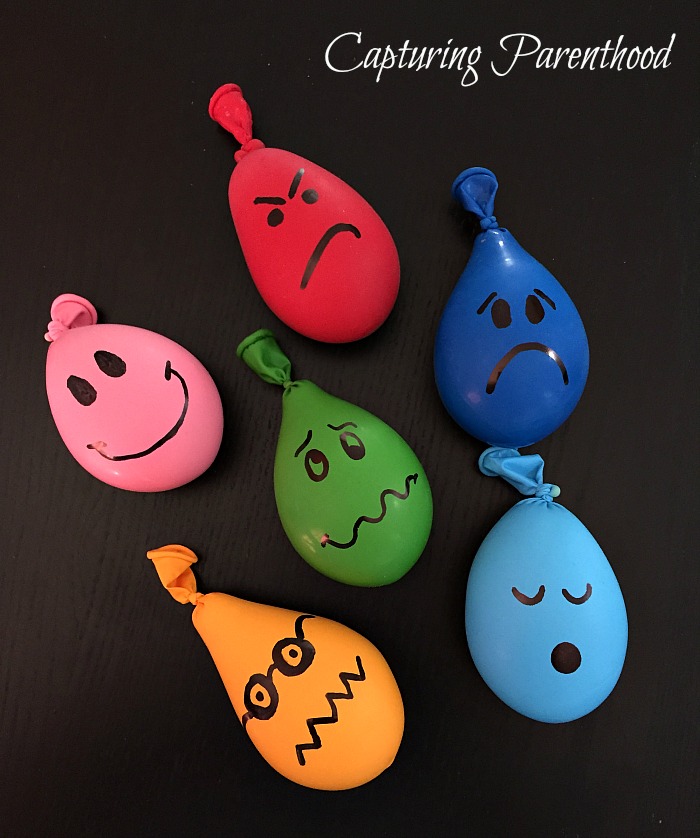 I told you these were wonderful – they not only help your toddler learn, label, and navigate their emotions, but they provide something for them to squeeze and squish when they are feeling stressed, anxious, or angry. Go ahead and squeeze one yourself, when things start to feel a little overwhelming!
START SPREADING THE NEWS!