I'm always looking for new, fun, and healthy toddler snack ideas. Since snack-time comes twice-a-day in our household, I try to change things up and keep things interesting. I figured since I'm always on the hunt for new ideas, other moms might be in the same boat. Thus, I decided to share some of our favorite toddler snack ideas (so far) with you!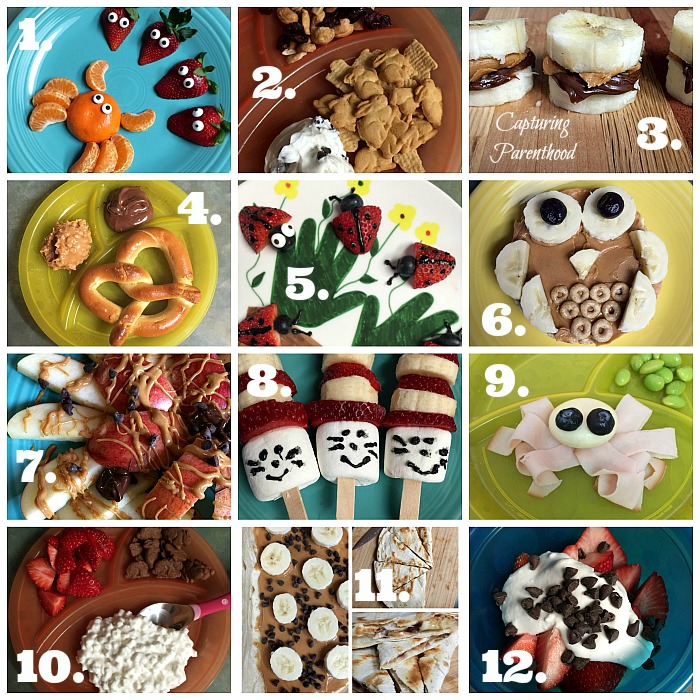 Toddler Snack Ideas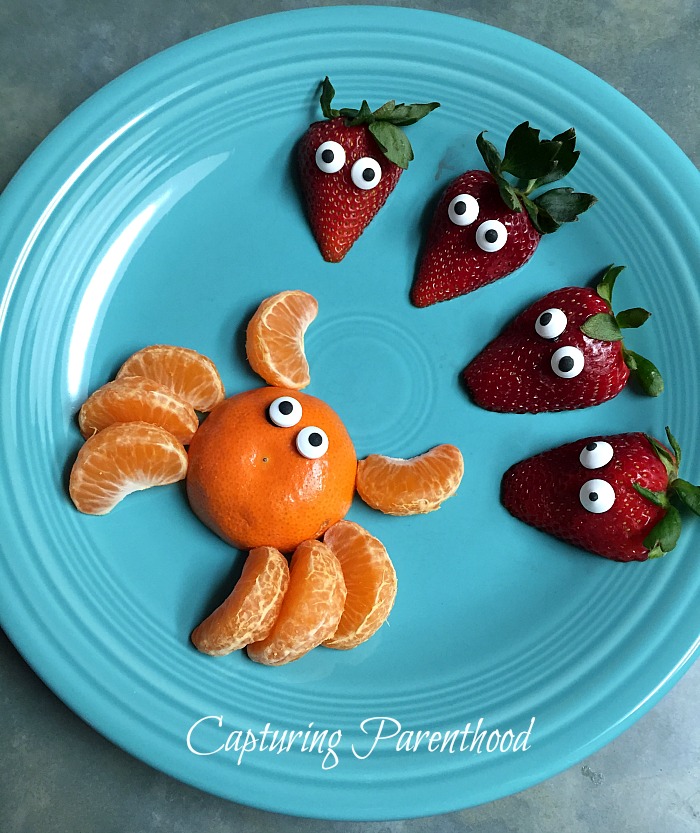 1. Cutie Crab & Scared Strawberries – Appropriately labeled #1, because this has been my daughter's absolute favorite snack (thus far)! I created this snack by combining two fun and fruity ideas that I found on Iddle Peeps. The first came from their Dancing Crabs post (https://iddlepeeps.com/dancing-crabs/) and the second was borrowed from their Berry-tastic post (https://iddlepeeps.com/berry-tastic/). Check them out – they have lots of creatively awesome ideas!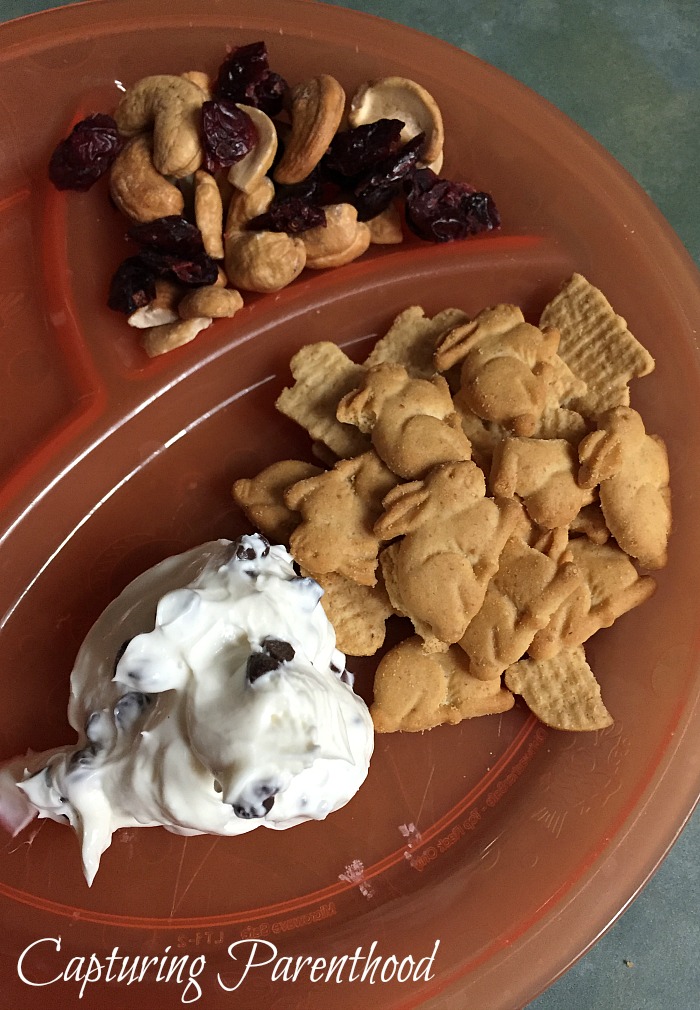 2. Annie's Organic Honey Bunny Grahams w/ Chocolate Chip Cream Cheese & Trail Mix – My little nugget loves Annie's Bunny Grahams (in every flavor). And they happen to make wonderful dunking vessels for scooping up chocolate chip cream cheese (I just stir a few mini chocolate chips into some plain whipped cream cheese). For the trail mix, I combined cashews, craisins, and dried blueberries.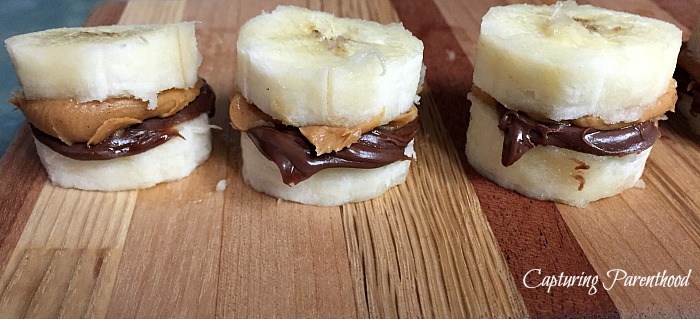 3. Peanut Butter & Nutella Banana Sandwiches – Another snack-time winner, these bite-sized sandwiches are both fun and delicious…and super simple to make! Slice up a banana, spread some creamy peanut butter on 1/2 of the banana slices, spread Nutella on the remaining 1/2 of the banana slices, and then gently press the peanut butter slices into the Nutella slices, and serve!
4. Soft Pretzel w/ Peanut Butter & Nutella – Sticking with the winning combination of peanut butter and Nutella, I heat up a soft pretzel and add a spoonful of each to the plate, for dunking. Almost every toddler I know loves to dunk their food into some sort of sauce or dip. 🙂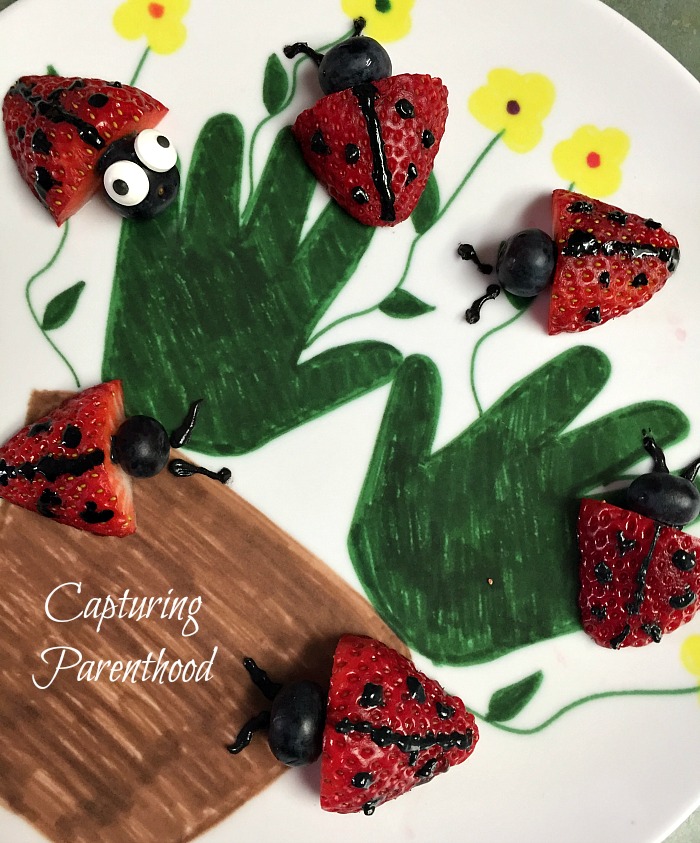 5. Strawberry & Blueberry Ladybugs – I came across this playful snack idea on The Soccer Mom Blog (http://thesoccermomblog.com/2016/01/07/fruit-ladybugs/). Grab a few strawberries, remove the leafy stems and then slice each one in half so that they lay flat on a plate. Add one blueberry head to each strawberry. Then you can add your ladybug spots and antennae. Stacey, over at The Soccer Mom Blog, used melted chocolate and a decorating bag for this step. I chose to just use an icing pen (found in the cake decorating section of your grocery store). Most of my ladybugs were looking down, with their antennae appearing on the plate, but I also decided to make a couple of them look up, by applying some candy eyes to the blueberry heads (adhered with the icing pen, as well).
6. Owl Rice Cakes – How cute is this little rice cake owl? I found this idea over at A Few Shortcuts (http://afewshortcuts.com/2016/08/owl-rice-cake-snacks/). Their owls were made using apple slices for the wings and cantaloupe for the beak, but I chose to utilize the banana that I had already sliced for the eyes (instead of cutting up an entire apple to only use two slices, and a cantaloupe for just one beak), but if you are serving multiple kiddos, that works just fine. All you need to do is cover a rice cake (I like Lundberg's Organic Brown Rice Cakes – Salt-Free) with some creamy peanut butter. Add on your banana eyes (topped with two blueberries), banana beak and wings, and then fill in the area below the beak, and between the wings, with Cheerios.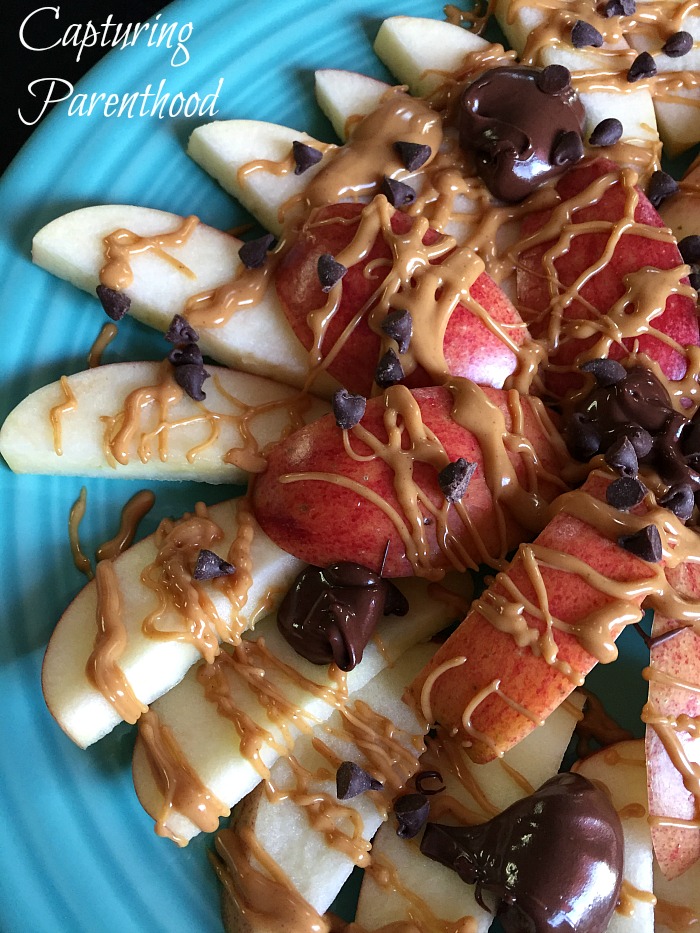 7. Apple Nachos – Who doesn't love nachos? Try this healthier take on one of America's favorite snack foods, that I found on Trial and Eater (http://www.trialandeater.com/apple-nachos-with-peanut-butter-chocolate/). Thinly slice an apple of your choice (we used a red Gala apple) and fan the slices out onto a plate. Then pop a couple of tablespoons of creamy peanut butter into a microwave-safe bowl, and micorwave for a few seconds (to make the peanut butter a little runnier). Drizzle the peanut butter over the the apple slices and sprinkle a few mini (or regular) chocolate chips on top, for the finishing touch. Yum!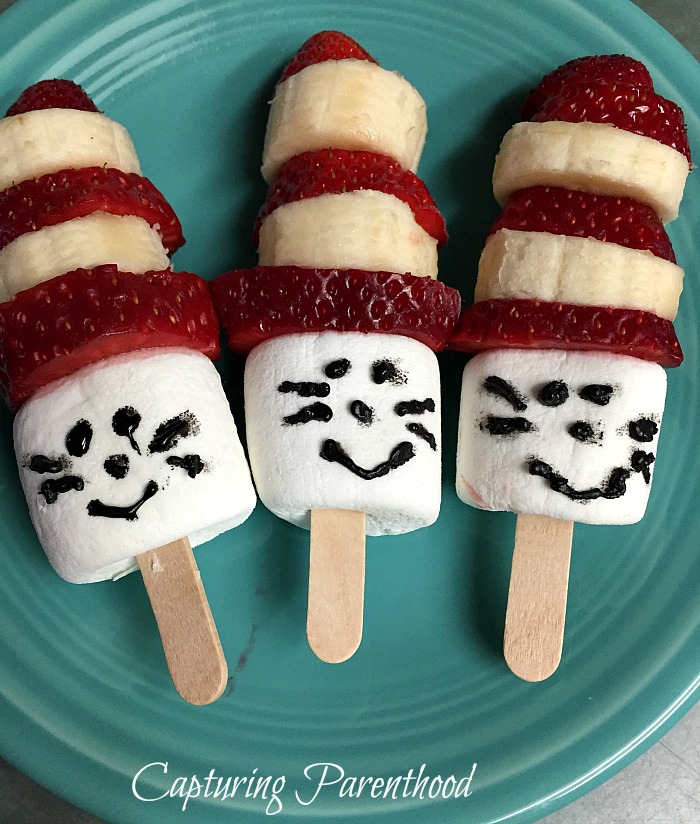 8. Cat in the Hat Pops – This super cute and easy snack idea is perfect for celebrating Dr. Seuss's birthday…or any other day of the year too…because, why not? I came across this idea over at O'Boy! Organic (http://oboyorganic.com/dr-seuss-snack-ideas-to-make-with-kids/). Slice up some strawberries and bananas and slide them (in alternating order) onto a popsicle stick. Slide a large marshmallow onto the bottom of each stick, and using one of those aforementioned handy-dandy icing pens (or melted chocolate and a decorating bag), draw a cat face (with whiskers) onto the marshmallow!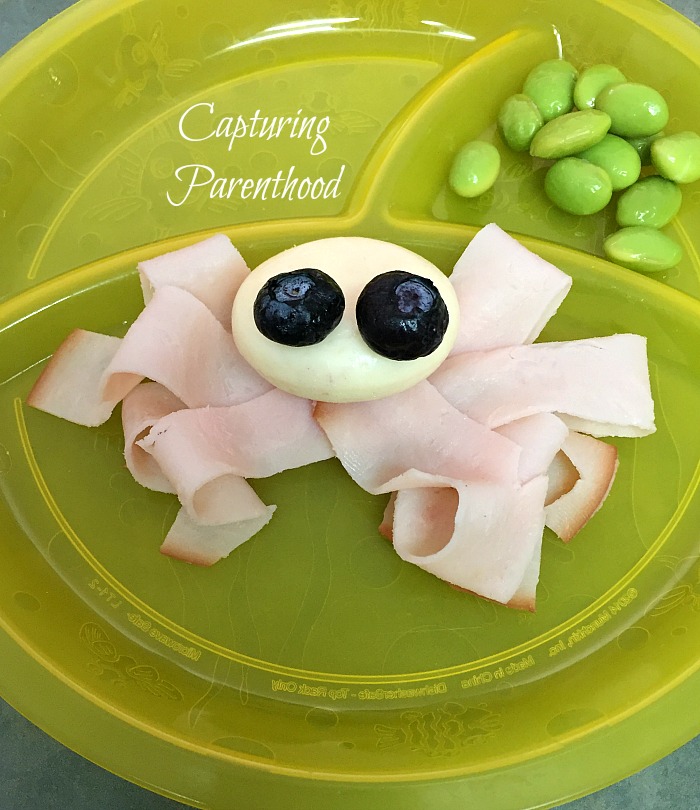 9. Turkey Spider w/ Mukimame – This creative snack idea came about one day, when my little nugget told her daddy that she wanted a turkey spider for snack. Don't ask me where she got that idea…we still have no clue. But my husband, being the wonderfully amazing dad that he is, set out to give our little nugget exactly what she asked for. 🙂 He sliced up some honey turkey into thin strips, and piled them up, to create the spider's legs. He used a Babybel cheese round for the spider's body and gave him two blueberries for eyes. And there you have it, a turkey spider! With a side of delicious mukimame (shelled edamame).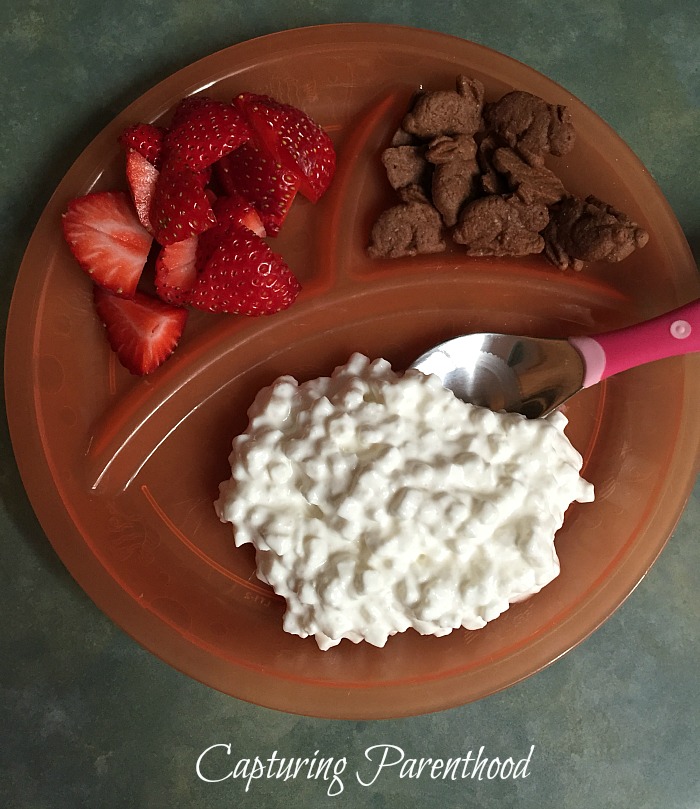 10. Cottage Cheese, Sliced Strawberries & Annie's Organic Chocolate Bunny Grahams – I told you our daughter loved Annie's bunnies in every flavor. This was just a simple snack that incorporated some dairy, some fruit, and a little bit of chocolaty goodness.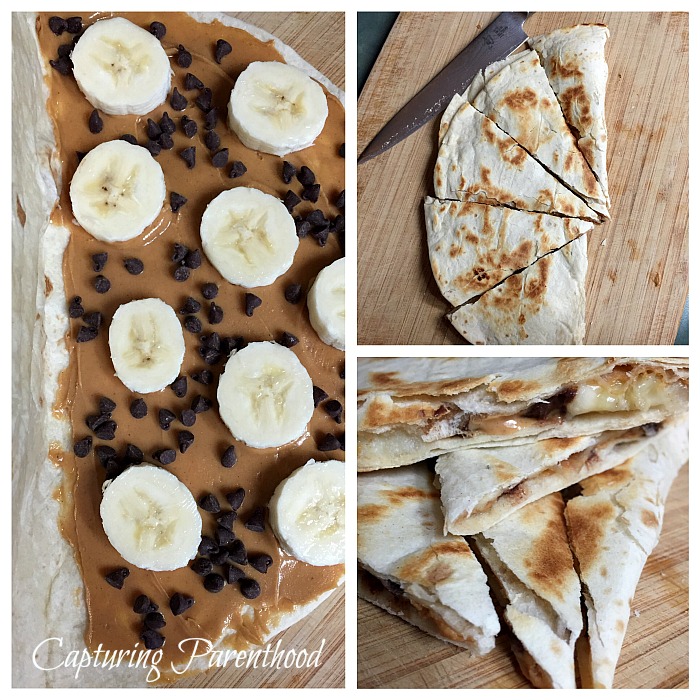 11. Peanut Butter, Banana & Chocolate Quesadillas – There are plenty of people out there who love the combination of peanut butter and bananas (usually in the form of a sandwich) – my daughter included. So, I was super excited to change things up a bit, when I came across this new quesadilla idea, on the Budget Bite$ blog (https://www.budgetbytes.com/2013/05/peanut-butter-banana-quesadillas/). Cover half of a tortilla (we prefer whole-wheat) with some creamy peanut butter. Top with sliced banana and mini chocolate chips, and cover with the other half of the tortilla. Heat in a skillet over medium-heat for just a few minutes on each side, until the chocolate is nice and melted, and the tortilla is golden brown on both sides. Transfer to a cutting board and let cool for a minute or two. Then slice and serve!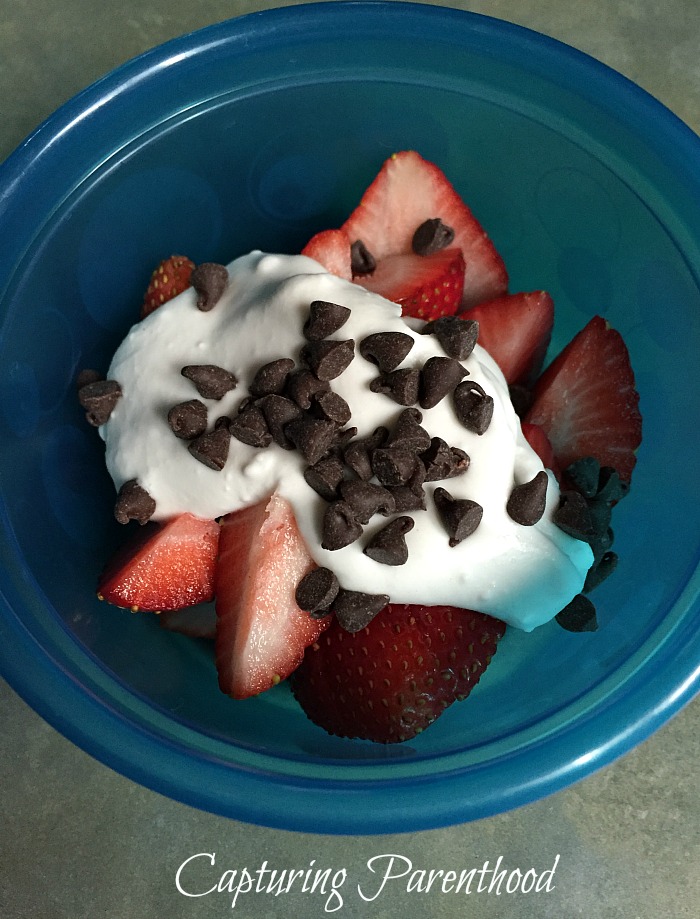 12. Sliced Strawberries w/ Coconut Milk Whipped Cream & Chocolate Chips – This simple, dairy-free, and delicious snack is one of my personal favorites (don't worry, my toddler eats it too). I actually whip this up for dessert pretty frequently. Did you know that you can make delicious (and dairy-free) whipped cream using coconut milk? My family actually prefers this to standard whipped cream. It's as simple as chilling a can of coconut milk in the fridge for a day or two, scooping out the hardened coconut cream off the top of the can and placing it into a mixing bowl (save the rest of the liquid to use in a smoothie) and then whip it up on high speed for several minutes (until it starts to peak), just like you would regular whipping cream. Lastly, add a tablespoon of honey (or maple syrup) and a teaspoon of vanilla – mix one more time, and then you're good to go. Place a dollop on some sliced strawberries and sprinkle with some dairy-free (or dark) chocolate chips. Mmm…I think I might need to go grab some of this right now!
Bonus: Frozen Greek Yogurt Bites – My daughter loves to snack on these delicious little yogurt bites, on warm afternoons! And I wrote a post awhile back, containing all of the details you need to make this quick and easy snack – check it out: http://capturingparenthood.com/frozen-greek-yogurt-bites/!
As for our favorite on-the-go snacks, we typically grab a few of the following to toss in our bag when we are out and about:
Nutri Grain Soft Baked Bars
GoGo Squeez Organic Applesauce
Whole Grain Cheddar Goldfish
Sun-Maid Mini Snacks (Raisins and Yogurt Raisins)
Kashi Heart to Heart Oat Cereal
Popcorn (we've been enjoying Skinny Pop in the White Cheddar flavor – it's dairy-free, gluten-free, peanut-free, tree nut-free, preservative-free, with no artificial flavors)
Annie's Organic Fruit Snacks
Nutella & Go
Simply Balanced Fruit Strips
Trail Mix
Honey Nut Cheerios
Peanut Butter Puffins (cereal)
So there you have it, a mash-up of our favorite toddler snacks. What does your little one like to snack on during the day? I would love to hear about some of your favorites, in the comments section below!
And stay tuned….next Tuesday I will be sharing some of our favorite toddler breakfast ideas!
START SPREADING THE NEWS!