Well, now that I've shared some of our favorite toddler breakfast and snack ideas, it's time to share some of our favorite toddler lunch & dinner ideas! I'm grouping these two meals together, because in our house, I've found that they've become pretty interchangeable for our little nugget. She likes these foods at lunchtime, just as much as she enjoys eating them for dinner. Here's hoping that you find some new ideas to test out on your family!
---
Toddler Lunch & Dinner Ideas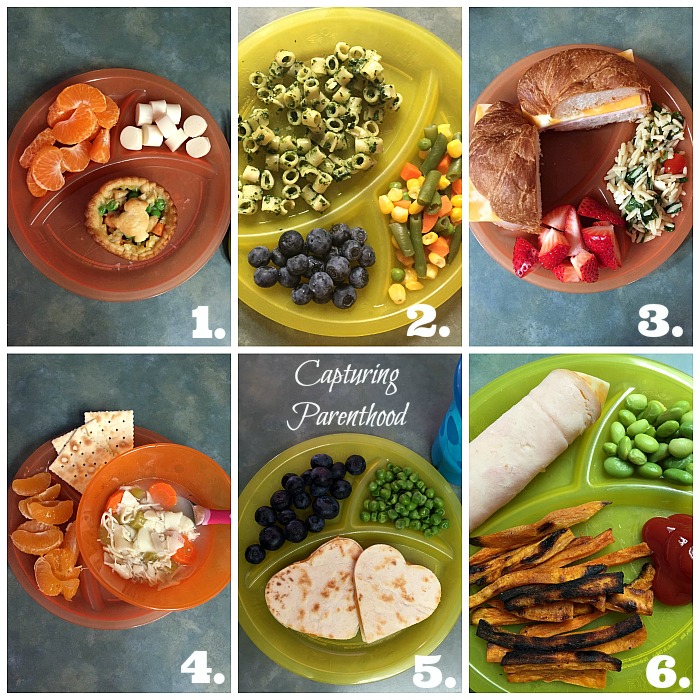 1. Mini Chicken Pot Pies, String Cheese Bites, and Cutie Slices – I made these mini chicken pot pies in an effort to get my little nugget to eat more meat (she's never been a huge fan), and I'm happy to report that it worked! I made these just before Easter, so to make them a bit more fun, I topped them with little bunnies, chicks, and butterflies. Get all of the details at: http://capturingparenthood.com/mini-chicken-pot-pies/. I served this with a piece of string cheese, that I chopped up into bite-size pieces (sometimes all you need to do is change the presentation), and some cutie (orange) slices.
2. Cheesy Spinach Pasta, Mixed Veggies, and Blueberries – I'm always looking for different ways to incorporate more green, leafy veggies into my daughter's diet (other than sneaking them into smoothies) and this Cheesy Spinach Pasta recipe that I found at Sweet Tooth, Sweet Life (http://www.sweettoothsweetlife.com/healthy-toddler-meals-easy-cheesy-spinach-pasta/) is one perfect solution! My daughter loved these noodles! Some mixed veggies (carrots, corn, peas, and green beans), and a side of fresh blueberries, rounded out the meal.
3. Turkey & Cheese Croissant Sandwich, Orzo Pasta Salad, and Sliced Strawberries – Change up the standard sandwich, by using a croissant instead! My daughter loves croissants. I'm not sure how anyone could dislike them. I piled some honey turkey slices and a colby-jack cheese slice, onto a croissant and cut it in half. On the side, I served some sliced strawberries and a scoop of some delicious Orzo pasta salad that a family friend brought over for a picnic lunch. The pasta salad contained Orzo pasta, basil leaves, cherry tomatoes, slivered almonds, and an Italian dressing!
4. Chicken Noodle Soup, Crackers, and Cutie Slices – There is nothing better than a nice hot bowl of chicken noodle soup on a cold, winter day (or when you're feeling under the weather). My daughter loves the Slow Cooker Chicken Noodle Soup that I make – find the recipe here: http://capturingparenthood.com/slow-cooker-chicken-noodle-soup/. Growing up, we always had Saltine crackers when we ate soup, so I gave my daughter a couple to dunk in her soup, too. And for fruit, I added some cutie slices.
5. Heart Quesadillas, Blueberries, and Green Peas – As I mentioned before, sometimes you can make a toddler's day, just by changing the presentation of a food at mealtime. Instead of serving the standard quesadilla triangles, cut out some fun tortilla shapes, using cookie cutters. I made these heart quesadillas around Valentine's Day, but they are a perfect way to tell your little one how much you love them, any time of year! For our fruit, we stuck with some fresh blueberries (my daughter's favorite – if you have not already noticed), and some little green peas.
6. Sweet Potato Fries, Turkey & Cheese Roll-Up, and Mukimame – When my little nugget was a baby, she loved pureed sweet potatoes. When she started eating solid foods, I would bake up some sweet potato bites (cubes) for her, and now, we've moved onto the fries (don't forget the Ketchup)! I also love to give my toddler an easy meat & cheese roll-up every now and then, and we added a little green with a scoop of mukimame (shelled edamame), which is one of my little nugget's favorite veggies.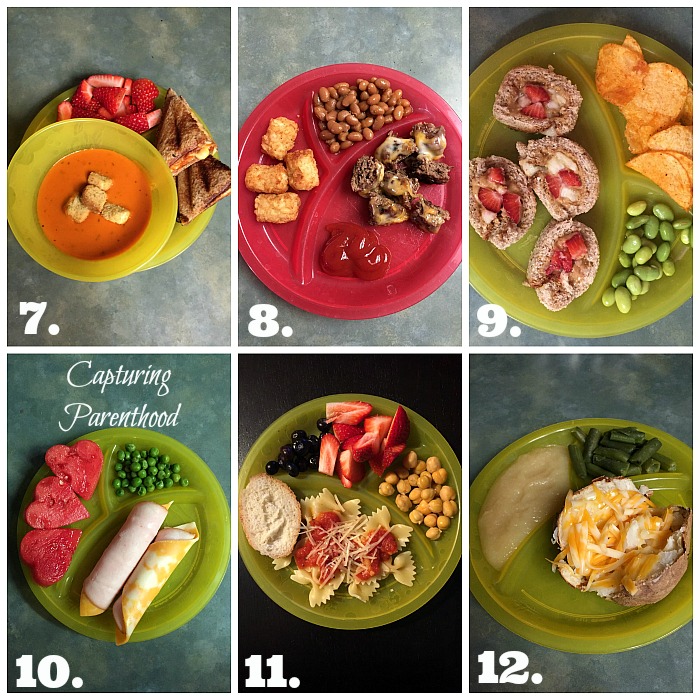 7. Tomato Soup, Grilled Cheese Sandwich, and Strawberry Slices – This was probably one of my all-time favorite meals as a kid. When the days grow chilly, it feels nice to warm up with a hot bowl of soup. Nothing goes better with tomato soup than a crispy grilled cheese sandwich. We also love to toss a few croutons into our tomato soup, to give it a little crunch – I think this is my daughter's favorite part! Toss a few sliced strawberries on the side, and you've got a delicious dinner for the whole family to enjoy!
8. Cheeseburger Bites, Tater Tots, and Baked Beans – When the weather starts to warm up, we put our soup bowls away and break out the grill. Cut up a cheeseburger patty into small bites, add some tater tots, and a squeeze of Ketchup (for dunking), and finish the meal off with a spoonful of baked beans. Yum!
9. Peanut Butter Sushi, Potato Chips, and Mukimame – My daughter continues to request this fun take on sushi. I came across this idea on Nomster Chef (https://www.nomsterchef.com/blog-source/2017/4/7/5-healthy-lunches-for-kid-chefs). To make the sushi, spread some peanut butter (or nut butter) onto a slice of bread, in the center add some thinly sliced strawberry and banana strips. Roll the piece of bread up (I cut off the crusts on the ends) and then using a sharp knife, carefully cut four pieces of sushi and place on a plate. PB&J always pairs well with some potato chips, and don't forget the veggies – some mukimame!
10. Turkey & Cheese Roll-Ups, Watermelon Hearts, and Green Peas – I told you that I loved to serve my daughter these super simple turkey and cheese roll-ups. They are just the right size for her to hold in her little hands. I changed things up a bit by cutting out some heart-shaped watermelon slices (using a cookie cutter), and added some green peas, to cap off the meal.
11. Bow-Tie Pasta w/ French Bread, Blueberries & Strawberries, and Garbonzo Beans – I'm pretty sure that every child likes pasta, and bow-ties are a favorite in our house. Add some marinara sauce and a sprinkle of grated Parmesan, and serve alongside a small slice of french bread. For our fruit, I did a combo of blueberries and strawberries, and then, I added some garbonzo beans (another of my daughter's favorites).
12. Mini Baked Potato, Unsweetened Applesauce, and Green Beans – I love having baked potatoes for dinner – they are soft, creamy, and delicious. When my husband and I add them to our menu for the week, I make sure to buy a small/mini Russet potato for my daughter as well. We like to top our potatoes with shredded cheese and a squirt of Ranch dressing. Applesauce is always a nice side, and for a veggie, we went with green beans.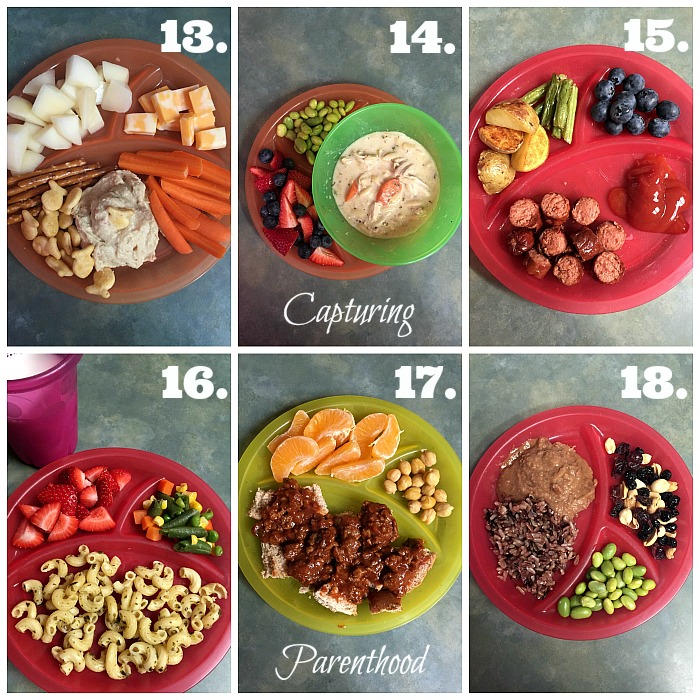 13. Hummus w/ Saltine Goldfish, Pretzels & Carrot Sticks, Pear Bites, and Cheese Bites – My daughter loves hummus! Her favorite flavors are pine nut, roasted red pepper, and garlic. She enjoys having a multitude of dunking options (you can also cut up some bell pepper slices too – we keep trying, but our daughter is not a fan of bell peppers just yet). She also loves fresh pears (I typically buy Bartlett Pears). Tip: They will ripen faster if you place them in a brown paper bag, on the counter! And, you can never go wrong with a side of cheese.
14. Creamy Chicken Orzo Soup, Strawberries & Blueberries, and Mukimame – This Chicken Orzo Soup recipe from Eazy Peazy Mealz (http://www.eazypeazymealz.com/creamy-chicken-orzo-soup/) is flavorful, creamy, and delicious. It's a soup that the whole family will enjoy! On the side, I tossed some strawberries and blueberries, for a serving of fruit, and some mukimame, for a serving of veggies.
15. Hot Dog Bites, Roasted Veggies, and Blueberries – Most kids love eating hot dogs, mine happens to prefer them in bite-sized portions (without the bun), with a hefty squirt of Ketchup on the side. 🙂 Roasted veggies are one of our favorite sides (here I did some Yukon Gold potatoes and green beans. We also enjoy roasted carrots, broccoli, asparagus, garlic, onions…the list goes on! And for the fruit portion of the meal…you guessed it…blueberries!
16. Pesto Macaroni, Strawberries, and Mixed Veggies – Tired of handing Mac & Cheese to your toddler at their every request? Switch it up slightly, and toss some cooked macaroni noodles with some pesto instead – they will love it! Serve with a side of strawberries, and mixed veggies, for a balanced meal.
17. Sloppy Joes, Cutie Slices, and Garbonzo Beans – Sloppy Joes are just about the only meat that our daughter will consume, without lots of coaxing. I'm sure it has everything to do with the Manwich sauce, but I'm not complaining. Scoop a few garbonzo beans onto the plate, next to some orange slices, and you're good to go.
18. Beans & Rice, Mukimame, and Trail Mix – A combination of beans and rice is a great way to get some protein into those meat-avoiding kids. Give them a scoop of refried beans (we also have a lot of black beans) and a scoop of rice (we prefer wild rice, or brown rice). You can even top them with some shredded cheese, to make it more appealing, because you can never go wrong with melted cheese! We served this with our favorite, veggie side of mukimame, and to change things up a bit, I tossed some trail mix (peanuts, Craisins, and dried blueberries) onto the plate.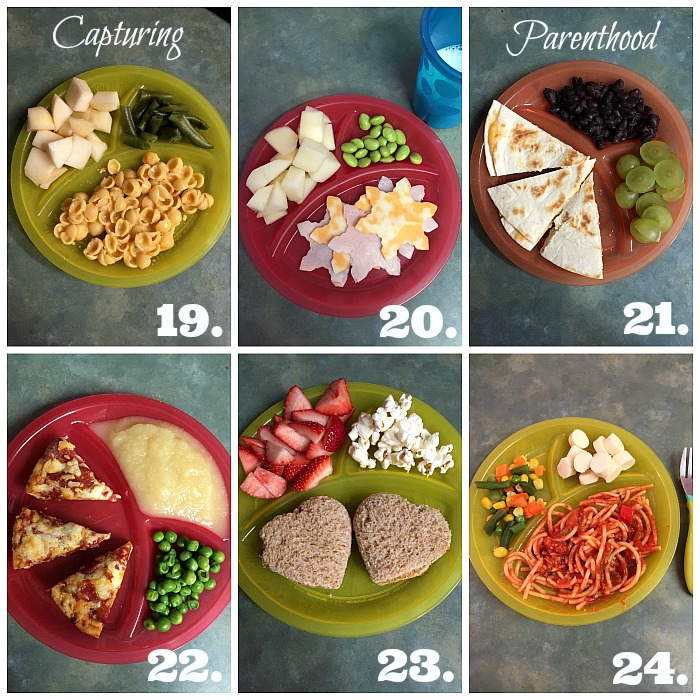 19. Annie's Homegrown Shells & Real Aged Cheddar, Green Beans, and Pear Bites – There's just no avoiding Mac & Cheese when you have a child. My little nugget requests Mac & Cheese for every single meal. And, we actually prefer Annie's Shells over Kraft Mac & Cheese – it's made with organic pasta! Needless to say, this is a popular option in our house, and one that is served frequently. Toss a spoonful of green beans and pear slices on the plate, to round out the meal.
20. Turkey & Cheese Snowflakes, Pear Bites, and Mukimame – I try to make meal-time fun (whenever possible) and this usually involves using a variety of cookie cutters. During the winter, we like to cut snowflakes out of our honey turkey and colby-jack cheese! My toddler always appreciates some pear bites, and mukimame, too.
21. Cheese Quesadillas, Black Beans, and Green Grapes – Like I said before, you can never go wrong with melted cheese. Quesadillas are a quick and easy meal-time solution, since they take just minutes on the stove-top to make! Serve with a side of black beans, and add some green (or red) grapes, for some fruit. Please note that grapes can be a choking hazard for small children. I always slice grapes in half, when I'm serving them to my toddler.
22. Pizza, Unsweetened Applesauce, and Green Peas – Just like Mac & Cheese, pizza is another super popular meal option for kids (and who are we kidding…adults too). We make homemade pizza every so often (our little nugget loves rolling out the dough and sprinkling all the toppings on), but when I'm in a rush, I will throw a Red Baron Singles Pizza into the oven and serve it in small slices. Add some applesauce and a bit of green, with some peas, and your kids will be pleased.
23. Peanut Butter & Jelly Hearts, Strawberries, and Popcorn – I don't know about yours, but my toddler is not a huge sandwich fan, that is unless it appears in front of her in a fun shape. So every once in awhile I switch things up and cut out some hearts (or other fun shapes) using my handy-dandy cookie cutters (a mother's best friend)! Strawberries always seem to pair well with PB&J. And instead of potato chips, toss some popcorn on the plate instead.
24. Spaghetti, Mixed Veggies, and Mozzarella Bites – Little ones always seem to love pasta, and while spaghetti seems to be one of the messier options, it is also a delicious one. We often serve ours with some delicious meatballs, or sausage (sometimes our toddler is in the mood to try some meat). And you can't have pasta without cheese, right? Our little nugget is not a huge fan of Parmesan cheese sprinkled on top of her pasta, so instead, we cut up a Mozzarella string cheese stick, and serve it on the side. Don't forget the veggies!
---
Whew! That was a lot of typing. 🙂 I hope you found some new and fun ideas to try out with your family. Let me know which meals your kids enjoyed the most, in the comments section below!
Here's to quick and easy, and tantrum-free meal-times!
START SPREADING THE NEWS!